Today is the Day
Last night I gave an interview to BBC News Live from Holyrood. It felt like a pointless affair. But after, on the way up the Canongate, an amazing thing happened. Through the haar came thousands of people. The chant was 'Hope not Fear', 'Bairns not Bombs', 'Yes We Can'. Wave after wave they came from nowhere out of the fog. Down down the High Street we came and surrounded the parliament.
I remember Alasdair Gray writing years ago that if we had our own parliament we 'could surround it'. This was fiction on the streets.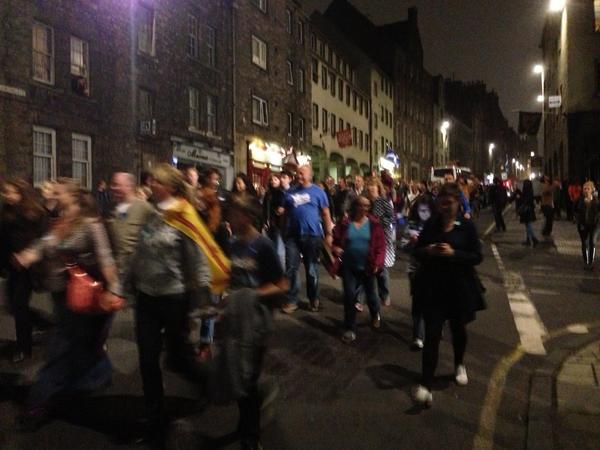 The Canongate has a radical history, but this 'mob' was peaceful and full of joy. There was lots of kids, lots of young folk, everyone was calm but exultant.
People took photographs and hugged each other and wondered what was happening. It was as if life was accelerating.
We stood in front of a parliament, dreaming of it becoming a democracy.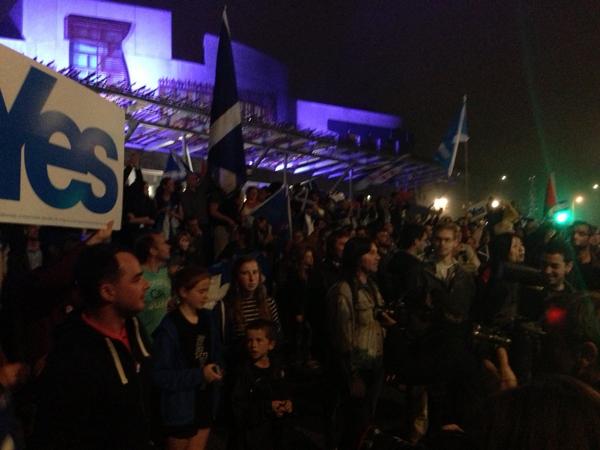 Today is the day. Not another.
Scotland is awakening. If we are to seize the opportunities emerging in communities across the country, now is the time to be brave and do things differently. We must explore new paths to realise our potential together. This is the realisation of the Yes movement.
I feel immensely proud of being part of this movement we've built together, and of all the huge hard work and personal sacrifice so many people have put into making this moment possible. Something Lesley Riddoch said struck me, something about "People giving their whole selves to this movement", and this is what we've done. That's rare and that's precious whatever happens now.
To all of the amazing people who are part of his movement I say thank you.
I'm going to vote now. I'm going to vote for hope not fear.