Indy Knitting?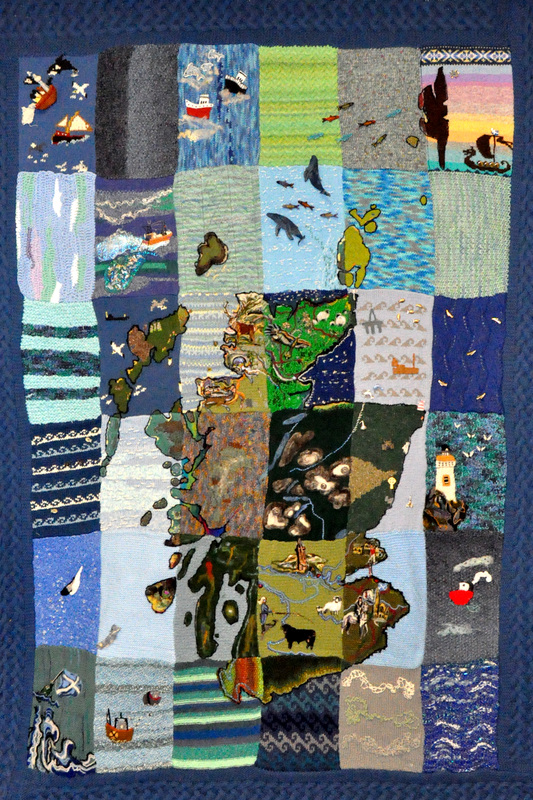 As part of our new
Celebrating Yes
series this is a story of sovereignty, women, media and knitting.
Jessie McLaughlin
reports.
Knitting a Nation involved
approximately 40 knitters, plus 4 members of the planning/working group. The project was followed by Jo Gill and Francois Lamy, a European based documentary team (journalist and cameraman).
We heard from Jo Gill a journalist who has co-ordinated the 'Social Fabric' project and is trying to document it's work and keep it going:
"Social Fabric is a story about how a group of women knitted a map of Scotland as part of the independence referendum, but it's also a story about the grassroots movement which did so much to persuade Scots to vote Yes. As a journalist I became increasingly frustrated with how the mainstream media largely ignored the myriad of grassroots projects supporting independence in favour of convenient soundbites from the a rota of personalities and figureheads. I wanted to go beyond the superficial coverage to document the uncommon people of the Yes campaign. With only my meagre earnings to fund the film, we've decided to focus on one project in particular."

'Knitting a Nation' was set up by a group of women in rural Fife to engage people in the issues as well as creating a work of art which would live on past the referendum. It is now touring Scotland, with the aim of finding a permanent home in Holyrood. The plan is now on filming the continuing journey of the map as well as the knitters as the campaign for independence takes a new form. Jo Gill again:
"Documenting this story has been the highlight of my career as a political journalist. I never could have imagined a referendum which would have engaged so many people in politics. Whatever the result on September 19th, the course of the UK's history has been changed. I want the grassroots movement to be recognised for the role it played."
You can find out more about the film here: http://socialfabricthefilm.wordpress.com/
The film's Twitter: @SocFabFilm
The Kickstarter crowd funding page:https://www.kickstarter.com/projects/1017341724/social-fabric
Or more details on the initial project here: http://womenforindependencenefife.weebly.com/knitting-a-nation.html
If you have a story of how the Yes movement changed you, or you changed the Yes movement let us know.