Beyond Orangefest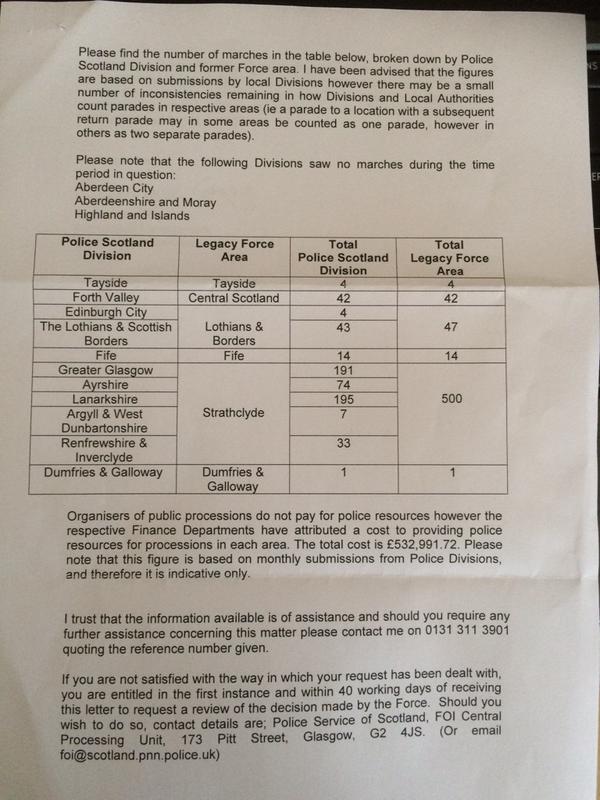 By Mike Small
This is a Freedom Of Information request to Police Scotland (thanks to @lordanthony23). There were 608 Orange marches in Scotland to 5th April 2014, 500 in Strathclyde alone at a cost of over half a million pounds of public money.
This puts pay to the argument that stopping the Orangefest would be somehow an act of censorship. It would not.They are hugely over-represented in public life.
By banning this event we would give a challenge to the idea that one group should be given free reign in the city centre of our largest city, with their track record, their already huge public presence, the likelihood of disorder and the massive cost to the public purse.
As we wrote last year: "Nobody asks why an event with 4,500 marchers and 4,000 spectators needs 3,000 stewards. A ratio of 2.8 participants to a steward? For context the ratio of primary school children: teachers is 16.5 to 1. The real sadness here should come from the fact that this will be forgotten by tomorrow. We're used to seeing this on our streets, in our lives, every summer. It's become one-of-those-things. Nobody's in a rush to change it."
The problem is that we have normalised and legitimised this culture. We are inured to sectarianism.The debate is cynical, weary and knowing. I write this on Wednesday, the event is on Saturday, the likelihood of it being stopped are slim but we can at least have a massive show of dissatisfaction and rejection of bigotry and make a stand for accountability from GCC.
This petition is a way of reclaiming the streets:
"The people of Glasgow and Scotland are sick of their voices going unheard in relation to sectarian, hate filled orange marches. Now we have to put up with Orangefest. We demand that GCC answer to the people of Glasgow as to why this was allowed to go ahead in a city centre location on a busy Saturday. Gordon Matheson must be held accountable."
If you like Bella Caledonia and want us to continue and develop we need your support – please donate to our appeal fund here – and if you can share the link on Facebook. Thank You.