Baubles and Trinkets for the Faithful
It's the season for gongs and medals for the faithful. And, if you think the overt patronage and cronyism we've already witnessed with the elevation of Michelle Mone, and the ennoblement of chinless wunderkid Danny Alexander was a thing to behold, we're now entering new territory. It's a joy to live in such a meritocracy. We all know the contribution to society that Michelle has made, and Alexander should not be underestimated. We're told now heads up the schools cricket charity Chance To Shine. So he's maybe found his level.
This is a country where you can lose your seat at an election by over ten thousand votes and get knighted within weeks to get catapulted back into Parliament bypassing those pesky voters. The failed Lib Dems have a ratio of 11 peers to just 8 MPs. They now have 112 peers which is 14 times more Lords than their Commons representation.  That's British democracy, vote people out and they'll pop-up a few months later in the feudal bit of your legislature you have no say in.
It's a Patronage Class for Parody Britain.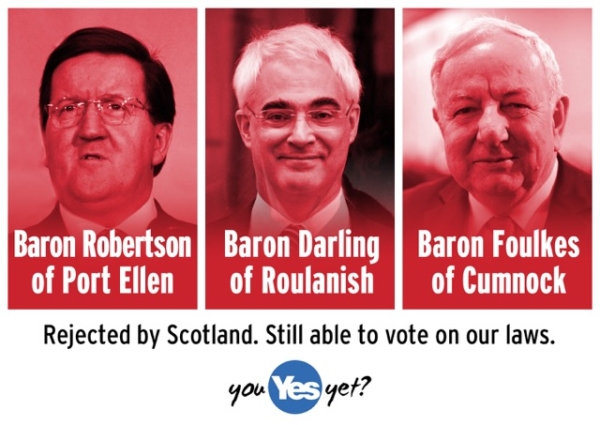 *
Danny joins ex MPs Alistair Darling, Ming the Meaningless, Sir Malcolm Bruce as Life Peers (see other as above courtesy of IndyPosterBoy). But at least we know that we're getting our moneys worth. According to the latest House of Lords Annual Report, net operating costs for the chamber totaled £94.4m for 2014/15. Of this, a modest £20.7m was spent on members' allowances and expenses
But surely the Crony's Crony has just been appointed with Fracking enthusiast and Better Together propagandist Keith Cochrane as 'Lead Non-Executive Director' to The Scotland Office Board? No, we don't understand either. BBC Scotland's normcore Business presenter Douglas Fraser reported the appointment this morning with much glee.
Only in May this year Cochrane was whining that "the bid to create a fracking industry in Scotland is under threat from "propaganda and spin". Yes it must be difficult for INEOS to combat the deep pockets of small communities resisting the environmental carnage his company is set to profit from.
Still, we can rest assured that with the Tories record on renewables and with the absolute separation between business and politics that the Weir Group will not be benefiting from this impartial appointment. Right?
And, there's little trace of irony  in this fawning Telegraph piece outlining just what a Proud Scot Cochrane is: "Calling industrial pump maker Weir one of Britain's biggest engineering businesses does the 143-year-old company a disservice. It is British, and FTSE 100-listed, but it's proudly Scottish even though just 1,200 of its near 16,000 staff work in the UK, and only about half of them north of the border."
But who's been left out as the payout-for-sellout unfolds? I think John Barrowman, Sausage-Roll Boy, and Aidan Kerr can't be far behind. And, if I were Gorgeous George or Trinny and Susannah I'd be picking out a new fedora and a bright new smock for the New Year.