The Definition of This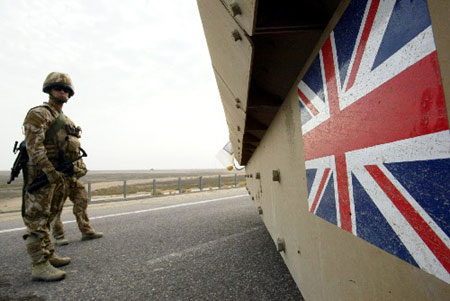 Last year a damning report by the Children's Commissioners for England, Wales, Scotland and Northern Ireland warned that rising levels of child poverty require "urgent attention" from the Westminster government. Austerity policies it said have "resulted in a failure to protect the most disadvantaged children from child poverty, preventing the realisation of their rights".  It outlined that the number of British children living in poverty is set to rise to 4.7 million in the next five years. The cuts were described as a "disgrace" by Tam Baillie, Scotland's commissioner for children and young people. "It is deeply disturbing that the UK Government, aware of the current and future impact of its cuts, appears to be targeting the most vulnerable people in our society," he said.
The Governments response? To try and redefine what is means to be poor.
Now they're doing the same with war crimes.
David Cameron is now attempting to deflect the coming revelations from the Iraq Historic Allegations Team (IHAT) which is currently considering at least 1,515 possible victims, of whom 280 are alleged to have been unlawfully killed. On the 22 January the Prime Minister said: "It is clear that there is now an industry trying to profit from spurious claims lodged against our brave servicemen and women who fought in Iraq."
No 10 followed it up with a statement saying: "The prime minister is deeply concerned at the large number of spurious claims being made against members of our armed forces. He is absolutely clear that action needs to be taken and has asked the national security council to produce a clear, detailed plan on how we stop former troops facing this torment."
Defence Secretary Michael Fallon claimed to be "enraged by ambulance-chasing lawyers" – so much so that he wants to stop human rights law covering troops in action.
Remembering the appalling torture and murder of Baha Mousa in 2003, and considering that the Iraq Historic Allegations Team (running into millions) is still investigating a military mission what ended in 2009, this is an astonishing response from David Cameron. Given that the government has now paid compensation for over 300 other cases relating to abuse and unlawful detention of Iraqis, the idea that soldiers being equal in law isn't 'spurious' – in fact it makes a mockery of the entire raison d'être of the war itself. If you'll remember we were told endlessly we were "defending freedom"?
As even veteran Iraq-apologist Nick Cohen puts it: "We are now in a grimly comic country, where in one breath Cameron rightly denounces Vladimir Putin's contempt for the rule of law. In the next, he proposes to exempt British troops from legal accountability."
The government we didn't elect is attempting to re-frame the world to defend itself. It's imposing ideology over reality.
This is the twilight zone – where the never-present Chilcot inquiry struggles to make an appearance despite years and millions poured into it, and now, Leigh Day (the law firm representing hundreds of Iraqis claiming abuse and unlawful detention by British troops), has been referred to the Solicitors Disciplinary Tribunal. This is government bullying and intimidation of the law process. It's only in a country without a written constitution that this could happen.  As Richard Norton Taylor reports here "How many Iraqis were killed or abused by British soldiers? We may never know", saying:
"…despite the plethora of allegations and investigations – more than 1,000 cases before IHAT, more than 1,000 allegations before the ICC – it is unlikely that any British soldier or veteran will be successfully prosecuted, as unlikely as the prospect of Paras being successfully prosecuted for shooting unarmed civil rights marchers on Bloody Sunday, more than 40 years ago in Northern Ireland."