PFI Scotland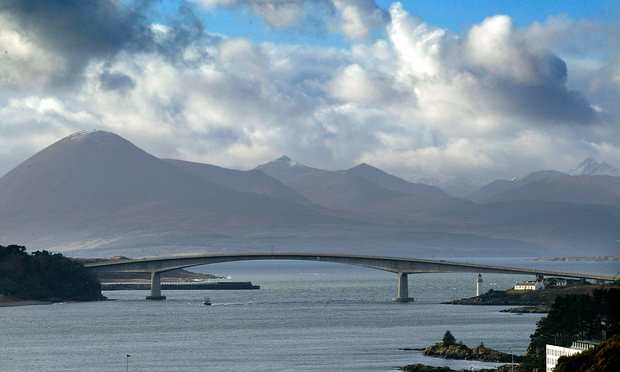 The sound of chickens coming home to roost can be heard all over Edinburgh as Labour's disastrous PFI legacy hits home leaving 9,000 children affected by the closures of 10 primary and five secondary schools. But it's not just about the schools.
In George Monbiot's Captive State (2001) he points out that the Skye Bridge was Britain's first PFI project ('A scandal of secrecy and collusion'). As Nicholas Lezard wrote: "…in its breathtakingly cynical budgeting (the government – ie we – contributed £16 million, a tidy sum for something that the private sector was meant to be building by itself), and its contempt for the people who actually use it, symbolises and typifies everything that is wrong with letting private money into what should be state enterprises. What PFI seems to mean is this: the government washes its hands of all responsibility save that of making life difficult for those who object."
PFI is rip-off Britain, started by the Tories continued by Labour. After twenty years of Tory rule with the country being bled dry by privatisation, New Labour arrived and seized on the practice. PFI was invented by John Major's government, but it really thrived under Blair and Brown. Between 1997 and 2008, 90 per cent of all hospital construction funding was under PFI agreements.
What does PFI really stand for? Pretty Fucking Ironic.
If you want a single source reason for the Labour Party's demise it can be traced back to this shoddy, short-sighted ideological travesty that sold out the public sector and ripped off the British public.
As Benedict Cooper wrote: "The NHS is riddled with extortionate debt from decades of misguided PFI deals. NHS hospitals owe £80bn in PFI loan unitary charges – in other words, the ongoing costs of maintaining PFI hospitals and paying back the loans. Next year alone, trusts will make some £2bn in repayments. Trusts like Peterborough and Stamford Hospitals NHS Trust, which is locked into making £40m in repayments a year on the PFI it took for Peterborough City Hospital, or Sherwood Forest NHS Trust, which is spending 15 per cent of its annual budget on the annual repayments on a PFI loan it took to expand the King's Mill Hospital, and so on.
But there are plenty who do gain. The initial investment made by PFI companies is paid back in spades. As Joel Benjamin of Move Your Money points out: "Typically the unitary charge is three to five times the capital cost, and on more egregious PFI projects as high as seven times".
PFI deals have been universally criticised as horrendous value for taxpayers, likened to "paying for a hospital on your credit card" by BBC Panorama. As Open Democracy states: "PFI rewires the relationship between the citizen and the state, so that our public services are no longer owned by, or directly accountable to us."
It get's worse. Scotland wasn't just the testing ground for this disaster it has a far higher proportion than anywhere else. As Gerry Hassan points out: "Scotland has 40% of PPP/PFI schools with 8.5% of the population. That's an even bigger scandal than the seventeen Edinburgh schools."
As early as 2011 Eorpa revealed that some contracts for schools and hospitals included land leases that would last more than a century, even if the contract only lasted for thirty years ('Warning over 'shameful' PFI leases lasting generations'). PFI was scrapped by the SNP when they came to power but Labour's legacy will still be with us for years to come.