The Past in Bits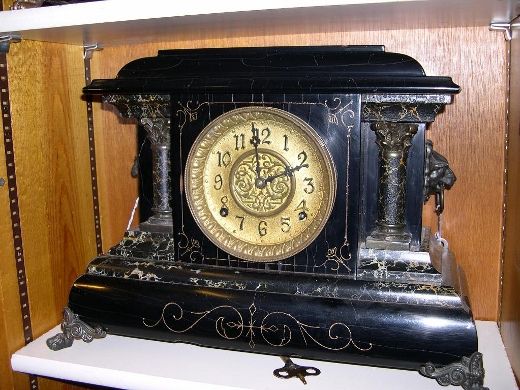 Dad slowly lifted the white sheet covering the awkward-looking heap in the corner of the scullery and found us underneath pretending to be chairs. It was my idea to dodge school, and it took some persuasion to bring my big sister around to it. All we had to do was sit perfectly still for the duration of my dad's lunch and we could have spent the remainder of the day at home, resuming where we left off a little earlier – jumping on beds, playing cards, and exploring. And there was much to explore.
Dad had secret hoards of treasure locked away in his cabinet. There were also drawers full of stuff, and things up high hiding who-knows-what. I pestered dad about what's up there, what's in here, what's behind that thing that's out of reach, and it didn't matter to me that he said there was nothing of interest to a little boy – it had quite the opposite effect, in fact.
For a while the highest object, and therefore the most valuable to my father, was completely out of reach. It looked worthless, and I thought there must be something hidden inside it. The object was a mantel clock built by my great-great-grandfather in the eighteenth century. I have never known anything to smash so completely as this clock. I climbed a pair of stepladders but could still barely reach. Trying to tilt it towards me with my fully stretched fingertips it somehow shifted off its dedicated shelf into an irreversible descent and turned almost entirely to dust. My father was distraught as he swept up the bits and pieces of the past and emptied them into a bin.
The clocks stopped with my grandfather, ending generations of clock making sweeping back to the Black Forest, but their repair and maintenance continued as a pastime with my father, and it followed we were brought up in a world that ticked and chimed. Those past remembered things are ineluctably associated with calm. I remember gentle, high-pitched ticks, and deep comforting tocks, like water dropping softly on a hollowed out block of mahogany. There was also the odd drawer full of watches for repair, some dragging listlessly, some high-spirited, others asleep or lifeless, but still with reusable parts – a casualty ward of sorts.
There were Victorian pocket watches with doors that sprang open, and wristwatches with silver straps that folded like silk. The lazy sounding springs and pendulums of the old clocks were soporific. I can still recapture some of the better memories of that long road growing up when I close my eyes and return to that automated, animated place. And I know now the treasure I thought hidden inside the clocks was in fact the clocks themselves. I am reminded of a film I once saw, where people were searching a room for diamonds when all the time they were before them in the chandelier.
We managed an hour wandering the frosty city before returning home. Snow was frozen rock hard on the ground and it was difficult to walk without slipping. The cold stabbed at our extremities, and we knew we couldn't last; we need only return home to get warmed up, leave before dad came home from work for lunch, then sneak back in again when he left. But we forgot time, until time chimed all around us, and suddenly we knew we were trapped in the house.
Dad was never late. The clocks announced quite musically he would be coming up the stairs, and we had to become furniture or face him. After we were discovered, we were fed and then taken to our school in Ropework Lane, by the Clyde, for the afternoon session. There was little comment from my father during lunch, though his face registered disappointment. He waited at the gates until we had been made to fall into line with dozens of others by the stern-faced teachers, and then frog-marched from the yard to the corridors with hundreds of children.
I can still remember the smells of that school, the janitor's closet, the corridors. I remember the bronchial irritant my teacher used as perfume, and the varnished floorboards pockmarked by her high heels. I remember the little mirror she frequently consulted to put on her red lipstick or to treat the mole she disguised as a beauty spot – a bit like the round mirror dangling on a chain my budgie glanced into and knocked around with his beak. Mostly, however, I remember my stomach was acid every morning.
At the centre of my dread of school was a teacher who was not just cruel, but inventive in her cruelty: B. I have considered her actions from different angles, and they all lead back to the mindset of Hermann Goering. On one occasion, I recall, after getting all my sums right – and I remember quite clearly her delighted smile, like a bacon slicer – she devised a devilish humiliation strategy, insisting I go to all the classes and show my answer sheet; this meant nervously knocking on doors during classes, and confronting furious owl-faced teachers with shrieking 'Whats!'
I returned after the first class – met with uproarious mocking laughter – but B, with her particular psychotic bent, screeched the command to go round the classes I missed. That was perhaps the least worst thing, I cannot mention the most worst thing, but somewhere in the middle of bad to worst was the time she asked everyone in the class to identify the source of the bad smell in the room by commanding me to stand erect by her desk, eyes forward, whilst each of the pupils sniffed around me.
Surprisingly, not even her sycophantic chorus of trusted pets – a sizeable section of the thirty-odd witnesses invited to the trial – found any malodorous evidence. But I didn't feel vindicated by the inquest verdict, and it is a psychological curiosity that in the ever-fragile realm of self-esteem, the quite ridiculous belief that I smell still lingers.
This was the school my father attended, and there was a time when he too had got into trouble; he threw a book at his teacher for calling him a Hun, this being a popular term of abuse for a German, but there was a war on then – was B still fighting it? The Times Educational Supplement ran a weekly feature inviting people to discuss how their favourite teacher positively influenced their life. Such an invite would prove immensely challenging for me. It is true a few reached out and touched me, but not in a good way.
Eight years later my sister was two years into her nursing training at Yorkhill sick kids and it wasn't working out. Look at my hands, she said, I can't stop trembling. Nineteen was a bit young for cradling terminally ill babies. She stayed in the residences and had supportive colleagues, but this day she called in sick then called on me. I was still living at home and was supposed to be at work, but was easily persuaded out of it. The sun was out, and though it may seem ridiculous now, there was music on the go that at the time caught you in its spell – school was very much out for summer.
We talked for a while in my bedroom, the walls covered with posters on peace, hope and hippy heroes, listening to the so-called underground music of the day. The clock chimed, announcing the arrival home of people who would desire explanations and want to offer advice, but the light also beckoned, and we decided to follow it up to the bus stop and into town, dodging school all over again.
Stepping onto the platform bus in Shawlands she slipped, but wouldn't let go because it would have meant letting go of her bag, and was consequently dragged down Pollokshaws Road to the next stop, scraping the toes of her shoes and wearing out the knees of her denims. She laughed about this, so I suppose if this seemed like fun work really must have been awful. The morning progressed into the afternoon, and we got stoned on teenage highs going round the music shops taking benders on Fenders, and thumping mad stuff out of our system on drums – actually believing that because we felt good we must sound good. Why is it girls always want to be drummers?
In the early evening we got talking to a group of people I knew, nerdy types that could tell you who played on every album ever made by which band you care to name as far back as you like – especially a rotund chatterbox called Bunjee, who once secretly confessed his ambition was to become an accountant with the World Bank. Later, we went to Billy Connolly's free concert in the City Hall, Candleriggs – his first live solo album – and although we couldn't find the funny side, the audience was electric and we got charged up from that. (Looking back now, I suppose there was enough material in his performance for a psych conference). That was a pretty good day. Why couldn't I have had that day, over, and over, and over?
As a way of life and as a way of making a living, the art of clock making stopped with my grandfather, the craft of clock fixing stopped with my father, and clocks stopped with me. I knocked the oldest clock off the highest shelf and nothing salvageable remained of it. I have always kept old clocks, though none work and serve only as bookends; the skills of micro-engineering were not part of my inheritance. There are no movements, no ticks or chimes, I have to close my eyes for that. But even in their frozen state they say something about time, for the hands of all are synchronised at close to midnight, and in this they serve as a personal reminder of the fragility of human existence.
In my cold Edinburgh flat, on some reasonably comfortable floorboards, I lay for days with my back out watching Frank Capra films, eating snacks and painkillers. It was now New Year's Eve, twenty years on from that crazy hot summer day dodging work, thirty years on from that freezing cold day dodging B, and although I didn't know it yet, in a few hours my sister would be dead.
The wind periodically howled up the stair and under the gaps of the doors to make the candle flames quiver, and just as some voices of merriment became audible somewhere in the distance, my sister rang to wish me a happy new year. The clock hands were close to midnight in every sense. It was a pity my back prevented the journey over to Glasgow, she said, as it was lovely and warm where she was – I was never able to make the commitment to central heating, tending to throw an extra tartan blanket over my shoulders or the bed when the cold got the better of me.
She had been sick for more than a year, but had only recently been diagnosed – an illness so rare most doctors have to look it up. We talked for a while. We talked for the last time. Did she know her life would soon end? When I reflect on every detail of it now, I wonder if perhaps she was trying to break it to me gently when she mentioned, almost in passing, that the quality of her life was poor.
Sometime after the midnight bells she slipped into a state of deep sleep and never returned. Later, our family sat around, each taking her hand and quietly saying things they hoped she could hear. For hours the room was filled with nothing but the sound of her breathing, assisted by a device that managed the rhythm of her heart and lungs. A timepiece of sorts, but somehow sustaining life rather than simply reflecting its passing. The nurse entered the room and signalled by a glance she was ready to take the plastic tube out of my sister's mouth.
The remainder of our time together passed in slow motion, just as the most precious clock that fell to the floor all those years ago seemed ever so slowly to fall, and yet my reactions were just as slow and I couldn't reach, I couldn't stop it, try as I might there was nothing I could do but watch the slow and irreversible descent. She continued breathing for a while on her own with increasing difficulty, then her body summoned the strength to draw the deepest breath, the last breath, and stopped. Her eyes opened for the first time and fixed on me for the last.