Revealed: The emails between Boris's Foreign Office and Analytica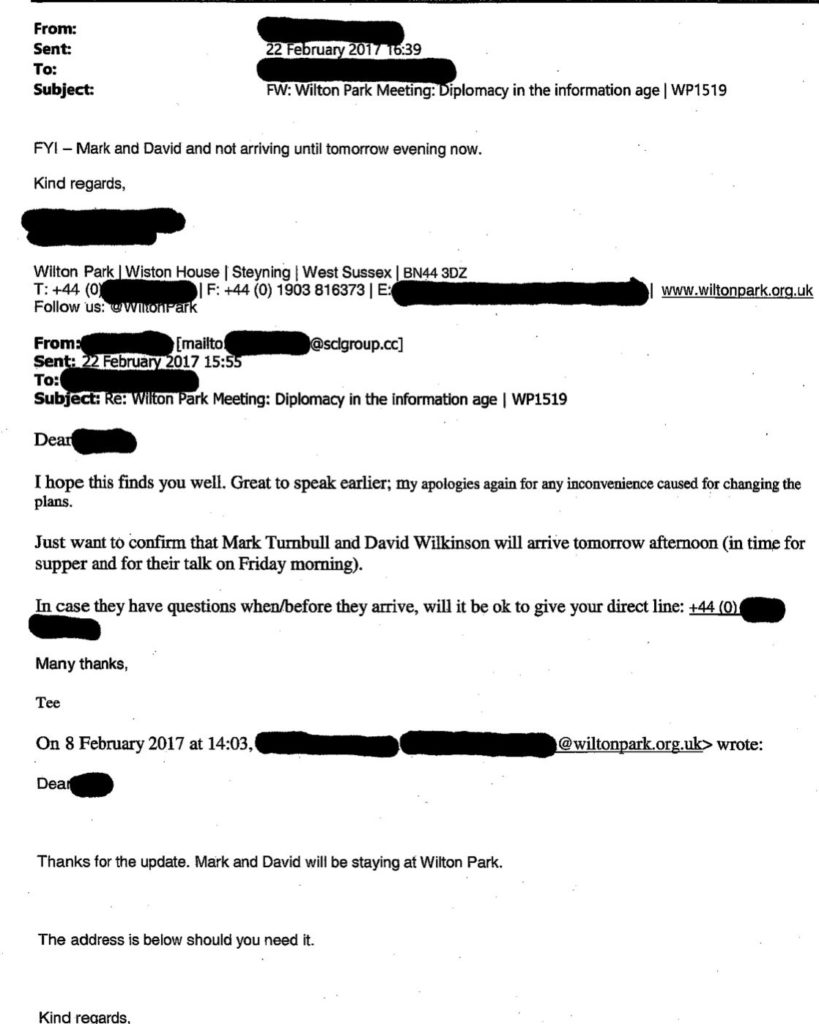 Our exclusive investigation shows SCL Group/Cambridge Analytica being invited into the heart of British government decision-making to discuss data strategy for foreign policy. Boris Johnson has questions to answer. Liam O'Hare reports. 
The UK Foreign and Commonwealth Office asked SCL Group to help shape their foreign policy data strategy, Bella can reveal.
As has been reported elsewhere Mark Turnbull and David Wilkinson attended the FCO run  'Diplomacy in the Information Age' conference in February 2017.
Now Bella has obtained a series of emails via Freedom of Information request, between Turnbull and Wilkinson and the conference organisers, which sheds further light on the nature of their participation.
Conference organisers Wilton Park – an executive arm of the FCO – wrote to Turnbull and Wilkinson inviting them to participate in the conference which took place in Sussex.
The Foreign Office invitation came in the same month – December 2016 – that UK Foreign Minister Boris Johnson held an undisclosed meeting with Alexander Nix of SCL Group/Cambridge Analytica.
The invitation letter read:  "On behalf of Mark Smith, programme director, I am writing to invite you to participate at the above Wilton Park dialogue, to be held at Wiston House, West Sussex. The meeting is being run in association with the UK Foreign & Commonwealth Office."
See redacted FOI here: FOI ref 0330-18 Correspondence 2 (2)
The conference came after it been widely reported that SCL and its offshoot Cambridge Analytica had been involved in the Trump election. It later came to light that their involvement extended to the harvesting the data of 87m Facebook users.
Rather than being put off by this involvement, the FCO seemed keen to learn lessons from the way SCL was involved in the Trump campaign.
The FOI response reveals that the FCO also invited SCL to help shape the conference by proposing ideas for other sessions.
"We have you in mind for the Data and US election session scheduled for Friday 24 February at 0915," the invitation letter read.
It continued: "From the framing on the attached programme, is this a topic you would feel comfortable addressing? Is there another sub-question under the session title you feel might add value to the conversation?
"Alternatively, is there an issue related to the overall conference theme that you might consider devoting a session to? We would welcome your further thoughts on this."
A representative on behalf of SCL Group promptly responded and accepted the invitation.
"Thank you very much for inviting SCL Group to discuss with the FCO and its partners the data strategy for foreign policy.  On behalf of SCL Group I am writing to confirm attendance of our managing director Mark Turnbull and our data scientist David Wilkinson," read their response.
SCL then asked if it would be possible to arrange "1-on-1" meeting between their managing director David Turnbull and the organisers. It also asked to be provided with a list of attendees "so we understand the audience".
Neither of the responses to these queries were included in the FOI.
The nature and purpose of the conference was further laid out by the conference organisers in their invitation.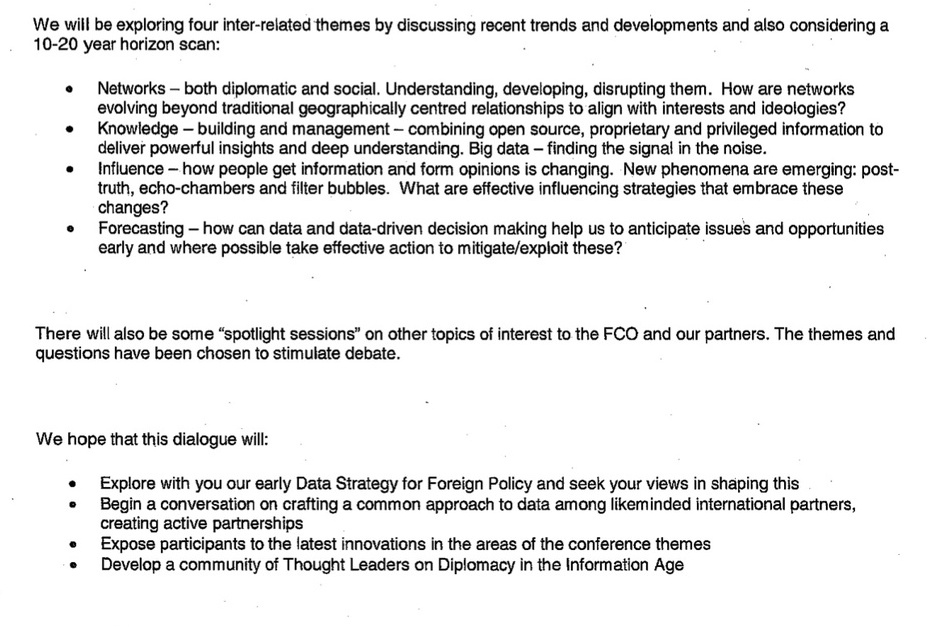 It said they would be exploring the following four interrelated themes:
"Networks – Both diplomatic and social. Understanding, developing, disrupting them. How are networks evolving beyond traditionally geographically centred relationships to align with interests and ideology.
"Knowledge – Combing open source, proprietary and privileged information to deliver powerful insights and deep understanding. Big data – finding the signal in the noise.
"Influence – How people get information and form opinions  is changing. New phonemonenia are emerging – post-truth, echo-chambers and filter bubbles. What are effective influence strategies that embrace these changes?
Forecasting – How can data and data-driven decision making help us anticipate issues  and opportunities early and where possible take effective action to mitigate/exploit these?"
See redacted FOI here: FOI ref 0330-18 Correspondence 1 (1)
The organisers also told SCL that they wanted to "explore with you our early data strategy for foreign policy and seek your views in shaping this."
They added that they hoped to "craft a common approach" to data among "like-minded international partners" with the stated aim of developing "a community of thought leaders on diplomacy in the information age".
In addition to seeking their ideas and cooperation, SCL were also assured that all their hotel, food and transport bills would be paid for.
Turnbull and Wilkinson were also told that there "would be tennis courts in the ground available for their use".
The emails  add to reporting in the Observer last week that Foreign Office officials met with Cambridge Analytica several times to "better understand" the secrets behind the Trump election victory.
The FCO previously had a £400,000 contract with Strategic Communications Laboratories, the former name of SCL Group, for a project on "tackling extremism".
It's been recently reported that the Cambridge Analytica and SCL Elections are set to close down following the revelations into their activities.
However, the parent company SCL Group is set to remain active. Meanwhile, a new company set up called Emerdata shares many of the directors of SCL Group and also has the involvement of the Mercer family, which instigated SCL's involvement in Trump's election.
As I've outlined in previous articles on this subject, SCL are a group with close ties to powerful circles in the Conservative Party and British military establishment.
It has worked with a number of dubious foreign leaders and has been accused of election rigging, setting honey traps and helping to deceive voters.
The UK government has sought to condemn and distance itself from some of SCL's Group's more controversial activities.
However, these latest emails reveal that as recently as last year, it was keen to work in conjunction with the organisation to develop strategies around the use of data.
It will surely concern many that Britain's foreign policy approaches to data appear to have been shaped by a company at the heart of the biggest scandal of data harvesting and dirty tricks in recent times.
Boris Johnson has questions to answer.