Sunny Days in Glasgow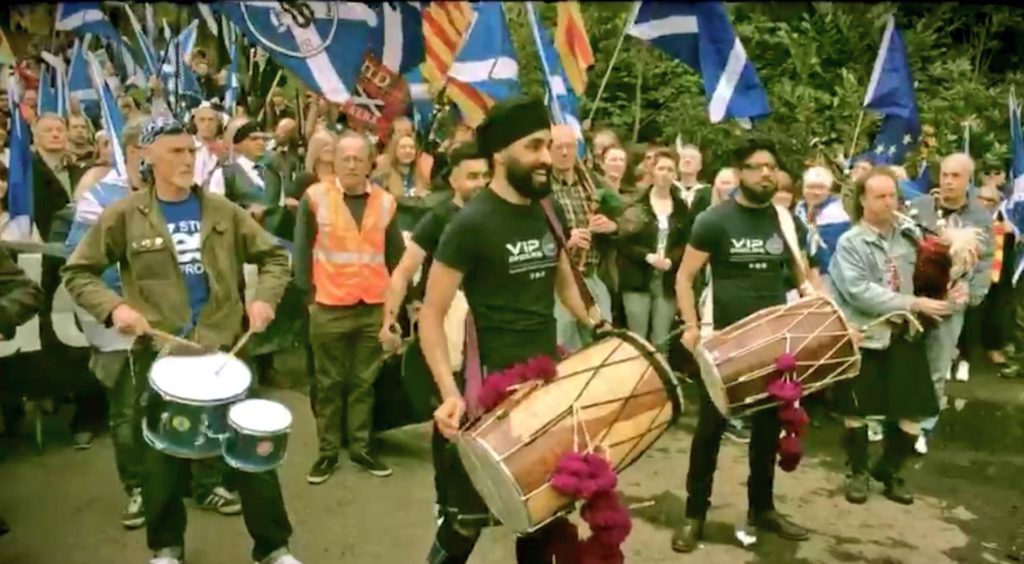 Yesterday's march was a huge and brilliant turnout which far exceeded the organisers expectations. It is a manifestation of the movements strength and an inspiration for all. Marches like this are a message of intent, a learning curve for organisers and a boost of confidence for tired and battle-weary protestors and activists. The fact that the event was so large and went off without a single incident is testimony to the crowd and the wider movement. The result was also the payoff for months, in some cases years of patient steady movement-building on a very practical level by national grassroots organisations and a network of local groups nurtured and sustained by dedicated souls up and down the land. The sheer scale of the event will have made many people wake up to what's latent in Scotland. This is far more powerful than the aristocratic loot showered down on Scotland in Union.
But it doesn't make the many issues and obstacles that we face vanish away. Here's three of them.
1) The march itself was a show of strength by the Yes movement, and an incredibly powerful one. But we should avoid history repeating itself. I remember being in the Usher Hall in 2014 just before the referendum and being carried away by the euphoria. "How could we not win? Look at all the people!" This is not to deride the event (s) but just to remind ourselves that it's all the people that weren't on the march that matter. It remains a central failing of the Yes movement that it is not good at communicating beyond itself. Marching and physical presence on the street are important, but they are an aspect of a movement, not the movement itself.
2) The march's size and success will compel this argument that we must have a independence referendum as soon as possible because … we had a big march. I am not of the persuasion that we can't win the next referendum, I am certainly of the belief that we can. But I'd like to have a developed understanding of how we are going to do this. At the moment the argument seems to be thin on the ground. Open internal discussion needs to be nurtured so that the development of tactics and strategy doesn't get drowned out as being some kind of treasonous act.
3) Thirdly we need to confront the issue around timing and legality. I've not read a coherent analysis of what we would do if and when the British Government denies the right to hold a second referendum. It may well be out there – if so please point to it. For all the solidarity with Catalonia what have we learned from the unfolding crisis there? Is it based on the moral authority of our case? Is it based on the legal authority of our case? Is it based on the political authority of our case? All may be true but none answer the case of how we would respond if a second referendum went ahead without the equivalent of an Edinburgh Agreement?
Saturdays demonstration was a huge boost to the independence movement, and there are a number of new projects and structures that are emerging that will help take us on to a higher level. But we also need to face these issues and construct platforms and methods for communication to the undecided and to confront the political obstacles ahead.
If yesterday was amazing (and it was) it reinforces rather than undermines the arguments put forward on these pages last week by William Thomson that: "The YES movement needs a well resourced, professional, non political organisation to make sure every opportunity is realised."
It was a point reiterated by Robin McAlpine that: "…having the branding of a political party attached to a campaign closes it off to a large audience. It doesn't matter if they're right or wrong, a significant proportion of the people whose minds we need to change recoil from party branding. They're very disillusioned, or they don't like a given political party for a separate reason. We need another way to talk to them, to reach them. It has to be civic, not political. But it also needs to be professional. I wrote about this last week – campaigns that win always do the same things. They don't guess what the target audience thinks, they research it. They don't just make up slogans and campaign themes, they test which ones work.
They don't hope people will self-organise, they support them. They don't wait until someone else comes up with answers to key questions, they produce them. None of this can be done without resource."
Yesterday was a new beginning not an ending.