George Orwell and Britain's Constitutional Crisis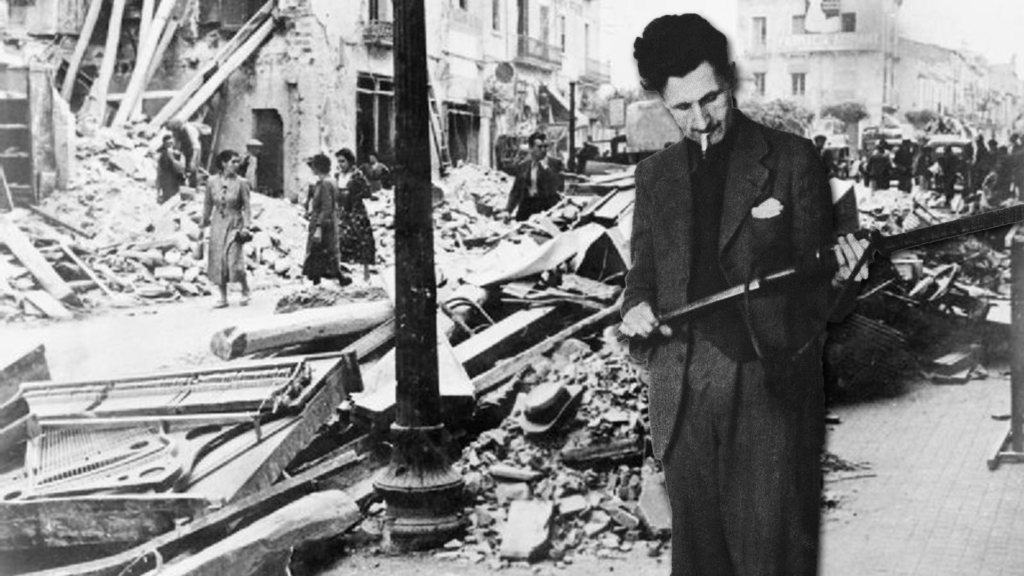 Eric Arthur Blair, or George Orwell as he is more commonly known, is a paradoxical figure. He was the author of two pretty wooden novels (Animal Farm and 1984) which nonetheless had a tremendous impact and influence on society and are still widely read today. An Eton-educated scholarship boy, Orwell was also something of a snob according to many accounts, but a snob who unquestionably devoted a great deal of his life to fighting for the working class, the poor and the cause of social justice.
Paradoxical too is Orwell being credited with having spoken out against nationalism, even though he also wrote one of the most famous essays in the English nationalism canon, "The Lion And The Unicorn", where he pays tribute to the English "genius" whose most distinctive feature he declares to be "gentleness", before reeling off a number of his most cherished features of English life. John Major's much ridiculed "old maids on bicycles and warm beer" speech from back in the 90's is basically a rehash of Orwell's "solid breakfasts and gloomy Sundays, smoky towns and winding roads, green fields and red pillar boxes" from that same essay which dates from the darkest year in British history, 1940. Orwell goes on to add: "Above all it is your civilization, it is you. How ever much you hate it or laugh at it, you will never be happy away from it… Good or evil, it is yours, and you belong to it." England that is. So much, then, for George Orwell the anti-nationalist…
Returning to him at this time of profound crisis in British democracy – Orwell is the nearest thing to a public intellectual figure 20th Century England produced, along with the philosopher Bertrand Russel – what is striking is just how much he is associated with anti-totalitarianism and anti-nationalism these days, and just how overlooked his commitment to Social Democracy has become, almost elided out of existence in fact.
In his writings, Orwell continually points to two distinctive dangers for the free-thinking individual of independent mind who constitutes the backbone of democracy and a human rights-based society: the totalitarian State on the one hand, and the monopoly of power, wealth and the media in capitalist society on the other.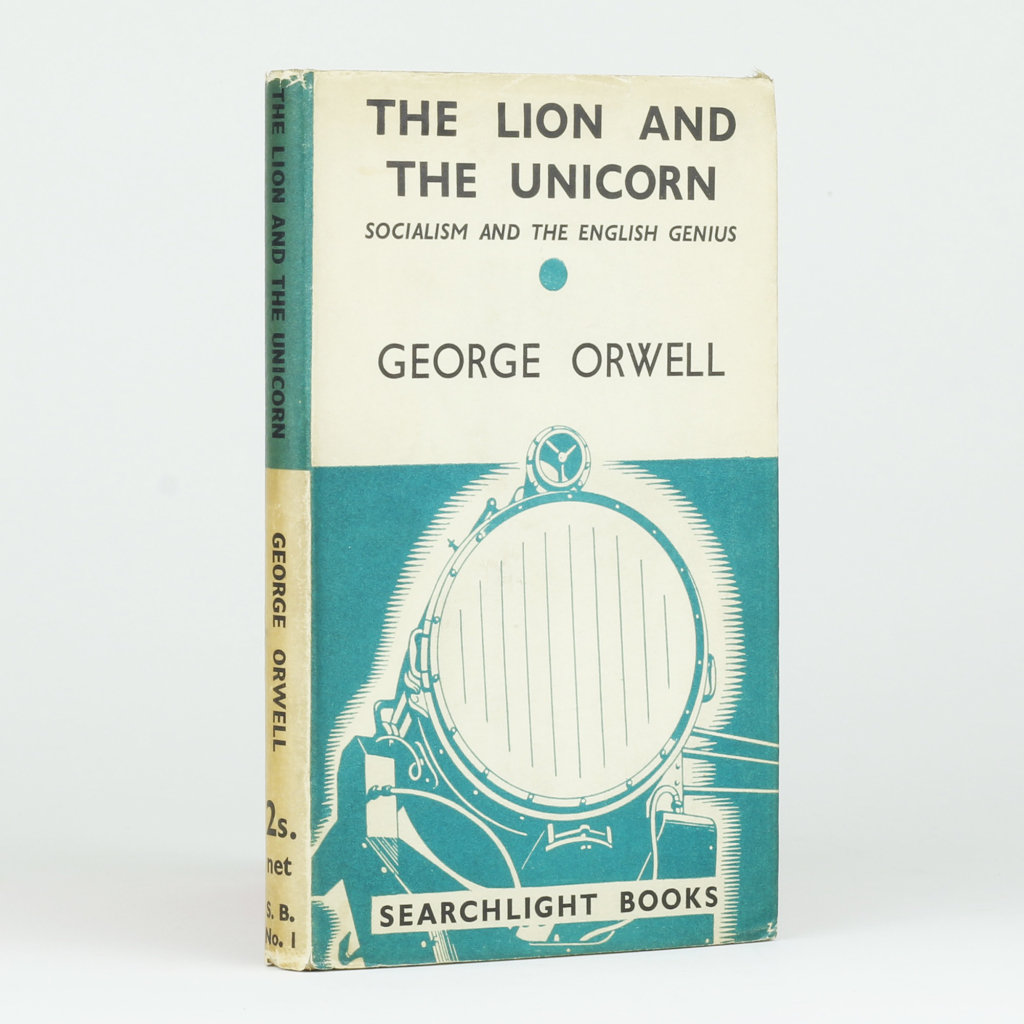 These are the twin dangers, the twin sources of propaganda and doublethink, and both were uppermost in Orwell's mind when he was writing. While the dangers of the former are mentioned frequently in the UK press, the concentration of media power and wealth in the hands of the few is rarely if ever touched upon. This tells you all you need to know about the times we live in, about the political and media establishment which have served us up the calamity of Brexit, and the people with a penchant for quoting George Orwell all of the time.
With public support for the UK remaining in the EU overturned in a nightmarish 2016 referendum campaign characterized by lies, dirty money, illegitimate campaigning tactics (Cambridge Analytica), and even the murder of a Remain MP, the late Jo Cox, the blame which lies with the English media and its thirty year propaganda war of attrition against the European Union cannot be over-stressed. The London media is very much to blame. It has got what it always wanted in Britain leaving the EU, but has it always wanted what it now has got? Which is to say, an unprecedented constitutional crisis, political paralysis, economic stagnation and what looks like the now seemingly inevitable break-up of the UK?
All too many of the UK's leading Remain politicians also need to take their share of the blame for cravenly refusing to stand up to cheap, jingoistic anti-EU sentiment when it needed to be outfaced, like former PM Gordon Brown who shamefully called for "British jobs for British workers" when he needed the votes, and infamously – at least in Europe is it still remembered – snubbed twenty-seven European Heads of Government when he failed to attend the public ceremony for the signing of the Lisbon Treaty in December 2007.
Brown is ever present in the UK media of late, arguing against Brexit, yet he clearly played a role in Brexit having come about in the first place, placating the Brexit mob when he could have done much more to fight back against a campaign of outright lies and shameless propaganda. After all, for a few bumbling and forgettable months, he was the British Prime Minister. That Brown is now selling himself as a champion of Remain, and referencing George Orwell with it, is just too much to bear. Almost any mainstream politician who quotes George Orwell ought to be immediately distrusted, and the fatuous Gordon Brown, who famously claimed to have abolished boom and bust, more than most.
The fact of the matter is that with a truly free and diverse press, we would surely not be in this current Brexit mess. Such a press can only come about if guaranteed by parliamentary legislation, and by subsidizing, if so required, the critical, popular writing Orwell himself produced. It seems obvious to me – it would have seemed obvious to Orwell too I think – that a society which has such huge concentrations of wealth and power as the UK does today – a circumstance perpetuated by the private schools (which Orwell wanted abolished) low or non-existent inheritance tax, chronically underfunded public services, and tax havens for the rich, to name just a few of our ills – cannot by definition have a fair, diverse and balanced press.
Social democracy is the key to a plural society, and always has been: the clue is in the name. If you fail to legislate for a socially diverse society and instead entrench class differences as in Britain, one of the most unequal countries in Europe today, you will destabilize democracy by concentrating too much power in too few hands. This is precisely what happened in the calamitous 1930's when Orwell was writing, and to a large extent it is why he believed in Social Democracy. It is also what has happened in Britain over recent decades and, I believe, explains to a large extent the folly of Brexit.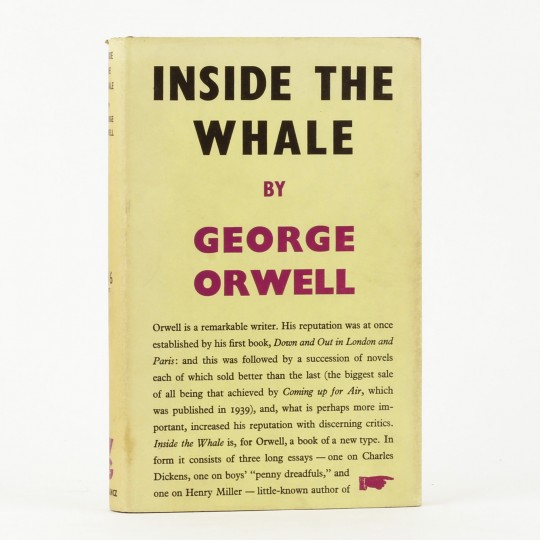 If it is in the essay form where Orwell is at his best, the essays themselves are a somewhat mixed bag. "Inside The Whale" is an interesting enough account of how Orwell, en route to Spain, found his way to becoming a political novelist – at least that is one reading of it – through meeting the American writer Henry Miller in Paris, who told him that only an idiot would go to fight in the Civil War in Spain. Miller's outlook as an artist was that of a passive spectator of events, a Jonah inside the whale of History, which is where the essay's title comes from. Orwell presciently saw what was new in the nihilistic, life-affirming, Miller – a writer to whom the wandering Scottish novelist Alexander Trocchi seems indebted – and for his own novels, headed in precisely the opposite direction.
"Notes on Nationalism", on the other hand, is a muddle-headed and confused essay, deficient in its terminology to the point that it comes close to mumbo-jumbo. Orwell's definition of nationalism – a term which he concedes is inadequate for what he is trying to convey – includes Catholicism, the Soviet Union, Nazism, Pacifism, Scottish Nationalism, Welsh Nationalism, Anti-Semitism, Zionism, and Trotskyism, though not English imperialism, even if it ought to be added that Orwell did support India's right to self-determination and would surely have supported the same right for Scotland today, according to any fair-minded reading of his work.
In his much quoted "Notes", Orwell contrasted "aggressive nationalism" with patriotism, which he defined as a "devotion to a particular way of life, which one believes to be the best in the world but has no wish to force on other people. Patriotism is by nature defensive, both militarily and culturally." This back in 1945, when the Empire was four centuries old and British rule was finally coming to an end in around one third of the planet…
The expression Orwell was looking for can only be what we now call the fundamentalist or totalitarian mindset, and it seems odd that a man who knew totalitarianism better than most was unable to put his finger on it at the time. In any case, what is important to realize is that what Orwell was denouncing in "Notes on Nationalism" was a mindset and way of thinking, which he called "nationalism", more than any particular cause – though his focus throughout this period is particularly on the totalitarian thinking of British intellectuals who supported the Soviet Union – and, equally, almost any political cause is susceptible to the mindset Orwell correctly identified.
In any case, the hard Brexiters / No Dealers – which is to say, the current UK cabinet – would clearly fit into one of the "nationalism" categories which Orwell chose to call "Neo-Toryism" in his essay, the defining characteristic of which is "the desire not to recognize that British power and influence have declined." Though again, it ought to be said, the correct word for what Orwell calls Neo-Toryism would be English Nationalism, no more, no less. But Orwell doesn't seem to have even contemplated that English nationalism might exist, not even as a political concept.
In any case, his essays do provide some clues to understanding just how the British public was duped into voting the country poorer, more isolated and culturally impoverished back in June of 2016 by a band of unscrupulous, public schoolboy toffs with a variety of life experience similar in range to the common tadpole in the pond of the local park. In "The Prevention of Literature" Orwell states that "Political writing in our time consists almost entirely of prefabricated phrases bolted together like the pieces of a child's Meccano set." Some such examples of pre-fabricated phrases – deadly to critical thinking and a vibrant democratic society – which have dominated the news headlines over the last three years would be the vapid and illusory "take back control" (over what and for whom?), "Brussels bureaucrats" (as if there were no bureaucrats in Britain) "global Britain" (as if we didn't already trade globally, and what about all those carbon emissions and airmiles anyway?), "EU Super State" (Brussels is not even a State, it is a bureaucracy or an administration) and even the term Brexit itself, which sounds like something easy, racy, and snappy, as painless as walking through an open door. With the coinage of that slippery term, the pro-Brexit English press already handed a head-start to the Leavers over those in favour of remaining in the European Union.
For the always engaging Will Self, Orwell was a "talented mediocrity" in a country which has always cherished talented mediocrities because they are easy to understand, easy to quote from, and not much of an intellectual threat to anybody. This seems to me to be a correct analysis. Orwell can indeed be just what you want him to be – his writings are often called upon by both the Right and the Left to make a case – and his legacy has been put to use for dubious ends far too often, by people like the late Christopher Hitchens, who comes close to enlisting Orwell for the cause of the illegal war in Iraq.
'Hitch' is one of many English writers whose enthusiasm for Orwell amounted almost to an act of appropriation. In fact, Hitchens, whose career saw him cross the political spectrum from the Left to the Neo-Con Right would seem to have had the same mindset which Orwell particularly distrusted. In his Notes on Nationalism, Orwell points out that one of the characteristics of the fanatical or totalitarian mindset is changing from one cause to another (indifference to reality is another one) as Christopher Hitchens did so publicly, becoming as intransigent a Neo-Con as he had earlier been a champion of the Left. If the 21st Century has taught us anything, it is that the fight against evil dictatorships is just as liable to fall victim to the totalitarian, fanatical mindset as any other noble cause. See Tony Blair for further details.
As a writer of novels, Orwell is generally agreed to be lame and pretty weak, and if he is so well known and so widely read, it is because he wrote in a language as transparent as a pane of glass. That might be considered a virtue for the historian, or the essayist which Orwell essentially was, but for a novelist it can hardly be considered a compliment. There is a world of difference between the opening pages of Henry Miller's seminal and still vibrant "Tropic of Cancer ("Everything that was literature has fallen from me. There are no more books to be written, thank God. This then? This is not a book. This is… a prolonged insult, a gob or a spit in the face of Art") and the wooden, puerile opening of Orwell's 1984 "It was a bright, cold day in August, and the clocks were striking thirteen" which sounds like something out of a childish nursery rhyme.
All of this said, there seem to me to be two things in which Orwell was indeed an exceptional man: one is his courage and his bravery, both physical and intellectual, in standing up to power and enduring physical hardship. The other is his thirst for experience and his taste for adventure.
Orwell, after all, actually went to Spain to fight Fascism, lambasted the British elite who had appeased Hitler, and was also unsparing with Stalinism and the pro-Soviet Union English intellectual circle of the 1930's which included the Auden Group. He made plenty of enemies, and he was always a bit of an outsider. Furthermore, something which is usually bestowed by chance or fate on certain individuals, in Orwell's case was actively sought out: he made sure he was in the right place at the right time when History was being made, and he knew how to turn that to his account. He was, at the very least, honest, brave, effective and highly perspicacious, and all in aid of the right cause, and at precisely the right time when democracy needed a writer like him most. As a figure, it seems to me, he will always be important to any democrat, much more than he actually is as a writer.
Orwell's unflinching intellectual bravery was such that he devoted most of his life after the Spanish Civil War to denouncing one of the factions – Soviet Communism – which had been fighting on the same side as him, without ever reneging on his decision to go to Spain to stand against Fascism in a war which was merely the prelude to the Nazis overrunning Europe. As Orwell himself expressed it in "Why I Write" about his time in Spain: ·Every line of serious work that I have written since 1936 has been written, directly or indirectly, against totalitarianism and for democratic Socialism".
To see people like Gordon Brown and Ruth Davidson quote Orwell for their own political ends is an absolute travesty of the man and his ideas; it is not more partial and tendentious quotations of Orwell from our politicians that we need, but more of the free-thinking, active, unflinching independent writing which Orwell championed. The democratic well-being of our society depends upon a vigorous free press, including television, radio and the internet. If it has to be funded by the State, then so be it. It would be a cheap price compared to the one we now have to pay for leaving the European Union, the billions Britain will lose for allowing too much media power to accumulate in too few hands.
The BBC, an anachronism in the 21st Century, should be broken up, and the license fee distributed to a variety of different news outlets to create a vigorous, diverse media space. The BBC too has played its part in the constitutional crisis we are now facing in Britain today, it too is to blame for the Brexit fiasco. The BBC has failed the country, never missing an opportunity to invite Nigel Farage onto political shows like Question Time in the years before the June 2016 referendum, allowing him and UKIP airtime far in excess of the support they enjoyed, failing to properly scrutinize the arguments of the Brexiters again and again.
Perhaps too, thinking about Orwell and Social Democracy, and looking at what has happened to Britain since Margaret Thatcher came to power in 1979 and decreed the end of society, ringing in the age of unfettered greed and heedless individualism, Britain leaving the EU was always just a question of time.
For one of the declared founding principles of the EU is, after all, solidarity between European nations. And why care about that when British governments over forty years have ordained that what is important in life is getting on, working hard, buying a house and earning money? Such a narrow, blinkered self-seeking, self-serving, and fundamentally selfish view of human society was always doomed to failure, a failure which has now come to pass. For whatever happens over the next few weeks and months, Britain is a broken democracy, and a whole era is surely coming to an end.
As for leaders of other EU countries, the ones where the Far Right are still not in power that is, they could do worse than read Orwell on Social Democracy, power and the capitalist media if they want to preserve the European Union, a project which, let's not forget, came into being and flourished at the same time as European Social Democracy itself, and which, not uncoincidentally, has entered stormy waters on abandoning that model for the short-term hit of neoliberal gain.
As the refugee rescue boat the Open Arms sails around the Mediterranean with 140 desperate refugees on board, and no port willing to let it land, solidarity, the very principle the European Union was founded on by its creators, is nowhere to be seen, and without that principle being respected, the EU will not survive. I think we all know what George Orwell would have said about that.