Bombs, Banks and Ferries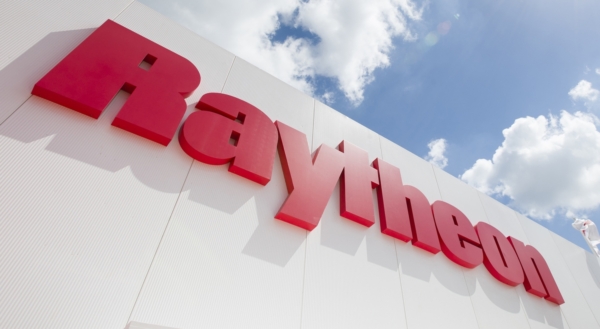 NUKEs, ARMS DEALING AND DIRTY MONEY
BRITISH judges are clearly working overtime. It's not just Boris who has been caught breaking the law, though he's clearly a serial offender.  In June, the English Court of Appeal ruled that UK arms sales to Saudi Arabia (and its Gulf allies) were unlawful both because arms export rules had been violated, and because Tory ministers were ignoring the fact that Saudi airstrikes using British-supplied planes and bombs were massacring Yemeni civilians wholesale.
The case was brought by the hard-working Campaign Against Arms Trade (CAAT).  Three Appeal Court judges found that Boris, Jeremy Hunt and Liam had illegally signed off on arms exports without properly assessing the risk to civilians.  Sir Terence Etherton, the master of the rolls, opined that these ministers had "made no concluded assessments of whether the Saudi-led coalition had committed violations of international humanitarian law in the past, during the Yemen conflict, and made no attempt to do so".  Fox – then international trade secretary – was ordered to hold an immediate review of £4.7bn worth of arms deals with the odious Saudi regime since the Yemen war began.
There was only one wee problem. This week, our newly restored Westminster Parliament forced the government to admit it was still issuing export licences to Saudi Arabia for material that could be used in the war – licenses in breech both of the Appeal Court ban and solemn undertakings given by ministers to Parliament.  Thanks to an urgent parliamentary question from SNP MP Chris Law, the trade secretary Liz Truss had to make a grovelling apology.  She also pointed out the review of policy order by the courts back in June was still ongoing – and would likely turn up more illicit licenses.
Britain exports circa £7bn of weapons ever year, as it vies with Putin's Russian to win second place in the global death sales market (after America).  Alas, Saudi is the UK's biggest arms customer, so this legal glitch is a worry.   Other customers include Israel (£443m in current licenses) which buys targeting equipment and parts for drones. We also do good business in tear gas exports, including to Hong Kong.  Next time you see HK students being gassed you'll know where the gas comes from.
Note: given the ease with which the UK government allows arms exports, it is no accident that major US companies manufacture here.  Raytheon's Glenrothes facility makes the electronic widgets that guide its Paveway IV "precision weapons" that somehow keep murdering civilians in Yemen.

Question for the SNP's IndyRef2 policy position: will you allow Raytheon to export arms from an independent Scotland?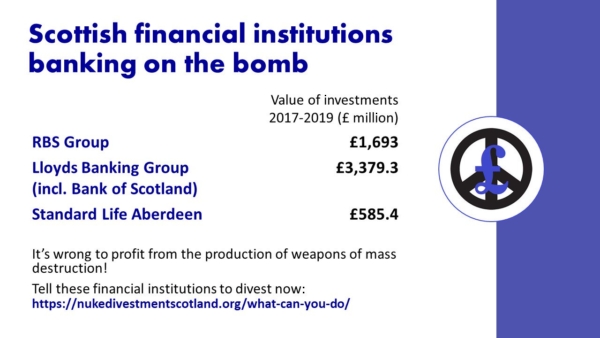 BANKING ON NUCLEAR WAR?
Scottish CND and local peace activists have a wonderful record on opposing nuclear weapons located in Scotland.  However, before we congratulate ourselves too much, we need to remember that Scottish business in heavily implicated in the nuclear arms business.  The Don't Bank on the Bomb Scotland group have just issued some interesting new figures on the extent to which Scottish financial institutions invest in or lend to companies involved in manufacturing components for nuclear weapons and their delivery systems.
According to DBBS research, between January 2017 and January 2019, Lloyds Banking Group (which includes Bank of Scotland) made £3.4 billion available to 11 of the top 28 nuclear weapons producers, while RBS group made £1.7 billion available to 13 companies. These investments were in the form of loans or underwriting bond issues. Also, Standard Life Aberdeen held shares worth £585 million in three nuclear arms companies, during the period.  Among the companies receiving this investment cash were Rolls Royce, Babcock International and BAE Systems – mostly for work the British nuclear submarine fleet.
Concerned readers might care to reflect on where they bank.
BEWARE SERCO TENTACLES EVERYWHERE
The Scottish Government has just named Serco as its preferred bidder to continue the Northern Isles ferry service.  The contract is worth £345m.  Islands Minister Paul Wheelhouse was ecstatic when he made the announcement, claiming Serco will give islanders a 20 per cent discount on regular cabin fares plus there will be a three-year fare freeze.  Whoopee for Serco. Bad news for the other bidder, the state-owned Caledonian MacBrayne.
Who is Serco?  They are one of the many so-called 'providers' that emerged out of the Thatcherite outsourcing of public services.  In other words, they bid for public service management contracts in absolutely any field – passports, prisons, transport, housing, education, health, leisure, waste disposal and – you've guessed – defence.  Recently Serco sparked controversy in Scotland over its plan to change locks on the homes of unsuccessful asylum seekers.
You might ask how one firm can have the expertise to straddle so many diverse sectors. The answer is they can't possibly. Private service providers make their cash by squeezing wage costs, cutting overheads and using cross subsidy between contracts to let them underbid to win business.  This is a high-risk game – witness the crash of Carillion last year.  Keep your fingers crossed for their 60,000 employees worldwide.  Last year Serco's operating profit rose 40 per cent to £80.5m.
Our friends in Serco are one of three partners in a consortium which manages the UK Atomic Weapons Establishment, which is responsible for the design, manufacture and support of British nuclear warheads.  Serco's Middle east subsidiary operates and maintains the air bases in the United Arab Emirates from which this Saudi ally launches air strikes on the Yemen.  Last month, the Yemeni defence ministry (supposedly on the Saudi-UAE side) accused the UAE of killing more than 300 people in airstrikes.
We should also note the close links between Serco and the British defence establishment. Its senior man in Saudi Arabia, Alasdair Wild, is a former MoD staffer and the former defence attaché at the British embassy in Riyadh.
These are not the people any Scottish government – far less the SNP – should be doing business with.  They are certainly not worth a cheap ticket on the ferry to Lerwick.