Scottish XR Peace Activists Arrested in London as BBC Scotland Fail Again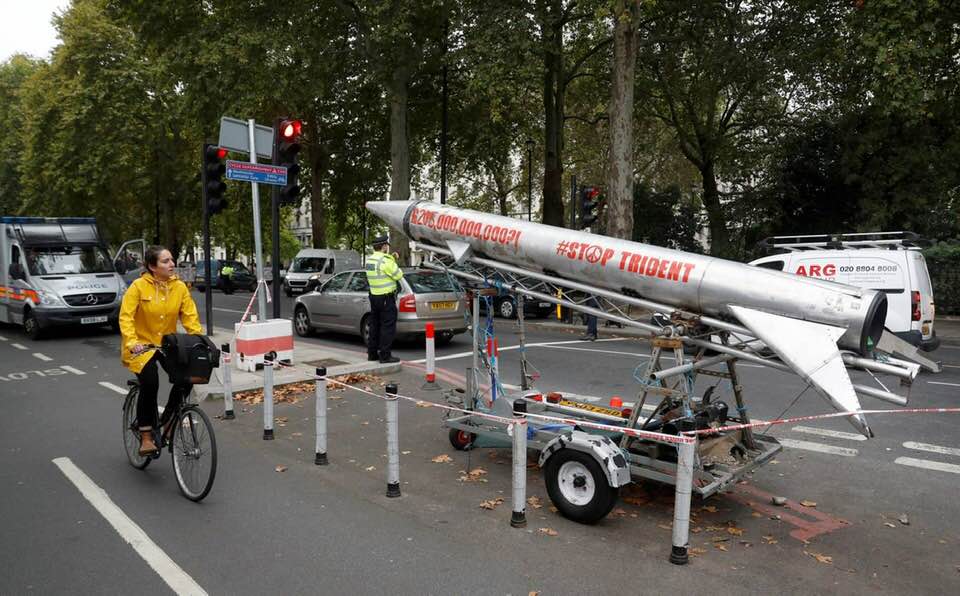 One of the simple demands of the public broadcasters and the wider media by Extinction Rebellion is : "tell the truth".
BBC Scotland has its own problems in this area, as we covered earlier this year with the new BBC Scotland "Nine" news programme coming under a wave of criticism after inviting a renowned climate science denier onto its show on the very day of the global school strike.
We've looked at how the same programme booked Brendan O'Neill earlier this year, and, more importantly, why their "Environment Correspondent" writes gushing praise as he switches identity to become their "Energy Correspondent".
Today was worse as Douglas Fraser (Business Editor) writes a feature article in praise of the new Norwegian oil field "Johan Sverdrup" talking of "A vast new oil field in the North Sea has come on stream, drawing on new technology for greater efficiency and far greater profits."
See"A new monster from the deep".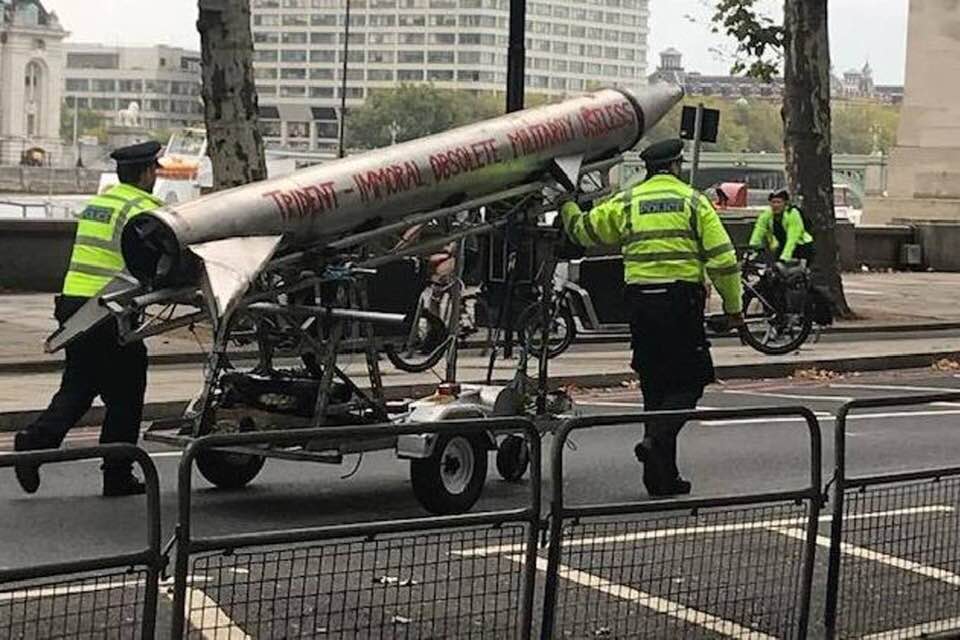 The whole article reads like a press release. He writes:
"A few factors that are particularly noteworthy:
The project has stripped out the huge carbon footprint involved in extracting hydrocarbons. Instead of requiring generators offshore, the platforms are linked to the Norwegian grid by a 62km (39 miles)cable."
If this meaningless factoid is not lifted directly from a Equinor PR I'd be astonished.
It's an abdication of moral and editorial standards as a well-paid BBC editor frames the entire debate about North Sea oil as about 'efficiency'. Fraser gushes:
"They are all very large oil and gas fields in the North Sea, which drove the investment boom at the start of this decade, and now represent a large share of Britain's hydrocarbon output, as older fields rapidly deplete.
But less than 20km (12 miles) across the sea boundary and 90km (56 miles) west of Stavanger, Johan Sverdrup is the daddy of the new North Sea."
He concludes in chipper mood: "With Johan Sverdrup now onstream, that flow of kroners is set to stay strong for years to come."
Back to Reality
Meanwhile in London 23 people, including Jane Tallents from Midlothian, have been arrested this morning after blocking Victoria Embankment outside the UK Ministry of Defence complex, amid calls for UK to redirect resources from military to address Climate Crisis, and as part of the XR London Rebellion beginning today.
The protesters, from the XR Peace group, blocked the Embankment with a car and by attaching themselves to a mock Trident missile. Among the protesters were Rewilding North, a group from Wales, a group from Cornwall, a group from Yorkshire, people from Scotland and other parts of the country.
Trident Ploughshares activist Jane Tallents, from Milkhall in Midlothian, who lived for six years at Faslane Peace Camp in the 1980s said:
"All people of the earth face the twin existential threats of nuclear weapons and the climate emergency. To avert catastrophe we must find new ways of thinking and work together to save our shared home."  

Among those arrested is Quaker Sarah Lasenby, 81, a retired social worker from Oxford. She said:
"For twenty-one years my main concern has been to help get rid on UK nuclear weapons. I am still keen to do this but once I came across XR I was so relieved to have something I could do about the ghastly state we have got our planet in. The directness of the students with statements 'There is no planet B' and 'it is our futures' has driven me on.. The whole thing is so urgent that it is imperative the Government should take serious actions and put pressure on other states and Global Powers to radically reduce the use of fossil fuels even if this means we need to reduce our comfort at home and so much flying. The future life of the planet is so important. So I protest with XRPeace."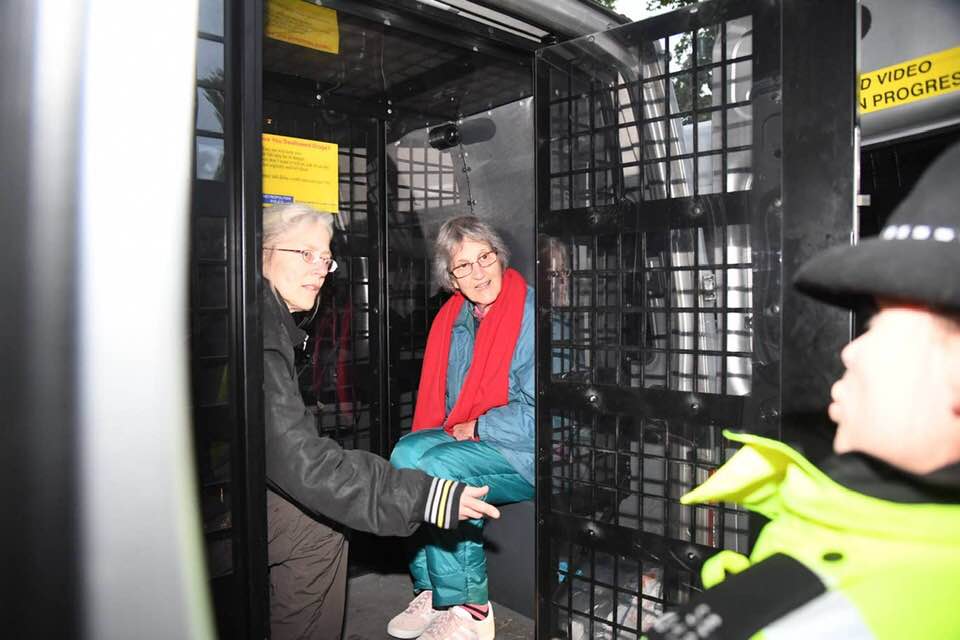 Also arrested is Angie Zelter, founder of the nonviolent direct action nuclear disarmament campaign group Trident Ploughshares, who said:
"Climate change causes war and war causes climate change. About 6% of global carbon emissions are from military activity. As the climate crisis gains pace there will be increasing tension. If countries continue to resort to war as a means of solving conflict we will not be able to avert climate crisis."
The XR Peace presence at the Embankment continues. Later this morning artist Peter Kennard, who created the iconic image of the CND symbol with a broken ballistic missile, will produce a new work of art linking militarism and the climate emergency. In the afternoon Caroline Lucas MP will speak, along with veteran CND activist Bruce Kent and Lindsey German of Stop the War.
XR Peace is a coalition of peace groups including Trident Ploughshares, Campaign for Nuclear Disarmament, Scottish CND, CND Cymru, Stop the War, Women's International League for Peace and Freedom, War Resisters International, Nukewatch, Edinburgh Peace & Justice Centre, Iona Community and Nipponzan Myohoji UK Peace Pagodas.
The gap between a conscious, alert and activated populace and a complacent and complicit media is becoming stark and clear.