Momentum and Trajectory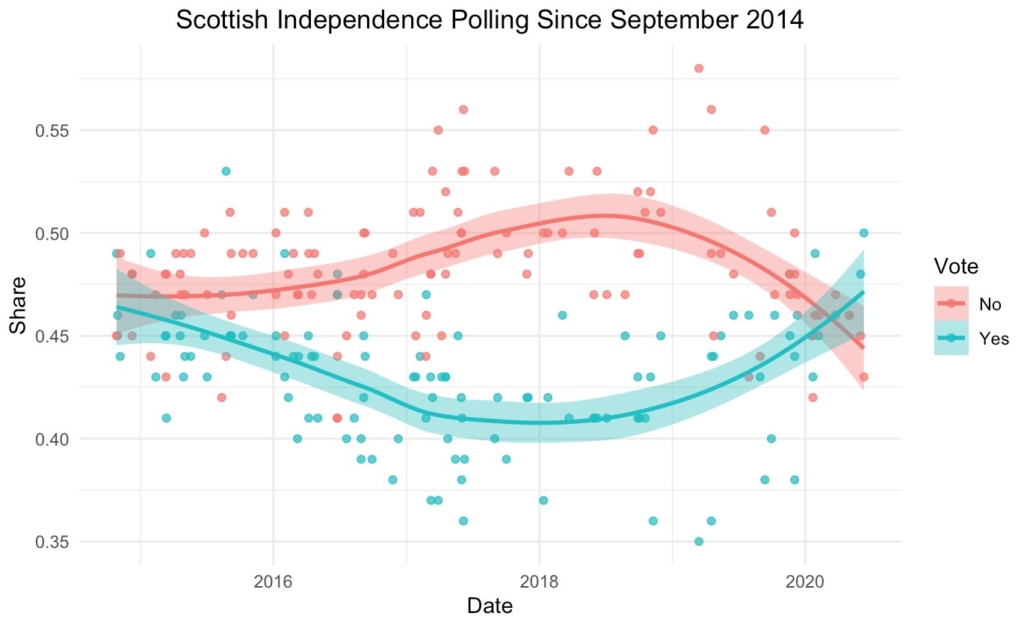 Earlier this week saw the sort of visual representation of polling that would put a spring in any independence supporters steps, or so you'd have thought. The first fishy looking data snapped voting intention from 2015 to today and showed a major downturn for the No vote and an upsurge for Yes.
Responses may have swung from "about bloody time" to "no bloody surprise" (other swear words are available). But taken with the recent poll conducted on behalf of Business for Scotland showing support for independence surging to 54% and a large rise in support from Labour voters, this is exceptionally good news.
But step back and look at the longer-term visual (below) – which tracks the voting intention from 2011 to 2020 – and the trend is even clearer. This is momentum and trajectory.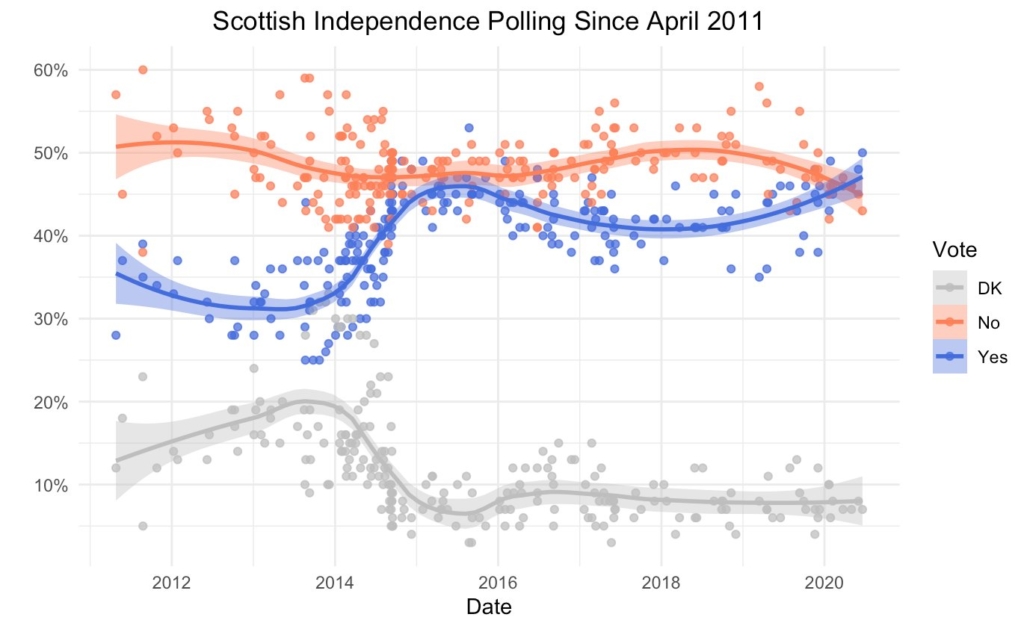 As Britain further dissolves and disintegrates in the face of institutional corruption and dysfunctionalism as we come out of the worst crisis since the Second World War, this trend is likely to increase. No-one is coming out of the coronavirus experience thinking "Boris Johnson handled that well." No-one is coming out of the coronavirus experience thinking "I'm glad we didn't have full control over ur borders."
The ideas and tactics of the NO campaign from 2014 are in tatters and a further generation of young people have been radicalised by the need for urgent change on a number of fronts.
But, as Scots we are past masters at clutching defeat from the jaws of victory. We are spectacularly good at glorious failure. Some people are looking at these polling figures and thinking "this is terrible".
The polling blogger James Kelly wrote: "The news that the pro-independence vote has reached an all-time high of 54% with Panelbase was characterised by a rehashing of the bogus claim from a couple of weeks ago that Yes support has not really budged for years. This is getting a bit silly now. There were twelve independence polls conducted between the EU referendum result becoming known and the end of 2016. Eleven of them had a Yes vote lower than last night's poll. Nine of them had No in the lead. By contrast, six of the eight polls in 2020 so far have had Yes on 50% or higher, with an average Yes vote of 50.9%."
Part of the reason for negativity in the face of good news is a frustration at the lack of progress by the SNP towards a new strategy for gaining independence. That frustration is palpable and widespread. But while it is entirely understandable it does boil over into incoherence ('Enough of the lies!')
Parts of the Yes movement – and often they are some of those who were previously most fervently loyal – seem to be consumed in negativity and think that relentless attacking SNP MPs A or B is a useful way their spend your time.
There are alternatives to 'Plan A' – as Craig Dalzell outlines here, in fact we're hoaching with options:
"Plan A" – A Sanctioned Referendum
"Plan B" – An Advisory Referendum
"Plan C" – An MP Plebiscite
"Plan D" – A Holyrood Plebiscite
"Plan E" – A National Covenant
"Plan F" – Unilateral Declaration of Independence
If this begins to sound like a Dr Seuss story most of these have some merits and all have some drawbacks, but we're not exactly short of options.
But as Dalzell notes : "with the exception of "Plan A", none of them can compel the UK Government to recognise the result of the act or to turn up at the negotiating table to start untangling our respective affairs."
This is also true of the thorny question of international recognition.
To these arguments its often responded that Westminster will "never!" agree again to a Section 30 Order (followed by a stream of invective …)
I'm not so sure that's true.
It would be wise not to over-estimate our opponents.
We are faced, after all, with the likes of Boris Johnson, Dominic Raab, Alister Jack and Jackson Carlaw. These are not the Praetorian Guard.  Dominic Raab famously admitted that he did not fully appreciate the importance of the Dover-Calais crossing for UK trade. Alister Jack looks as if he would struggle to do up the buttons on his cardigan. Boris Johnson is struggling from the chaos he has unleashed and the obvious trauma and death created by his own tragic incompetence.
These are not formidable people.
They are not going to outsmart anyone anytime soon.
When we say that a "Section 30 Order is impossible" we are nor recognising the extent and the depth of the British crisis, which now, next, will tumble into a No Deal Brexit, which will further haemorrhage support for the Union.
But two things should drive us on. First let's concentrate on what unites us rather than what divides us. Second, let's continue to build the positive case for independence, a new vision for a better society ( and God if that was ever needed it is now now now!). The case for Britain is collapsing around us without any need for us to put a shoulder to the wheel.
Finally – we can and must retain a critical edge against the (many) failings of the SNP without descending into a sort of bile-pit of inchoate rage. Options A – Z need to pass a credibility test, would they work beyond the fervid imaginations of your own social circle? And we can have some very good ideas for alternative strategies but we also need to achieve some unity. If percentages of a Yes movement are each pursuing plans B, C, D, E and F then the effectiveness collapses into chaos.
We are living through a period of profound change, and closing down the options for how that will unfold doesn't make any sense at all.
Johnson's regime will appear out of this crisis (presuming some endpoint) as a discredited and disgraced group of people hugely culpable.
While he appears intransigent its worth remembering he is a supreme opportunist. He believes in nothing but himself. Remember he had written two articles both for and against Brexit depending on the outcome?
This is not somebody you need to be intimidated by.