Equity in Crisis … You Couldn't Make It Up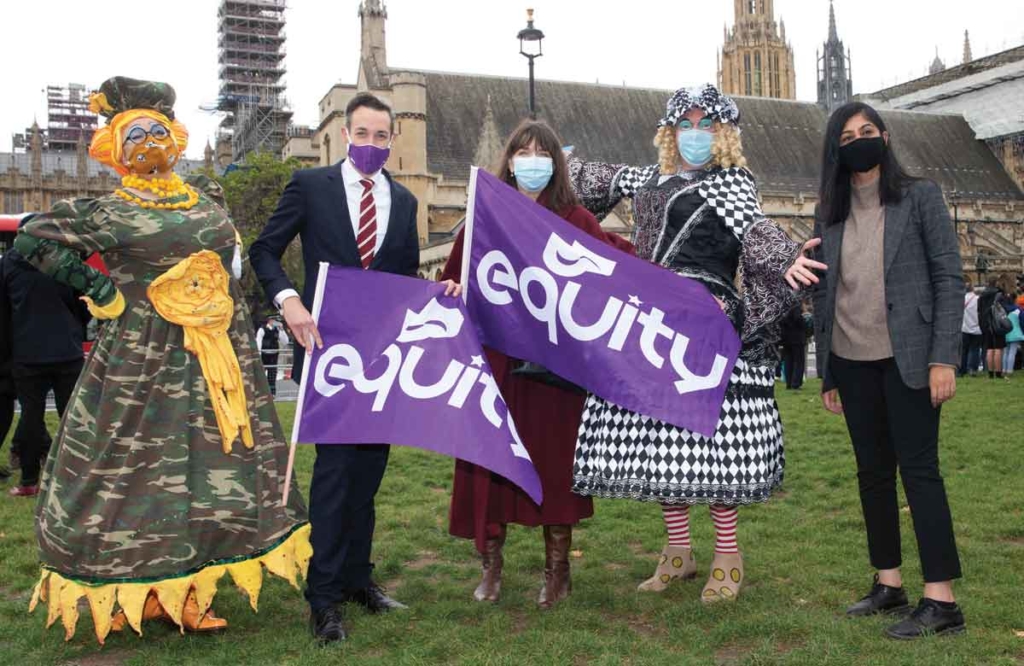 In a time of so many #YCMIU moments this one really gets me…
My trade union Equity has recently launched a campaign to try to force the Tory Government to re-negotiate with the EU on visa requirements for actors to work in Europe.
All well and good. My last television acting job before lockdown was on a new Netflix series Shadow and Bone, filming in Budapest. It was only for three days but to do that very same job now, post Brexit, I would first need to secure a Hungarian residence permit!
But here comes the real #YCMIU…
The new Equity General Secretary Paul W. Fleming was a very active Vote Leave campaigner FOR Brexit. So he is now urging members to campaign for an exception to the Brexit regulations he actively campaigned for.
Fleming first came to my attention last December when I started seeing Facebook posts by Scottish Equity members angry about his decision to force compulsory redundancy on Lorne Boswell, well loved and respected Scottish Organiser of some thirty two years standing.
Members were outraged at this happening at all – for a Trade Union to resort to compulsory redundancy in the first instance should be anathema and is a gift to employers in negotiations- but to come in the middle of a pandemic, just weeks before Christmas whilst the furlough scheme was still in place made it impossible to understand.
Coupled with Fleming's decision to get rid of the long established relationship between the Scottish Office and Northern Irish members, and replace it with "direct rule" of N.I. affairs from London by him personally meant that many like myself got involved.
This was all supposedly because the union was suddenly in dire financial peril, despite it being happy to use £1M of its £14M reserves to help members blighted by the pandemic just before Fleming took up post. Scottish and N.I. members reckoned it was much more to do with Lorne's pro-European stance and opposition to Fleming's election.
A brilliant social media and press campaign was established with the hashtag #EquitySaveOurStaff and intense activity took place on Twitter and Facebook. A petition was set up, reaching over 3000 signatures, and many members made videos expressing their concerns.
Scottish and Northern Irish members open meetings, with Fleming and Equity President Maureen Beattie OBE, took place in early January and I think it's very fair to say that no members at all, bar one, showed any support for Fleming's actions and indeed, all were further resolved to step up the campaign against the proposals.
But we are now into a new phase of the campaign as, after seven weeks of negotiation with Lorne's Unite union representative, redundancy terms were agreed. The statement put out by Equity on this ludicrously claimed that it was voluntary redundancy and Fleming couldn't even bring himself (or Equity) to thank Lorne for 32 years service.
Every day seems to bring fresh twists and revelations. He put out another statement yesterday – 11 February – condemning #EquitySaveOurStaff for bringing the union into disrepute when any Trade Union leader worth their salt would have been trying to calm things down and look for reconciliation. Meanwhile Kirstin Maclean, one of the leading lights of our campaign was able to see exactly how vilified she has been by submitting a Subject Access Request ( a personal form of Freedom of Information request ) to Guild House, the Equity HQ. This showed just how nasty discussions have been and resemble nothing so much as the snide tittle-tattle exposed amongst Labour Party staff about Diane Abbott and co. I'm now awaiting my SAR results too…
What has been truly baffling is the deafening silence on it all and total lack of solidarity shown to the devolved nations members by the membership in England. Only the three council members from Scotland, Wales and Northern Ireland opposed his package of redundancies. I've surmised that perhaps English members and councillors bought Fleming's first line of attack that the 5% of membership in Scotland received 15% of the union resources… It's the familiar subsidy junkeys line much loved by right wing Brit press. Apart from the fact that the Scottish Office also dealt with Northern Ireland, Fleming clearly has no understanding of the geography of Scotland or what work is involved with devolved parliaments.
There is something about all this that sharply reflects the bigger political picture of these islands at this moment in time and hopefully that will be explored by better writers than me as there are many lessons to be learnt.
Where this is leading, it's still hard to tell. Today, 12 February, five members of the Scottish Committee have resigned in response to Fleming's statement and his letter late last night to Committee member Sarah McCardie telling them categorically to shut up with their questions, it's over (and then having the cheek to finish with "In solidarity, PWF"). Again #YCMIU.
I'll see about posting those resignation letters in the comments below this as they all tell such a tale of spirit and solidarity in a union that all were once proud to serve. Now we somehow either manage to oust him on a vote of no confidence for his truly bringing the union into disrepute or we start our own Scottish trade union. We could just mibbe make that up…
Image credit: The Stage