Rage, the Overton Window and the Faultlines of the Future
Watching the response to the SNP-SGP co-operation agreement has been an amazing insight into how the media works, who are the gatekeepers and and police of opinion – and the gulf between Scotland's elected pro-indy majority and the entitled commentariat that hold permanent positions of media power. They are almost all white men of a certain vintage bridling and clearly shocked by their inability to influence politics, unable to take-on any new ideas and completely dumbfounded by the scale of the ecological crisis or any economic innovation in response.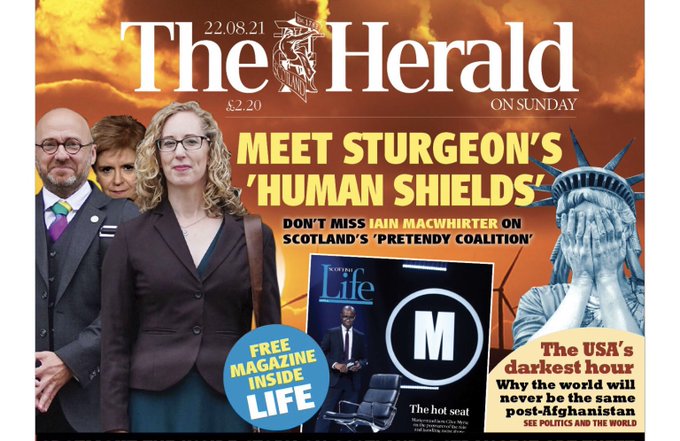 It's quite a coalition, to coin a phrase.
Iain Macwhirter calls it a "pretendy coalition" and rails against the Sturgeon's "human shields". The Herald, careering all over the place in search of a readership gives this its whole front-page; Brian Wilson over at the Scotsman combines attacking the new Makar, Kathleen Jamie, celebrating the GERS figures and championing new nuclear power (an industry for which he's a long-time lobbyist) before declaring that "The green-washing of the SNP is an amusing sideshow … An energy transition will progress over coming decades for reasons unrelated to Green posturing or Nationalist virtue-signaling. Just as the growth of renewables over the past twenty ears was enabled by subsidy from consumers throughout the UK, so too will the transition towards net-zero targets require vast subsidy and a UK-wide market to sell energy into." For Wilson, the UK is just a source of endless benevolence, a subsidiser of the poor (inexplicably) weak periphery. This has no limits and no ends. But T.I.N.A. His time-line is quaint for anyone who has read the IPCC, or been conscious for the past thirty years.  Chris Deerin stumbles on an insight among his inchoate rage spluttering: "The new SNP-Green pact has only one aim: remove Scotland from the UK" – as if this pro-indy majority has been revealed to Deerrin as he awakes from a coma. "What?! Who knew this?!" As he comes round to the awfulness of it all he tells us that " The Greens, are by far the most left-wing party ever to have held power in the UK".
Ex-blogger Stuart Campbell is just consumed in his own bile. while Graham Grant at the Daily Mail descends into a – hopefully actionable – new low of homophobia …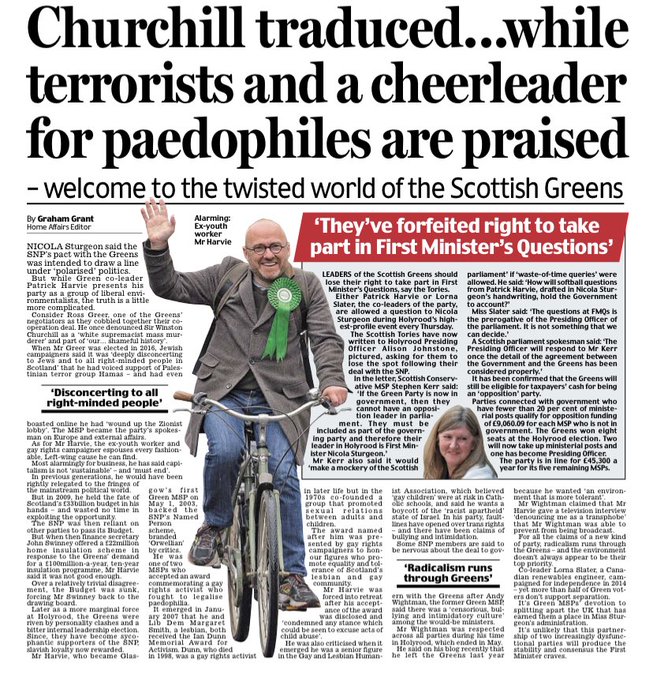 Paul Staines – who attempted to form a pact with the British National Party and was a leading member of a group that produced Hang Mandela t-shirts writes:
Adam Smith's homeland plans to implement rent controls. https://t.co/uchvowBcoc

— Guido Fawkes (@GuidoFawkes) August 20, 2021
Magnus Linklater is sure the agreement is a "mark of desperation". Like most of the commentariat Magnus is 100% clear that "there in not a single area of policy-making where economic growth is not a necessary condition."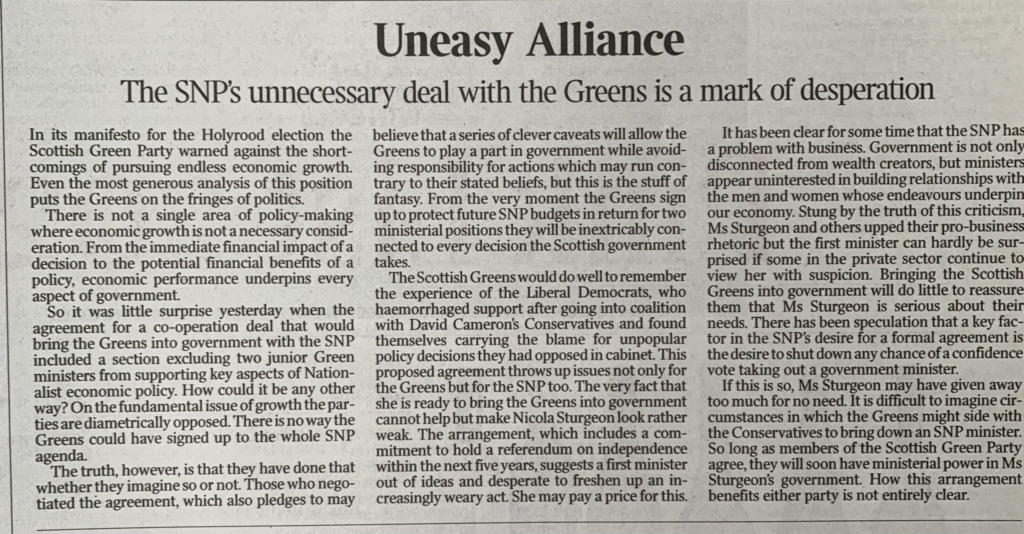 These commentators aren't divided by left or (far) right; by unionism or nationalism, they are united by a total commitment to the present economy and a very narrow idea of what politics is and should be allowed to be. They are indistinguishable. While personal hatred of Nicola Sturgeon or closet (or not so closet) homophobia is a persistent theme the main common denominator is that GROWTH – endless and perpetual – is an essential good despite the overwhelming evidence that it is destroying our world. The answer to these men is MORE and MORE forever.
GDP and growth are gods. Anyone challenging them are a disgrace.
This extraordinary position, as the economist Katherine Trebeck points out: "Flies in the face of increasingly mainstream recognition of perverse incentives of GDP. That folks in gov hold onto it as a measure & declare "growth necessary for XYZ" shows not just outdated thinking, but unwillingness to engage with reality we need an economy #betterthangrowth".
The useful thing about this strange experience is that you can watch the commentariat fade into irrelevance in real time – and also see very clearly (perhaps for the very first time) the faultline of the way ahead.

Help to support independent Scottish journalism by donating today.