Six Thousand Years Of Sunlight
I am very grateful, honoured and excited to be premiering my new work, Six Thousand Years Of Sunlight at Neu Reekie this coming Friday (20th May). This is the result of a long and supportive collaboration with Kevin Williamson and Michael Pedersen. The New Voices initiative is designed to stimulate artists into producing new and exciting work. The writer Chris Boyland is the other writer commissioned and who will also be presenting his new work on Friday night. The event will also feature the brilliant Kathryn Williams as well as the usual and unusual mix of music, special guests and Neu Reekie stuff to enjoy. I urge you to come along and immerse yourself in the new, the Neu!
My piece Six Thousand Years Of Sunlight is a public poem for the modern age which comes out of the blanket bog in the far north of Scotland. 
The Flow Country is the most intact and extensive blanket bog system in the world. At 400,000 hectare it is the largest expanse of this remarkable, wild habitat in Europe. Stretching across Caithness and Sutherland in the far north of Scotland this vast expanse of blanket bog comprises a complex set of interlinked pool or dhu loch systems and micro features that not only host an eye-catching flora and fauna but also play a vital role in our defence against the effects of climate change.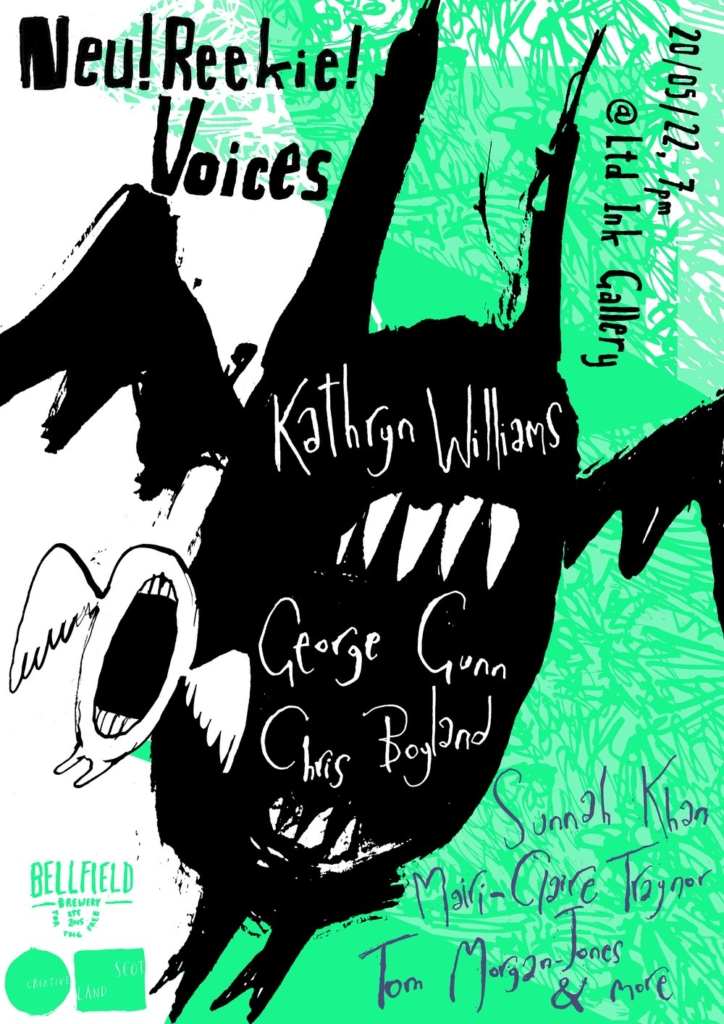 Trees were planted in the Flow Country in the 1980's to provide tax breaks for the rich causing extensive environmental damage, sucking water out of the bog, which was formed after the Caledonian Pine Forest died off 8000 years ago. Human settlement on the bog can be traced back 6000 years. 
The bog is an expanse of carbon but it is full of human stories. The ancient trees that lie beneath the bog have in their semi-fossilised branches the energy of sunlight from when the first human settlers saw them. It is this poetic fact which has inspired me to think about this poem: how we – humanity – get to the future we need and desire.
Land use and ownership in the Highlands and Islands is one of the most important issues in Scotland. Planting a bog with thousands of acres of spruce and log pole pine was an act of capital driven environmental vandalism. The north of Scotland is losing people, especially the young. Art is people in a landscape. If there are no people there is no art.
In the future phases of extreme weather will plunge Southern Scotland into an alternating cycle of flood and drought. As temperatures continue to rise, smaller rural communities will become unsustainable, while the logistics of feeding and watering the growing city populations will come to dominate the economic agenda. The north, especially the Far North of Scotland, will become an attractive place to live. There may be rain, but there is no drought and it never gets too hot. 
Culture generates material that drives the economy and is linked with the history of imperialism and capitalism. But to know this is still to know little about how these forces interact with different forms of cultural activity. Throughout history art has responded to various crisis. Why should climate change prove resistant to art? It cannot be resistant to poetry, the primary human art. Poetry must articulate a direction into the future, so that humanity can see what is coming, change behaviour and survive.
Six Thousand Years Of Sunlight is a poem of time, passion and bog. It is a hymn to humanity.
The other Neu! Voice to be heard on Friday night is the splendid writer Chris Boyland.
Six Thousand Years Of Sunlight by George Gunn
New Voices: Where Are We Now? Neu Reekie, 2022
NEU! VOICES!
7.00 pm
FRIDAY 20th May
LTD INK GALLERY,
OLD AMBULANCE DEPOT
EDINBURGH