On Brand's Descent and the Myths of the Maverick
What does Russell Brand's popularity tell us about his (and our) politics? What does the instant defence of him tell us about our society? Setting aside the allegations for now we can look at the arc of Brand's political journey; the arguments used to defend him; and what conspiracy politics tells us about where we are.
Brand has moved over a period of the last ten years from the left to the centre (his spiritual-hippy / 'wellness-guru' phase) to platforming the far-right, and, apparently taken a whole load of people with him, oblivious or uncaring of the consequences of these changes. At the heart of this phenomenon are the peculiar crisis of male identity and the consequent tsunami of misogyny that comes with it and the myth of the collapse of the left and right as meaningful categories to understand the world.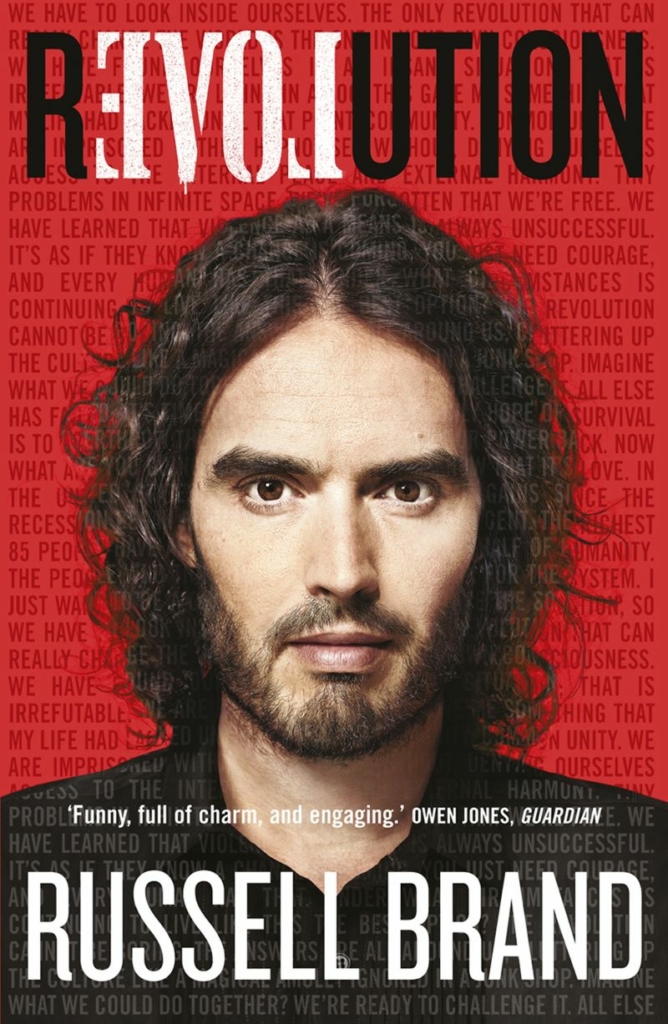 A Political Odyssey
In 2013 when he was interviewed by Jeremy Paxman on Newsnight Brand described British democracy as 'ineffectual' and encouraged viewers to abstain from voting. He later guest-edited the New Statesman where he railed against capitalism and continued to make frequent appearances at progressive and radical political demonstrations during this period.
Brand had previously sought to influence the outcome of a grassroots housing campaign, aiming to give residents of the New Era estate a voice through his social media platforms and by attracting mainstream media attention. The New Era 4 All campaign was founded in 2014 when the New Era estate in Hoxton, a gentrifying area of East London, was sold to a consortium of housing companies that planned to more-than-triple rents.
In December 2014 Brand joined residents as they handed in a petition which had received almost 300,000 signatures. After the New Era estate was sold to a charitable foundation, campaign leader Lindsey
Garrett (2014)
said: 'I don't think we'd be here now without Russell Brand's support'.
He would later support Jeremy Corbyn. In 2014 the Guardian's George Monbiot nominated Brand as his 'hero of the year'. He said "I loved the way he energised young people who had been alienated from politics. I claimed, perhaps hyperbolically, he was "the best thing that has happened to the left in years". At one point he was considered "the nearest Britain has to a revolutionary populist."
By 2023 Brand was shifting his show, 'Stay Free with Russell Brand' to the right-wing platform, Rumble, citing YouTube's content censorship as a driving factor. Some have suggested that his political journey – from loquacious left-wing leader to pandering to the alt-right's culture wars – was a deliberate attempt to create a shield for his inevitable legal challenge and exposure – while others suggest his descent is the result of the lockdown and the paranoid conspiracy culture that spiralled out from it.
One of Brand's accusers Alice (not her real name) claims Brand sent a BBC car to collect her from the gates of her school when she was just 16. She has said: "It may sound cynical, but I do think that he was building himself an audience for years of people that would then have great distrust of any publication that came forward with allegations. He knew it was coming for a long time."
Far-right conspiracy and toxic masculinity
The intersection between the phenomenon of far-right conspiracy and toxic masculinity can be witnessed by those who have risen to instantly defend Brand and denounce the 'plot' against him. The list is as predictable as it is pathetic:
Elon Musk
Alex Jones
Katie Hopkins
Andrew Tate
Tucker Carlson
Glenn Greenwald
Laurence Fox
Bev Turner
Roger Stone
Calvin Robinson
Ian Cheong
Jordan Peterson
Tommy Robinson
Neil Oliver
George Galloway ('Im no Sherlock Holmes, but I smell a giant RAT')
Allison Pearson
Toby Young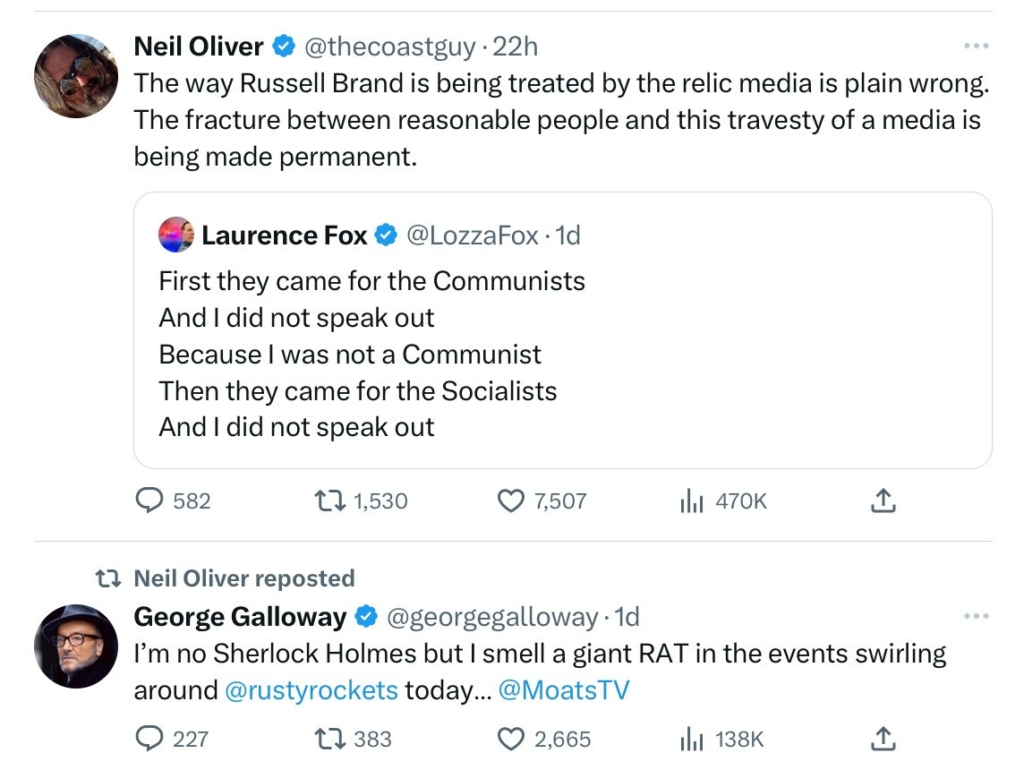 There's a self-confirming logic to this tribe's 'analysis': the world is full of hidden forces and when they come for you it will just prove all their theories to be true. Many of this list have had their own 'difficulties' in the past and their defence mirrors Brand's own pre-emptive one this week. As Sam Leith has written: "Brand's pre-emptive line of defence – he put a video out on his YouTube channel a few hours before the Channel 4 programme went out – is a cut 'n' paste version of the one that Donald Trump routinely advances, that the misogynistic influencer Andrew Tate fell back on when clapped in irons, and that the GB News anchor Dan Wootton used when he too was facing allegations – which he denies – of sexual impropriety."
"For Trump, his criminal prosecution was a politically motivated witch-hunt by the 'Deep State'; for Tate, sex-trafficking charges in Romania were 'the Matrix' coming to get him; for Wootton, this was all happening 'because GB News is the biggest threat to the establishment in decades and they'll stop at nothing to destroy us'; and Brand, wondering whether 'there was another agenda at play', hinted that these were 'co-ordinated attacks' by the 'mainstream media'."
Myths of Maverick
One of the mainstays of the defence of Brand is that he is a dangerous radical, a maverick speaking truth to power, a Red Pill hero exposing the 'reality' about anything from the war in Ukraine to Big Pharma, Bill Gates, the 'globalists', the Great Reset, UFO's or whatever.
As Naomi Klein has written, much of this is confusing gibberish: " …search for the term "global reset" and you will be bombarded with breathless "exposés" of a secret globalist cabal, headed by Schwab and Bill Gates, that is using the state of shock created by the coronavirus (which is probably itself a "hoax") to turn the world into a high-tech dictatorship that will take away your freedom forever: a green/socialist/Venezuela/Soros/forced vaccine dictatorship if the Reset exposé is coming from the far right, and a Big Pharma/GMO/biometric implants/5G/robot dog/forced vaccine dictatorship if the exposé hails from the far left."
It's a short step from here to denouncing 15 Minute Cities or being terrified of LEZ's and bike lanes.
Aside from the very serious allegations against Brand is any of this serious?
It is, not just because of the serious amount of people influenced by Brand but what it tells us about a post-ideological world where not only notions of left and right are seen to be meaningless but also the very idea of rational thought begins to break down.
As the journalist Ian Dunt has pointed out: "Once you believe one conspiracy theory, you suffer a form of epistomological breakdown." What's happening here as Dunt points out is that people have "dismantled the intellectual apparatus you need to process reality."
In times of multiple socio-ecological crisis – where movement-building is essential – it's disempowering in the extreme to be awash with Lizards and BigFoot and Secret World Governments.
But beyond this – at the core of this and other stories – is a weird space in which – as the journalist Joan Smith has put it: "He is an extreme example of a culture where some people think sexism & misogyny are transgressive. They encouraged & celebrated him, making it very hard for women to complain."
We've seen this with Trump and his famous
Access Hollywood
'Grab em by the pussy' tapes and by the weird reductionist witterings of Jordan Peterson and the violence of Andrew Tate. We've seen this in the rise of the Manosphere and the political manifestation in the Proud Boys movement. The far-right and alt-right is underpinned by reactionary men perpetrating a rancid view of the world, which is both paranoid and predatory. Today Rumble's headline feature is asking: "
Me Too Mafia Goes for Russell Brand, Rapist or Target?"
*
As I said back in
March
: "If Tate and Peterson are at the intersection of toxic masculinity/fragility and hyper-misogyny, Brand operates at the point where contaminated hippiedom meets anti-lockdown paranoia and the dubious libertarianism propagated by the far-right."
*
Of course there's a Scottish angle to this as defenders of Brand fulfil all of the stereotypes of their sub-culture. Here Craig Murray
tweets
that "The "Russell Brand affair" has become a fest of highly paid Murdoch and GMG media hacks telling us how much they hate nonconformists."
Nonconformist?
Here is one of the central myths about Brand and similar Shock-Jocks of the New Right, that they are somehow radically subversive or revolutionary and valiantly fighting the 'mainstream'. Just because Brand's output is on You Tube and Rumble and podcasts doesn't mean it isn't highly lucrative BIG business (his estimated net worth is put at $81 million). If you look at Brand's recent output, interviewing Robert F Kennedy Jnr, or Tucker Carlson, or Candace Owens or DeSantis or Jordan Peterson or Ben Shapiro the narrative is relentlessly from hard right-wing libertarians, Conservatives and reactionary forces. There is nothing subversive about any of this.
While this is deeply reactionary it's also highly lucrative. Brand's income from You Tube went from $750,000 in 2019, £810,000 in 2020, £1 million 2021, $3 million in 2022 to $4 million in 2023. Arguments that Brand is working class, fighting for the wee man, or a maverick outsider will have to content with his mansion his eight real estate properties, and his investment portfolio.
But ultimately this phenomenon points to a deeper malaise in which sections of the left and progressive people are duped and deluded by people like this man riding on a mixture of Celebrity Capital and a narrative of 'radical outsider' status. The phenomenon points to the passivity of online culture and the inability for many people to (and this is darkly ironic) think critically for themselves. What will happen to his 'six million awakening wonders'?