Food, Fairness and the Fife Diet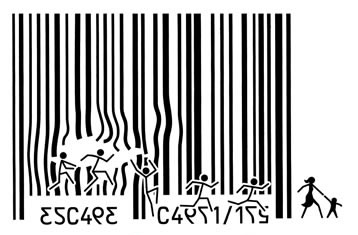 In 'The Great Tablecloth', the Chilean poet Pablo Neruda conjures for us the sensual pleasures of the plate – "In the blue hour of eating, / the infinite hour of the roast," – contrasting them with the solitary experience of a peasant in a field and his "poor quota of bread," eating with "grim teeth, / looking at it with hard eyes." The poem is radical, visionary, and it politicises the simple act of sharing a meal:
Let us sit down to eat / with all those who haven't eaten;
let us spread great tablecloths, / put salt in the lakes of the world,
set up planetary bakeries, / tables with strawberries in snow,
and a plate like the moon itself / from which we can all eat.
Despite being written in the 1950s, 'The Great Tablecloth' serves as an eloquent abridgement of the aims and concerns of the many 'food movements' which have gained prominence in recent years. Movements such as Fair Trade, Slow Food and the many urban food-growing initiatives; the latter often deliberately based in inner-city schemes, reaching out to those who have suffered most from the commodification of our food. All of these movements and projects, in their different ways, seek to redress the injustices of the global food industry and to celebrate food as a means of revitalising individuals and communities, and of repairing their relationship to their culture and to the land.
Last month, in Kinghorn, a small coastal town in Fife, an international conference examined some of the inequalities around food production and consumption. FoodRevolt, brought together around two hundred activists, NGOs and food writers, as well as chefs, food producers and, of course, consumers. It was an intense day of talks, films and workshops focused on the politics and the joy of food. FoodRevolt was hosted by The Fife Diet which, with more than 2,000 members, is the largest project of its kind in Europe.
To read this post in full at Open Democracy click here: The Justice of Eating