Poem – 'Hopscotch' by Nadine Aisha ​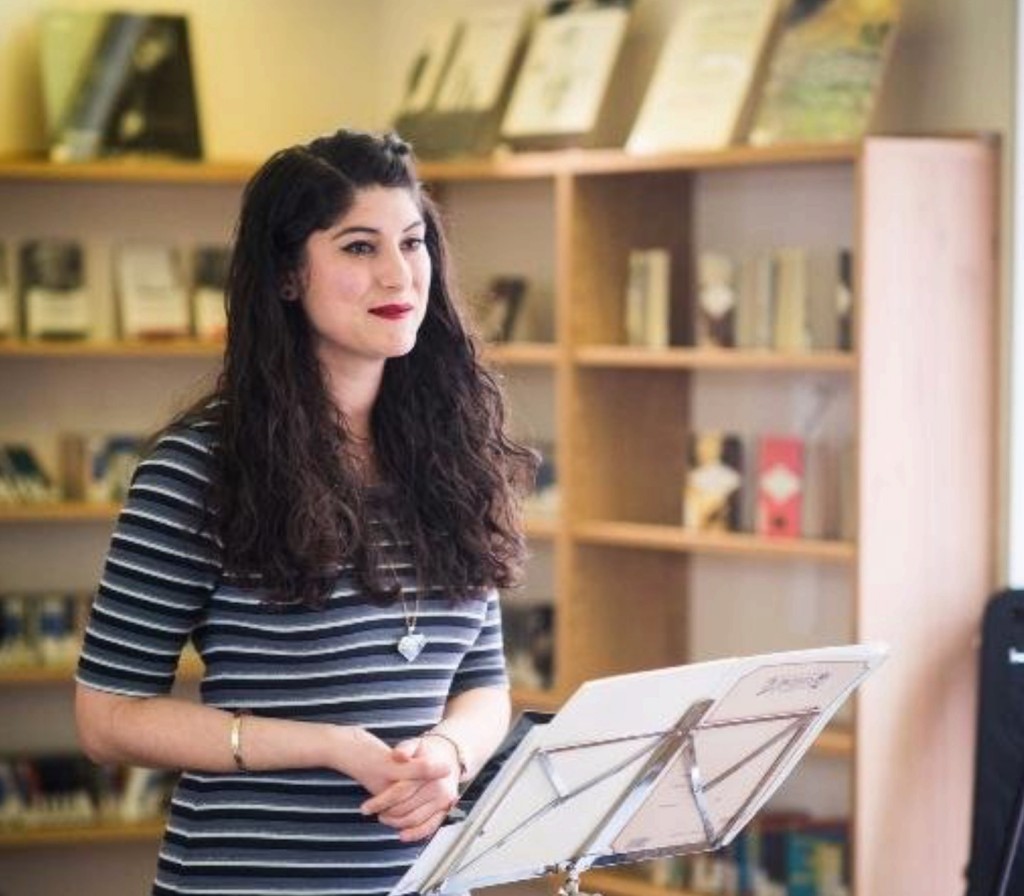 Our poetic offering today is from Nadine Aisha, author of Still, a debut poetry pamphlet exploring women's stories and women's survival.
She is active in the movement to end gender-based violence, and works creatively with young people to educate and empower. She has blogged for a number of Scottish organisations about feminism and violence against women, and has worked with young people to create theatre exploring sexual violence.
She also has been published by the Dangerous Women Project, performed solo shows at both the Edinburgh Festival Fringe and the social justice Just Festival, and is currently the writer in residence for YWCA Scotland's #FeministFest 2016.
---
HOPSCOTCH
'Alright tight pants?'
He says to me.
I am 16.
'I like the way you wear that
piece.'
I am 23.
'Nice puss ** **.'
I am not a cat.
'Yowsa!'
'Hey beautiful – '
'Isn't she
​​ Gorgeous
​​​ Stunning
​​​​ Bollywood Babe
​​​​​​ I want you.'
Sat on the bus with a strangers' hot breath –
'I want you.'
I still feel his heat in my ear when I hear,
'Sexy'
'Pretty'
​'Beautiful'
​​'Fit'
​​ 'Stuck Up Bitch'
​​​'I'd give her one.'
​​​​ 'What's wrong?'
​​​​ 'Can't you take this?'​
​​​​​ 'It's just a compliment?'
'Where's your boyfriend?'
'What's your name?'
'Darling, I'd – '
No
'Has anyone ever told you, you look like Nicole Scherzinger?'
​ ​'Has anyone ever told you you're beautiful?'
Has anyone ever told you
they don't stop
telling me.
They're paving my streets with cobbles –
'Are you Spanish?'
'Are you Greek?'
'Do you speak Iranian?'
'Oh,
You're just another sunbed addict.'
No.
I'm tripping as I walk on
'But your hair,
​ but your eyes,
​ but your skin,
​​ but you don't look Scottish,
​ and where,
​​ where,
where are your family from,
​​​​​ originally.'
How I wish –
'How I wish I had your tan!'
​​'Is your Dad in the Taliban?'
​​​​'You should go back home now,'
'go back home,'
'go back to – '
Where?
'Your mum.'
'Your mum's a paki lover.'
I am 14.
​​​​​​​​​​​ 'Slut.'
She was 43.
​​​​​​​​​​​ 'Slag.'
This isn't just me.
These words, they're like Tuesdays,
there's one every week.​​​​​​
I've held them between pressed palms
and Yale locks.
Consulted them like a guidebook
to my own hometown.
Clenched them tight in fists that now mark the imprint of
nameless men trying to name me.
I stare hard at hands and fists and feet
don't walk don't look don't think don't be –
that key in my hand turning a lock in my throat – don't
feel another man's teeth as I walk these streets
of you and me, yet
I exist, somewhere between
'are you Asian?'
and
'Nice tits!'
And let's just name the problem here:
these streets I've walked I've walked in fear,
and never once have these words begun
in a woman's mouth.
Still,
I'm leaving them here.
Nadine Aisha
Hopscotch is published in Nadine Aisha's poetry pamphlet Still (Appletree Writers Press, 2016) available via www.bowdykitebooks.com