Heard in the Cougait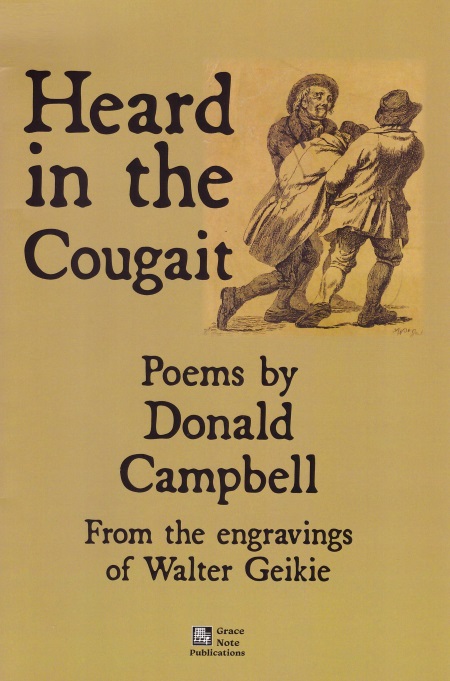 Many Capital citizens will be familiar with the work of John Kay (1742 – 1826) whose caricatures scandalised Enlightenment-era Edinburgh, and whose pictures continue to adorn the walls of our more traditional taverns. However, I'm betting that very few of us will be equally familiar with his slightly later counterpart, one Walter Geikie (1795 – 1837). Donald Campbell's recent chapbook Heard In The Cougait (Grace Note Publications) will hopefully address this in its own modest way.
Geikie was born and bred in Victorian Edinburgh and was rendered deaf by an illness at a very young age. Taught to read and write by his father he showed an almost prodigious talent for the visual arts and was admitted to the forerunner to the Edinburgh College of Art at the age of seventeen. His main medium was pen and ink and he made the bulk of his living through supplying etchings for book plates. Four years after his death a collected edition of his work was published under the title Etchings Illustrative of Scottish Character and Scenery.
Donald Campbell has selected twelve of Geikie's Edinburgh street scenes and has accompanied them with original verse, in Scots. Apart from giving his etchings titles, Geikie provided no other descriptions of his subject material; indeed the viewer is left to interpret the scene in which ever way they wish, which is exactly what Campbell has done here. For example, he chooses to reimagine an engraving simply entitled 'The Auld Couple' as 'Mr and Mrs Anderson' in tribute to Burns' 'John Anderson My Jo'.
Though Kay was keen to capture all aspects of city life from its highest echelons to its lowest, it would appear that Geikie was far more interested in the common people and their various foibles. Thus we have merry drunks reeling home ('Faither's Fou & 'He's Had Plenty') street peddlers ('Blind Fiddler', 'Show Jamie' & 'Street Snab') combined with street urchins and depictions of festivities like the annual horse fair. Campbell's poems compliment these depictions perfectly. His Scots is reminiscent of the street songs of children, of the cry of hawkers; certainly the voice of the very folk Geikie was attempting to portray in such an honest and impartial manner. Perhaps a few of the poems can verge upon the sentimental at times, but they are never twee.
Campbell provides some interesting notes on the texts at the end of this slim volume for those who are perhaps unfamiliar with some of the Scots' idioms and Auld Reekie references contained within, though his contention that West Port Murderer William Burke was once a cobbler had me raising an eyebrow (Burke was famously a navvy on the Union Canal before embarking upon his nefarious career. There is even a statue hewed from a tree trunk of him and William Hare on the canal between Slateford and Wester Hailes. However, after a bit of research I discovered that Burke had in fact taken up the trade at a later date when his work on the canal was over, so I learned something new).
No matter though; not content with reintroducing one visual chronicler of Edina to us, Campbell has done it once again with another artist, Ned Holt (1815 – 1892) in the current edition of The Evergreen (published by Word Bank). Unlike Kay and Geikie, Holt's medium was colour and whilst perhaps not the most accomplished artist in terms of technique, his painting do have a lot of warmth and humour. This time around Campbell has written an excellent prose piece (though occasionally interspaced with some poetry) to describe the life of Holt, the Edinburgh in which he lived and worked and the characters he encountered and immortalised. The names of some of these oddballs are simply marvellous: 'Cracker John', 'Coconut Tam', 'Hallelujah Bessie', and 'Soor Yill' are amongst my favourites. For anyone with an interest in old Edinburgh social history I cannot recommend this article enough.
Donald Campbell is a founding member of the Edinburgh folk-arts collective The Heretics (est 1970, rejuvenated 2015), and courted controversy in 1976 with his play The Jesuit, which was picketed on its opening night at the Traverse Theatre by a superfluity of nuns and the fanatically bigoted Calvinist preacher Jack Glass (the subject of Dick Gaughan's folksong 'The Ballad of Pastor Jack'). Although perhaps better known in literary circles as a playwright, he is also a prolific theatre historian, stage director, script writer and poet. He continues to live and write in Edinburgh.
Note: A decent selection of Walter Geikie's and Ned Holt's work can be found on the Capital Collections site here.