Helping Hands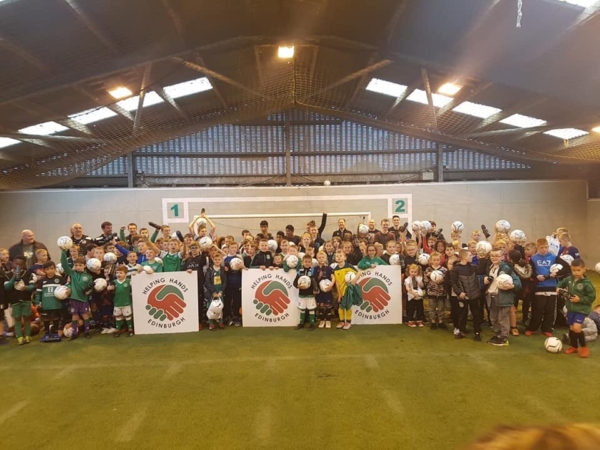 We are looking for innovative Scottish charities and projects to highlight over the Christmas period via our network. We are particularly looking for projects which favour solidarity as an approach and work with homeless and vulnerable people, refugee support, and people in real need at Christmas.

First up is the Helping Hands project (Helping Hands is an "all volunteer community based organisation established to work with partners in challenging social and economic inequality in Edinburgh"). Helping Hands run: a regular Foodbank Collection at Easter Road (one this Saturday) ; a community bike scheme; free football  coaching to kids in Craigmillar, Muirhouse, Wester Hailes, Moredun and Leith; free Boxing Fitness sessions for all boys and girls aged 8-16 in partnership with Holyrood Boxing Gymnasium; and a Toys For Kids Christmas programme offering a Helping Hand to kids in need across Edinburgh.
Follow them here:
Twitter: @EdiHelpingHands
Facebook: https://www.facebook.com/EdiHelpingHands/

Bella spoke to the project's co-founder Jim Slaven.
1. What's the main activities of the project? What do you do?
Helping Hands are an all volunteer organisation with activists in every housing scheme in Edinburgh.

We deliver a wide range of activities throughout the city. These activities include Free structured kids football and boxing coaching, Free bikes and cycling education, community Foodbank collection, Toys For Kids Christmas initiative and much more.
The ethos of Helping Hands is Solidarity Not Charity. We reject the top down, funding led approach which has failed our communities. Helping Hands embraces a bottom up, community led approach. We have a proven track record of delivering top quality projects in communities ranked high on the Scottish Index of Multiple Deprivation.
Helping Hands is all about creating opportunities and
breaking down social, economic and geographical barriers.
For our adult volunteers as well as the kids. Our volunteers receive ongoing training and professional and personal development support. We seek to encourage people of all ages to choose healthy lives, physically and mentally.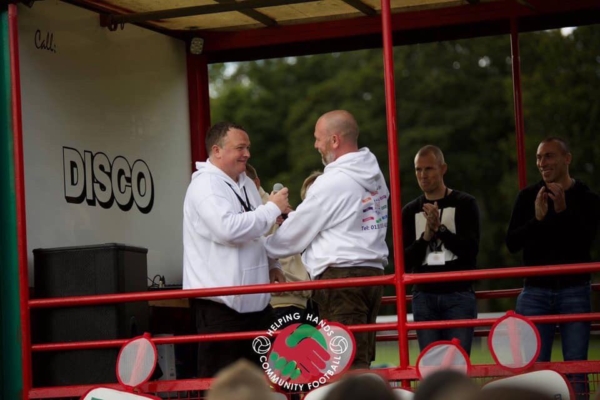 2. What are the origins for the project?
Helping Hands were formed in 2014 by Brad Welsh and I as a response to the vacuum which had been created in working class communities. Both of us had grown up in housing schemes and recognised how much they had changed. Anti-working class elements who would have been frowned upon or even ostracised when we were young, were now a dominant presence in many communities. They are often the only ones with money, desirable items such as cars, designer clothes and, crucially, attitude, as many families struggle to survive.
More important than the fantastic activities and initiatives we organise is the idea underpinning them. That people can organise ourselves to make our communities better. That we don't have to wait on the state or charity-businesses. We can do it ourselves. By people helping people. This philosophy of self organisation is missing from far too many communities after decades of neoliberalism, which has hollowed out so many communities. Helping Hands represents a spirit of resistance.
Those of us living in working class communities know only too well the problems which exist. But we also know the solutions. Certainly better than suits or middle class missionaries. Helping Hands doesn't care what politicians, police or journalists think about communities like Muirhouse. We care what the citizens of Muirhouse think about Muirhouse. Placing people at the centre of our thinking and confident that, though collective action, people can create progressive social change.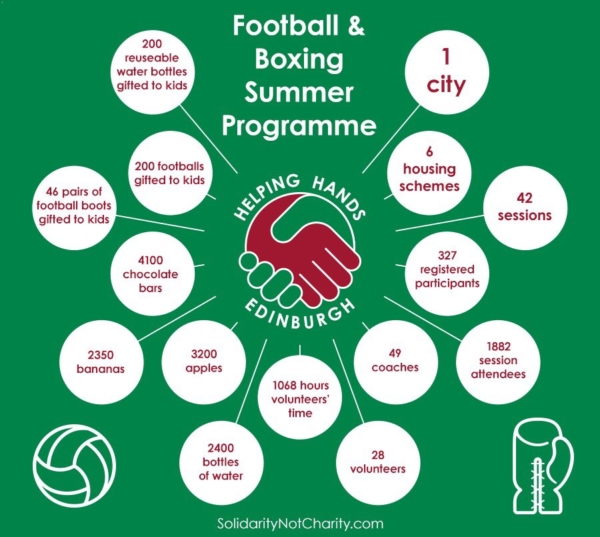 3. How can people support or get involved?
Helping Hands does not accept any state or corporate funding. We rely on support of people in the community and others who support our strategy. We have received great solidarity professional sportspeople like Jamie Walker from Hearts, Lewis Stevenson from Hibernian, Scotland star John McGinn, World Boxing Champion Josh Taylor and writer Irvine Welsh and many others. These wonderful role models put their names and reputation behind Helping Hands
because they can see the difference we have made to literally thousands of kids over the last 5 years.
Despite living in one of the wealthiest cities, in one of the wealthiest states on the planet, there is an ever increasing need for Solidarity Not Charity in our communities. Helping Hands has an ambitious and exciting programme for 2020. People can visit our website to keep updated on our activities and how they can support our work.
4. Can you suggest another project that you think is doing good work deserving of support?
There are many great, genuinely community led, projects working throughout Edinburgh. Small projects working in the creative social cracks that have appeared. Often led by volunteers these are the projects that impress us most. We have no interest in people in the poverty industry paying their mortgages on the back of other people's poverty. As the Irish proverb says "It's easy to sleep on another man's wound".
The best example of a community led project is Holyrood Boxing Gym in the shadows of Craigmillar's high rise flats. Founded by Brad in 2005, it is so much more than a boxing gymnasium. Operating more like a community hub encouraging people from across the city, young and old, to
engage in physical activity, live healthier lives and meet personal goals. Since Brad's murder in April the gym has been sustained by the love and commitment of the gym's coaches and regulars. Such solidarity is a fitting tribute to our friend and comrade Bradley John Welsh.