The Identity Thieves Steal into Town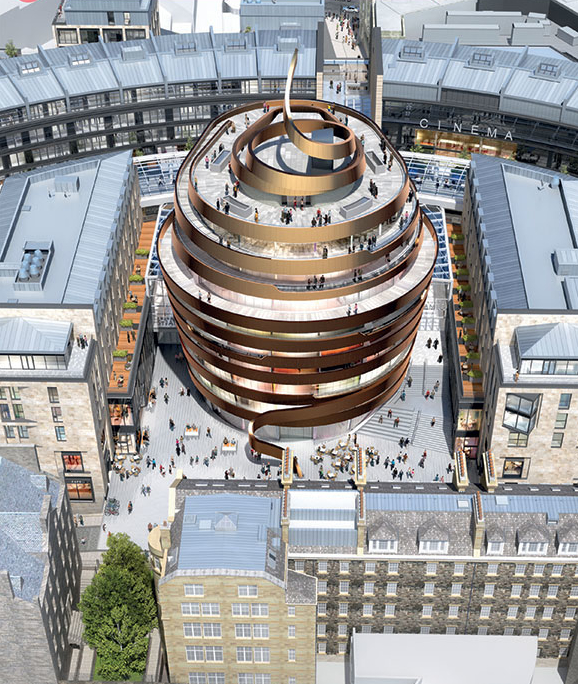 This is the second in a series on ARCHITECTURAL MODERNISM AND THE DEATH OF THE SCOTTISH IDENTITY an investigation by David J Black. Read the first part here.

At the Royal High School, where a much vaunted boutique 'Arts Hotel' was, by some alchemical process, becoming a bloated international luxury hotel, Donald Trump's Menie Estate architects, Hoskins Associates, took forwards its Mickey Mouse ears style flanking accommodation blocks for Hamilton's 1829 masterpiece. Its first incarnation, which included a new grand staircase smashed into the base of the main facade, was inspired by a German museum of literature by modish British modernist Sir David Chipperfield. Predictably, there would be much excitement among aficionados of drab modernism when the real-deal himself parachuted into town a few years later.
This calls for a brief diversion. Chipperfield's mission was to deliver an 'iconic' concert hall only a few metres north east of the giant chest freezer which his admirer, Hoskins Associates, had designed for Standard Life Investments in St Andrew Square. Sir David condescended to address the council's planning and development sub-committee in the mahogany panelled Dean of Guild Courtroom, extolling that most misunderstood of materials, concrete, the Soviet greyness of which he intended to ameliorate with a few chips of buff sandstone. They listened with rapt attention, a number of them one felt trying hard not to tug their forelocks as the millionaire megastar soliloquised on the beauties of the ghastly concrete monster he proposed should loom over one of the most important listed buildings in Edinburgh, Sir William Chambers' exquisite jewel box of Dundas House.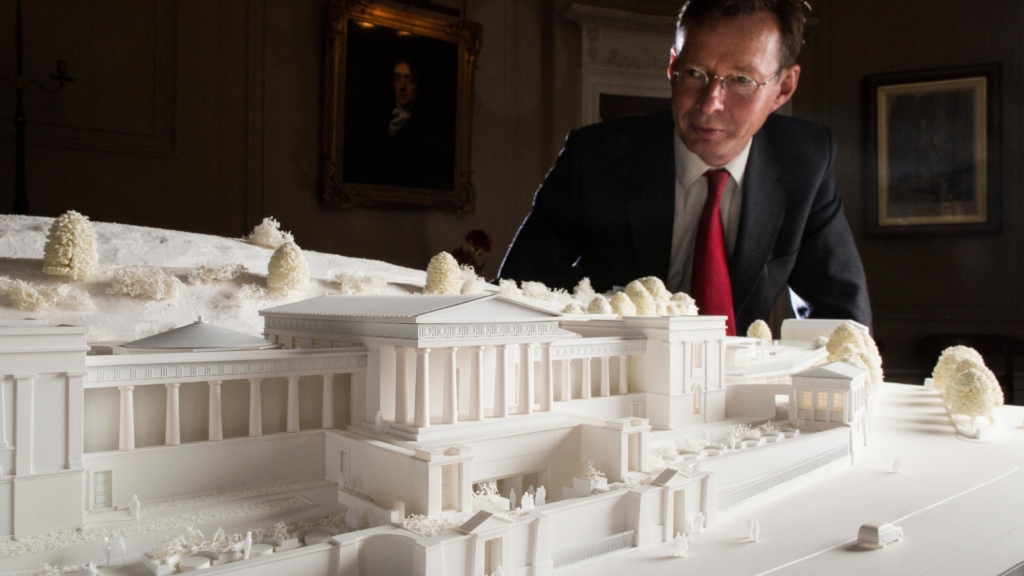 There was, of course, no mention of the fact that Sir David's choice of material, concrete, accounts for around 8% of global CO2 emissions, apart from being an ugly interloper in a city of stone. But that was just the building fabric. What about the building itself? One party contributing a written assessment to the debate compared it to the 'coliseum' (sic), meaning Emperor Vespasian's bread 'n circuses extravaganza in Rome which James Boswell once aptly described as 'a vast and sublime idea'. It had displaced an earlier and much more restrained proposal by Edinburgh architect Richard Murphy, who, for all his modernist prejudices, had designed a rather subtle building.
The Chipperfield version would certainly loom over the square and east-west axis of George Street, though it lacked the Imperial glory of the Roman original, being more a fusion of Granton gasholder and one of New York's least loved 1960s architectural atrocities, Madison Square Garden, or perhaps just a Mir space station on steroids. The star-smitten councillors voted 6-4 in favour. The 'heritage guardians' and government agency, Historic Scotland, duly licked the boots of the master – except for one, The Architectural Heritage Society of Scotland – but no-one was listening to them.
The one moment of light relief in this sick-baggingly awful procedure was when TIAA's man complained that the Chipperfield monstrosity would detrimentally affect the area's historic character and block some views from his Golden Turd  hotel, that latter being of such gruesome design it would probably have had a problem getting a consent on Las Vegas Strip. Let's face it, this was a bit like Jack the Ripper tut-tutting about the homicidal adventures of Dr Crippen.
On the Calton Hill, however, Hoskins Associates had been having trouble with its homage-to-Chipperfield extensions, and substituted them with a new concept – Inca terraces. If this Machu Picchu travesty was meant to persuade anyone it failed. Objectors raised a petition with over 3000 signatures and the council voted it down unanimously. The international significance of the building became evident when around a dozen US architects and architectural historians wrote an outraged letter to The Times. But still the developers persisted – and now there was another American interest.
DHP and Urbanist had referred to having three potential hotel operators eyeing up their project. This was eventually narrowed down to one – Rosewood. You don't get much more global than the Rosewood Hotel group, based in Hong Kong with a 'European' office in the UAE and a CEO in New York. The PR is polished and slick, with celebrity endorsements from the likes of Naomi Campbell, and gushing TV plugs such as CNBC's The Brave Ones (a collaboration with Credit Suisse) in which Rosewood's CEO and others are encouraged to expand on their 'brand philosophies.'
Rosewood's CEO is Sonia Cheng Chi-man, Harvard educated daughter of former Trump business partner, Henry Cheng, though the Trump relationship soured a bit in 2005 when Mr Cheng backed out of a deal with the New York wheeler-dealer property and casino tycoon at Manhattan's 77 acre Riverside South. Donald went to court in a $1.76 billion action, and lost. They never spoke again. It was an experience which is believed to have negatively coloured Trump's later attitude to China.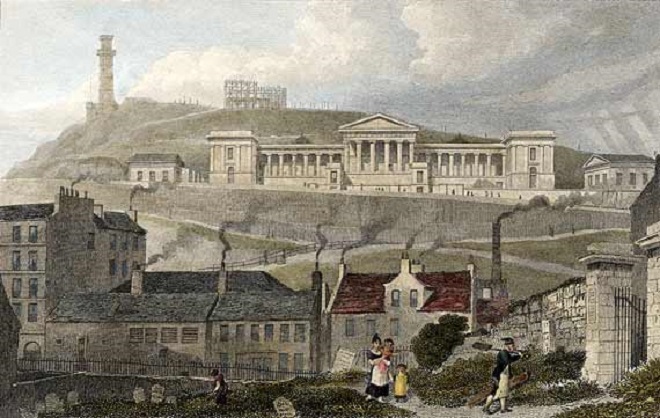 Rosewood PR puffs 'respect, humility, and integrity' yet there is some cognitive dissonance with the actualité. In a 2015 interview with Focus Magazine Sonia Cheng summed up the ethos which enables her group to 'stand apart' in the hospitality industry, allowing it to appeal directly to a hedonistic target sector of super-rich thirty-somethings in her own mould.
'Our essence is an all-embracing commitment to "a sense of place." Our entire team devotes itself to immersing in the local culture of each market, then shaping something precious and unique that celebrates each city.'
This disingenuous cant was, of course, about as convincing as the developer's claim that 'the people' would be free to access Ms Cheng's luxury international hotel as if it was some sort of democratic event, which is I daresay true in the sense that the denizens of Muirhouse or Maryhill are perfectly free to have a champagne tea for two at the Ritz provided they dress smartly, behave themselves, and shell out £166! The 'sense of place' of Edinburgh's former Royal High School clearly meant absolutely nothing to Sonia Cheng, given what was proposed for the building.
Under Ms Cheng, a scion of Hong Kong's 3rd richest family (over US $20 billion on Forbes 2020 Rich List) the hotel trade is of relatively recent vintage. In 2011 she led an $800 million acquisition of U.S. based Rosewood, owners of 19 high end hotels, including the prestigious Carlyle in New York, famed trysting place of John F Kennedy and Marilyn Monroe. Her corporate strategy was 'unparalleled growth in the ultra-luxury hotel industry', her target market 'affluential explorers'.
Rosewood Hotels and Resorts now has 28 hotels in 16 countries, with 19 more in the pipeline, ranging from the British Virgin Islands Dix Bay eco-resort, founded in 1964 by philanthropist, UFO crank, and environmentalist Laurance Rockefeller, to the 283 room ultra-luxury Rosewood Beijing in the city's central business district, with 'capacious bathtubs big enough to hose down a horse' according to one ecstatic reviewer. It is also branching out into other areas, such as Rosewood Residences, which 'cater to the cultivated tastes of global citizens who crave a lifestyle of authenticity fused with modern luxury' or so Sonia's purple-prose copy-writers assure us.
There are, of course, many other shadows in this lurid drama, and indeed Ms Cheng's hotel group will, when all's said and done, only be an end user as operator of this exercise in urban desecration. Indeed, she's probably not such a bad person, having turned over Wuhan's Rosewood New World Hotel to health workers in the recent pandemic, while her Rosewood London's signature pies are currently being sold at a fashionable Greenwich butchers, with proceeds going to the NHS. A few niggling questions do arise however with her Edinburgh project. For example, given the apparent inconsistencies with the European regulations, can the founding contract between council and developer actually be legal? And who is it, exactly, who owns this deal?
With the validity of the contract in mind, a Freedom of Information request went to the council Chief Executive Andy Kerr in February 2018 with a request that a copy of the founding contract between the council and the developer should be conveyed, in confidence, to Europe's Internal Market Commissioner, Elzbieta Bienkowska, whose office could then make an assessment in the matter of its compliance with EU law under the terms of the original award procedure.
Previous attempts to secure this information from council Director of Estates Graeme McGartland had proved fruitless as he had cryptically pointed out that it was already in the public domain – I say cryptically, because the available document had been so thoroughly redacted under cover of 'commercial-in-confidence' that paragraph after paragraph was in deleted text as black as the Earl of Hell's waistcoat, so it wasn't exactly a compelling read. In fact it wasn't even a read. The rationale for this brazen non-disclosure was quaintly bizarre, even by the standards of Orwellian doublethink.
'the Council – finds that the public interest in providing this information is outweighed by the Council's need to maintain confidentiality on costs in line with the need to provide best value for money and ensuring fair, open and transparent competition.'
In other words, critical evidence was being withheld from an EU Commissioner on the grounds of openness and transparency! Common sense of course suggested that the council may have lacked confidence in the validity of the contract, for if they believed it complied with the regulations they wouldn't have had a problem in allowing the EU Commissioner to examine it in confidence.
But of course as per Orwell's Nineteen Eight Four, the heresy of heresies is common sense. This was obviously just a plain old fashioned cover up, and it wasn't the end of the concealment. Having been twice refused consent by the council's planning and development sub-committee, the developer appealed to the Scottish ministers. The application was 'called in' and two reporters appointed, one an architect, the other a planner. Amazingly, even they were denied access to the founding contract in the very matter they were meant to be investigating! Some secrets are just too precious to disclose.
One must appreciate that the appeals process in Scotland often has the air of a casino in which the odds appear to be stacked in favour of the developer, perhaps the most noted case being Donald Trump's 2006 golf course application at Balmedie which had been turned down by Aberdeenshire Council's Infrastructure Development Committee but then given the go-ahead by Scottish ministers.
Similar democratic reversals have happened in Edinburgh. In 2016 Frances McChlery, convenor of the Scottish Law Society's Planning Law Committee, founding trustee of Architecture + Design Scotland, and associate of Bolton-based planning consultants Trevor Roberts Associates, as well as retired solicitor and self-employed 'reporter', upset the organic applecart when she vetoed a unanimous council decision to save Earthy, a popular cafe in Canonmills. Around 7000 people (including actress Hayley Mills and Nobel Prize winning physicist Professor Peter Higgs) had signed a petition to save it, but that didn't seem to bother McChlery.
This wasn't the first time. In 2015 the council had refused a planning consent for a student accommodation barracks at St Leonard's on the basis that it would more than double the 30% student population recommended under the local plan. The developer appealed, and the ministers appointed architect and town planner John H Martin as its 'self employed' reporter. The council's decision was overturned, and the barracks built in the face of overwhelming local opposition.
The politicians and their close advisers, too, often have a certain slant. Consider the case of Andrew Wilson, former RBS deputy chief economist, head of the First Minister's 'Sustainable Growth Commission', and one time shadow SNP finance minister in the nascent Scottish Parliament. In December 2015 in a vitriolic article in The Scotsman headlined 'Nimby Threat to Edinburgh Success' he laid into the 'innate conservatism and lack of ambition' of the city's 'middle classes' for having the temerity to object to the desecration of the Royal High School.
Whether or not he was by implication championing the interest of the proletarian masses or whether any of the interested parties in the development had consulted his Strategic Communications (a euphemism for PR) agency, Charlotte Street Partners, was far from clear. Scotland, he claimed needs"
'Five-star hotels. We have only 2,929 five-star beds in the whole country. Remedy that and more conferences, events and tourism will bring investment to the country at a time we really need it.'
The hypothesis that Scotland could use more five star hotels than the 24 then listed by Expedia was questionable. One of them, after all – The Scotsman Hotel – had twice collapsed into administration. There were also other dangers. A report by Morgan Stanley would conclude that around two thirds of those booking on Airbnb were using it as an alternative to hotels – including 'upscale' hotels. Long before coronavirus brought business to a halt, hotel investment was becoming high risk.
The target in Mr Wilson's sights, however, wasn't only Edinburgh's nimby classes, but a proposal to turn the Royal High School into an – err – school! His article was a spoiler. After the hotel had been rejected, St Mary's Music School had lodged an application to take the building on as a centre of excellence for the teaching of music. It was a prestigious institution which had once had Yehudi Menuhin as its patron, and its proposals had financial backing, yet he cast doubt on its funding, and hinted at its supposed elitism, even though with its mix of bursaries and the Scottish government supported aided places scheme the school attracts pupils from all social backgrounds.
Andrew Wilson was not the only defender of a hotel which, unlike the proposed school, would be the last word in elitism. With the launch of the developer's appeal in 2017 it almost appears that some sort of weird reconciliation had been effected between the Cheng family and Donald Trump insofar as many in the appellant's legal team had formerly been in the employ of the Trump Organisation as advisers to aspects of his golf course interests in Aberdeenshire.
One doubted that the old Trump-Cheng enmity had really been laid aside, yet the use of a Trump architect and several Trump lawyers in the continuing saga of the Royal High School was eye-catching, while behind the scenes some interesting corporate shenanigans were underway, as we shall discover..
In unguarded moments a terrifying image might come to mind of our cherished architectural masterpiece on Calton Hill being surmounted with a giant sign identifying it as a 'Rosewood Trump International'. Given the increasingly deranged anti-Chinese outbursts of the present incumbent of the White House, and the likelihood that the frenzied rhetoric will inevitably be ratcheted up as election month approaches, we can probably be sure that this is one outcome we won't be seeing.