Callum Easter Interview : "to fill a space with cheers and applause was beautiful after so long"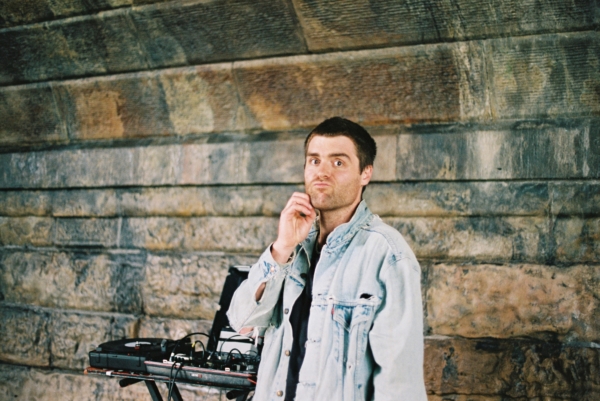 Iona Lee talks to the Leith-based, multi-instrumentalist about his latest release, 'Green Door Sessions', his silvery and soulful debut album 'Here or Nowhere's appearance on the SAY Award long list and socially-distanced gigs.
First of all, congratulations on 'Here or Nowhere' making the Scottish Album of the Year Awards long list! What surprises have sprung from the album's successes? Which of these have you enjoyed the most?
Yeah it feels good to be included in the long list. 'Here or Nowhere' was a step up for me. I did all the mixing and mastering too so that's an extra buzz. As far as surprises they started early when my track 'Make a Move' was used for the Scottish Ballet. It was part of their digital season last year. It's not one I play live either so it was a good way to get it out there. Also Danger Mouse features my track 'Fall in Love' in a playlist which was a good nod too.
You have just released a new album, 'Green Door Sessions', made up of tracks re-recorded from 'Here or Nowhere' and two earlier EP's 'Get Don't Want' and 'Delete Forever'. What made you want to revisit and rework these songs?
It was an idea that came about from my live set up. I'd developed all these versions of my songs on accordion and drum machine and gigged them that way to support the album. I'd be selling the album after a show and letting people now there was no accordion on there and some people would look a bit disappointed, so maybe the idea came from there. It's a good way to put a line under it too.
For the 'Green Door Sessions' launch, you hosted an invite-only, socially-distanced, outdoor gig by the water of Leith. Given that the album launch had to be set up as it was, were you satisfied with the way that it went? Would you have preferred if it could have taken place in a more traditional setting, or were the restrictions liberating?
Yeah I found the restrictions liberating, scary too. I'd wired this set up and it was also a test run as well as a listening party. I wasn't really sure how it was going at the time, I hadn't really thought about monitoring for myself so couldn't hear that well. It felt good after though, I've a field recording of it and you can hear that people are into it and it sounds exciting. I had a wireless set up with a microphone, delay effects pedal, record player and this mad little box that does arpeggios or drones, all battery powered in a briefcase. Speakers were placed around the tunnel and they picked up what I was transmitting. There's scope to do it with FM radio frequencies but you need a license. That way everyone could bring their own radios and tune in. Like a drive-in cinema, but instead it would be a walk-up gig. Silent DJ sets could work too, if everyone was on headphones and got over themselves – me included.
Do you think that music venues and theatres being closed, and their futures being uncertain, calls for more creative and DIY approaches to disseminating art?
I think if places are going to remain closed then other ways need to be found. I got disseminate confused with decimate there, which maybe says it all. What I found with the album launch is that people really appreciated being in a space together and sharing something, we were safe and socially-distanced and it was daylight too which created a certain tone, but to fill a space with cheers and applause was beautiful after so long.
What I'd like to see is a community radio in Edinburgh on the FM regardless. Then amongst the programming I reckon you could do events on the frequency and have people socially distanced and that could be transmitted across the city at the same time.
You've been described as a lo-fi one-man-band. Do you think this is a fair observation?
It's not a terrible observation! I'm on my own because that way it allows me to make some income from music. Supporting your debut album doesn't really demand big live fees and you save a lot on travel and other costs by going solo. Lo-fi fits too if you're talking imperfections. Fuck perfection. Everything is so synchronised and 'on the grid' in most modern music you hear and I'm conscious of messing with that. The drum machines I'm using aren't digital and they vary in tempo if you leave them running. Your ear recognises that, even if it's subliminal, it's more natural. You're off the loop.
I hear that you have worked as a stage hand in the past. Do you think that theatre has influenced your music or live performances at all?
I still kind of did work as a stage hand up until last week. We'd all been furloughed and a show had been sitting there that needed taking out, so we did that but then that's it for now. That said, I think it has influenced me over the years, like everything really. You hear a lot of vocal warm-ups from the cast if you're working a show, and it got me thinking about taking care of that some more. Projecting yourself on stage and all that. Each shift you walk past this sign on the way to the stage that states something along the lines of, 'the world's best artists have and will continue to walk through these doors' and that makes me smile . . . I think I've kicked it a few times too.
Its definitely given me ideas anyway and an appreciation of how it all comes together, but I can't stand musicals. Drive you mad. Ten weeks of the same cheesy show tunes whilst you're trying to finish up your own album. With matinees too, it gets dark.
As a multi-instrumentalist noise-maker, what prompts you to use a particular instrument for any given tune?
Sometimes the instrument influences the tune directly. Like an old electric organ with a drum machine and patterns will have its own rhythms and that's what inspires you to write something, or because I'm not particularly competent on any one instrument, you work within your own limitations and that's where you find something. Also, I've been gifted a lot of the instruments I use, so they have their own story and you try to respect that. I'm playing a lot of xylophone at the minute. I kind of inherited the blocks from my grandfather and built the body for it. I remember it in its original frame as a kid, so I feel like that's in there too when I'm recording it.
What sort of advantages and disadvantages do you find in being self-taught?
Sometimes I wish my left hand was better on the piano, and I see the advantage of being able to read and write music. Relying solely on your ear and your reactions to a piece of music can be exciting though . . . and humbling. You don't think twice about stepping into the unknown, which I think is half the battle.
Green Door Sessions is out now on Moshi Moshi : https://callumeaster.com/album/green-door-sessions-2
Image Credit : John Mackie