Why We Make Events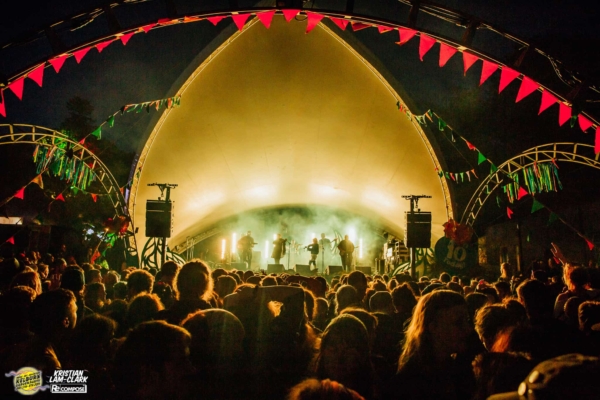 Do you remember the feeling when you buy a ticket for a festival? Maybe you have clubbed together with pals and you have all bought yours at the same time. Then there is the excitement as you make your plans for the weekend, select your outfits, pour over the line-up, do the supply run and then the unmistakable feeling you have on the night before you join forces, jump on the bus or in the car and head off for the weekend. You can barely sleep – all you can think about are the next few days with your friends, friends you are yet to make, the musical discoveries, the adventure, the totally unexpected moments of joy and laughter, the pure freedom to be who you want to be. The sunshine, the mud, sunsets and daybreaks. If you have children in tow, then the excitement is ten-fold. Do you remember?
If you have been to a festival, you'll remember. If you have yet to go to a festival, maybe you will next summer once this is all over, when you emerge from these strange and dark months with a new sense of vigour and hope – and a desire to support this essential industry.
Music festivals the world over, but particularly in the UK and Scotland, are a strange, nebulous phenomenon. We can't quite put our finger on exactly what it is that makes them such an essential part of our summer calendar. Perhaps it is this freedom away from the grind of "normal" life. For a single weekend you can wear what you want, dance how you want, and speak to whoever happens to cross your path without the fear of biting insecurities. You can do anything you want to do, and no-one will judge. All you have to worry about is maybe which band or DJ you will see next, or which food vendor you will visit next. Lager, IPA or cider? Possibly you worry about finding your tent later on once you stumble home from the camp fire.
A weekend at a festival is essentially a collection of randomly associated moments that you experience in succession as you truly live in the moment for days at a time. The feeling is ephemeral, hard to actually pin down, but you know for sure there is nowhere else you would rather be or nothing else you would rather be doing. For many, many people, festivals are the absolute highlight of their year.
Amongst all the excitement of anticipation and experience, one thing you hardly think about are the organisers who have been working year-round to deliver this single weekend. Nor the hundreds of crew who have been on site for weeks to build and organise the thing. You don't picture the thousands of man-hours that go into putting up the fences, building the stages, making the décor, laying out the parking fields, putting up the glamping tents, laying out the power lines, installing the soundsystems and lighting. You definitely don't think about the dozens of spreadsheets, the (I kid you not) millions of emails that have flown between an impenetrable network of artists, agents, managers, crew, ticketing companies, designers, council officials, security companies, AV companies, producers…. well you get the picture. What's more, you don't think about the bands rehearsing their sets in bedrooms, dingy garages and studios, nor the DJs selecting their tunes and packing their records bags or the years of toil that the many artists who will be performing for you have spent honing their craft.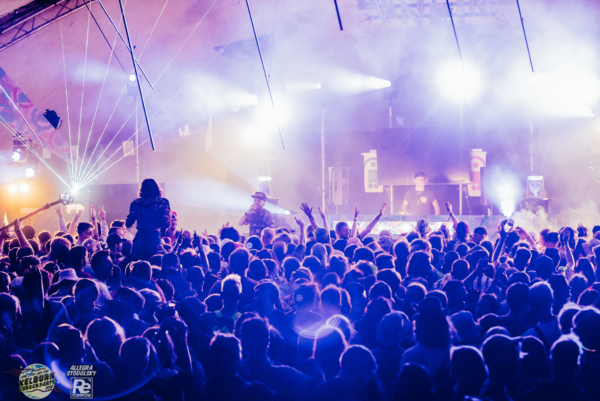 This is the essential paradox at the heart of the festival scene; if you will, a pyramid of experience. At the tip, you have any given moment you share with those around you, each supported by a base of intense human endeavour. Picture yourself at the Landing Stage, at Kelburn watching Goldie's seminal set in 2018 (see picture above), hands in the air and loving it. Behind this moment you have a cascading number of crew who have come together, from the sound and lighting technicians who are there in the moment with you making it happen, the artist liaison staff and stage managers making sure things are running smoothly, down to the décor and site crew who have built the stage, the security who are mandated to be there, and the bar staff who served you the drink you are holding. Below them you have the core festival team who have booked Goldie after weeks of negotiation and arranged the logistics, you have the managers who have ensured that the moment you are in meets all official licensing and health and safety requirements (no mean feat in today's world) and have planned out every aspect of the physical existence of this moment. And at the bottom of this pyramid of joy you have the vision, bravery and very often that little fleck of madness of the few people who had the idea to do this in the first place.
It's not my intention here to pull the veil back on these moments to expose their mundane workings; it is to demonstrate to you the vast ecosystem of people, effort and experience that goes into making them happen. Each of these people are working. It is their career, their job, one they have spent years working at honing their skills. At a small festival like Kelburn Garden Party they are likely working incredibly long hours for minimum pay because they believe in the power and importance of what we create together. You wouldn't want to be anywhere else, and neither would they.
So when you see the tag #wemakeevents or look at the image of Kelburn Castle lit up in red – think of all of the moments of joy and happiness you have shared at festivals, and all of the ones to come in the future – and think of this pyramid of talent, skill, audacity, experience, sweat, blood (and yes, tears) that is required for those moments to materialise.
You rely on them, and they rely on you to be there with them. Not being there together isn't an option. Retraining isn't an option. Together we live for these moments. It's in our DNA. Support your festivals, the crew, the artists any way you can, and we'll see you next summer.