Shape-Shifting to the New Normal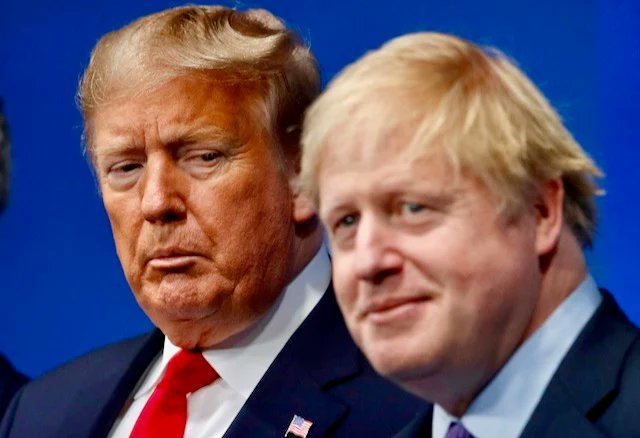 Shape-shifting to the new normal means adapting to reality, not shedding your beliefs for political gain.
How malleable are you?
I don't mean how much you've been keeping up with your online yoga in the lockdown, I mean how malleable are you to the sweeping changes that are ravaging our economy and changing our society? The ability to cope with change – like the supple tree that bends in the wind – is a sign of resilience, that idea that you can adjust to change but keep something of your original shape and purpose. The rigid and immovable are vulnerable to being broken if they can't adjust. But alongside this is the idea that having no real roots, having no fixed purpose makes you open to anything, change at a whim makes you flighty and lightweight.
How much should we resist change and how much should we go with the (inevitable) flow, and how to choose?
'Early adopters' seem to relish and anticipate change, or maybe they just like the bling of new gadgetry. Not all change is good. It's said that protestors and activists are divided into two camps; those resisting change and those demanding change, and thst some of this comes from personality type as much as ideology. Some of us are endlessly 'starting new things' while others are desperate to 'stop new things starting'.
In Hong Kong mass protests first began when people rallied against a now-suspended legislative bill that they feared would have infringed on their civil rights, and which unleashed a wave of anger and longstanding grievances with the Beijing-backed government. "Be water" became a take on a famous Bruce Lee quote to be "formless, shapeless, like water" – and has been a rallying cry of the leaderless protest movement since demonstrations in Hong Kong began in June.
It sometimes looks chaotic but it's been highly effective. Protestors use Telegram documenting police locations or protest groups needing backup and can flip tactics and suddenly shift and re-appear at a different location in the city. The tactics can be sen as the opposite of 'Occupy' or a peace-camp, when the idea is to maintain and control one fixed physical space and form some community out of this, or 'Temporary Autonomous Zone' (TAZ) as Hakin Bey conceived of it.
A T.A.Z. is a liberated area "of land, time or imagination" where one can be for something, not just against, and where new ways of being human together can be explored and experimented with. Locating itself in the cracks and fault lines in the global grid of control and alienation, a T.A.Z. is an eruption of free culture where life is experienced at maximum intensity. It should feel like an exceptional party where for a brief moment our desires are made manifest and we all become the creators of the art of everyday life.
But when is the ability to be open to change and to admit to change in yourself a bad thing? I suppose when its based not on the reality of changing circumstances or admitting you were wrong but on brazen opportunism, Groucho Marx's famous line: "Those are my principles, and if you don't like them…well I have others."
Boris Johnson – now lashed to the mast of the Brexit ship – famously had two newspaper articles ready to publish depending on what way the vote went.
In one Boris Johnson said Britain remaining in the European Union would be a "boon for the world and for Europe". The Foreign Secretary wrote the unpublished Remain-backing article only two days before shocking David Cameron by revealing he would be campaigning for Brexit.
The columnist Joyce Macmillan skewers this tendency in the Prime Minister writing:
"It may, of course, strike some people as disobliging to refer to the present Prime Minister as a rat; particularly those who remain beguiled by his alleged Etonian charm. In truth, though, it has to be acknowledged that Johnson is a notorious rat, on many counts; a serial love-rat, and a political opportunist who ratted on his previous pro-European sentiments to lead the 2016 Leave campaign. His recent attempt to rat on his own EU Withdrawal Agreement by passing the now-notorious UK Internal Market Bill led last week to the biggest government defeat in the House of Lords for more than 20 years. And he is already well-known – not least to the former Obama staffer who called him "a shape-shifting creep" – as an inveterate political chameleon; at one moment the genial, liberal and freedom-loving mayor of London, at the next the ruthless right-wing operator cruising a tide of xenophobic sentiment to become the leader of a government that is still bizarrely congratulating itself on "ending freedom of movement" for 66 million Britons."
It's one thing being complex and multi-faceted, its another being brazenly without principle.
The former Obama staffer was one Tommy Vietor who is expected to gain a place in Biden's team. Vietor was quoted saying: "If you think Joe hates him, you should hear Kamala."
Biden's enmity towards Johnson dates from comments made by the then Mayor of London during the Brexit referendum, when he wrote that Obama's decision to remove a bust of Winston Churchill from the Oval Office was a "symbol of the part-Kenyan president's ancestral dislike of the British Empire".
Former Obama press aide Tommy Vietor was quoted as saying: "We will never forget your racist comments about Obama and slavish devotion to Trump."
A Democratic source told the British papers:  "Biden's got a long memory and Boris is not in his good books. Biden and Obama are like family."
"Many of the people around Biden have been talking about Boris Johnson. The Kenyan remark has never gone away. They see Boris and [Dominic] Cummings like Trump and Bannon."
In a TV address on Friday, Biden stressed that tackling "systemic racism" as one of his top priorities – with the campaign reportedly "shocked" at the "dismissiveness of black rights" in Johnson's inner circle. Particular ire was directed at Dominic Raab, the foreign secretary, who called Black Lives Matters protestors taking the knee "a symbol of subjugation and subordination" and said he would kneel only before the Queen or when he was proposing to his wife.
While the positive short-term advantages for shape-shifting is obvious, it does have a tendency for longer-term reputational damage. Boris Johnson may have (somehow) got away with relentless racism here, but it may have serious consequences for his international standing, just at the very time when Brexit Britain is supposed to be reaching out across the Atlantic for a trade deal.
But we need to be open to change now more than ever. Change is constant but in our lifetimes it has accelerated out of all recognition. Some of the new changes that have merged out of lockdown and pandemic should be nurtured and (ironically) preserved. Some of the industries and sectors that have crumbled should be allowed to die (cruiseships and aviation for two).
Our unwillingness to move and shift will be our undoing.
Reports from the YouGov-Cambridge Globalism Project, which questioned approximately 26,000 people in 25 countries  in July and August suggests that people are planning to drive more in future than they did before the coronavirus pandemic, even though the overwhelming majority accept human responsibility for the climate crisis. The Guardian reports:
"The apparent disconnect between beliefs and actions raises fears that without strong political intervention, these actions could undermine efforts to meet the targets set in the Paris agreement and hopes of a green recovery from the coronavirus crisis."
Without leadership and vision our experience of lockdown – and our 'release' from it – may result in us catapulting back into the catastrophic economic systems and culture that is destroying our world. Yet the possibility of us 'shape-shifting' into a new economic world which puts ecology and life at the centre of everything is right there for the taking.