Lessons from the Kenmure Street Siege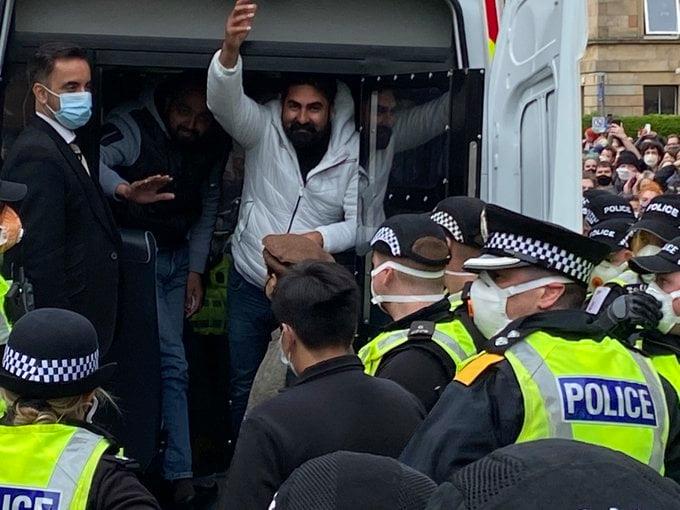 The defeat inflicted on Britain's Home Office on Kenmure Street may prove a crucial turning point for Scotland.
In the years since the independence referendum, many of us have felt a frustrated impotence. The mass movement we built in those years, the largest Scotland had seen since the Poll Tax, largely fizzled. The Yes movement channeled its energy into political parties, and those parties are limited by their need to be electable. They ask us to vote, to campaign for votes, but as players of the parliamentary game they cannot change its rules.
The victory on Kenmure Street shows once again that the power of the people, united and organised, can change the rules. Legally, Britain held all the cards here. Immigration law is reserved to Westminster. Home office enforcement officers are employed by Westminster. Immigrants are seized and taken to detention centres all the time, and it rarely makes the news.
But on this occasion, the power of the people, of the self-conscious and self-organised working class, turned the legal situation on its head. Two decades of organising by the Unity Centre meant that many members of the community knew immediately what had to be done. Deep links, on- and offline, meant that the call for support spread like wildfire, with hundreds assembling in the first few hours. The crowd was disciplined: any move forward by the police was met with mass sit-downs and bike barricades.
After an 8 hour standoff, the Home Office was forced to stand down. In the space opened by direct action, the words of progressive politicians and lawyers could start to have meaning.
All of this took place at the intersection of class politics and constitutional politics. The British state was trying to implement an unpopular policy. The Scottish state, subject, opposed it impotently. But the people, organised and united, bodies on the line, made the opposition real, and were victorious.
The coming years will see an increasingly authoritarian Tory government trying to impose its right wing politics on Scotland's institutions, and a decaying capitalism trying to squeeze the last pennies from an exhausted and impoverished population. The SNP and the Greens aren't going to save us. But each time we organise, and fight, and win, a little more authority slips from Britain's grasp, and a progressive independent Scotland comes a little closer.