Underground Edinburgh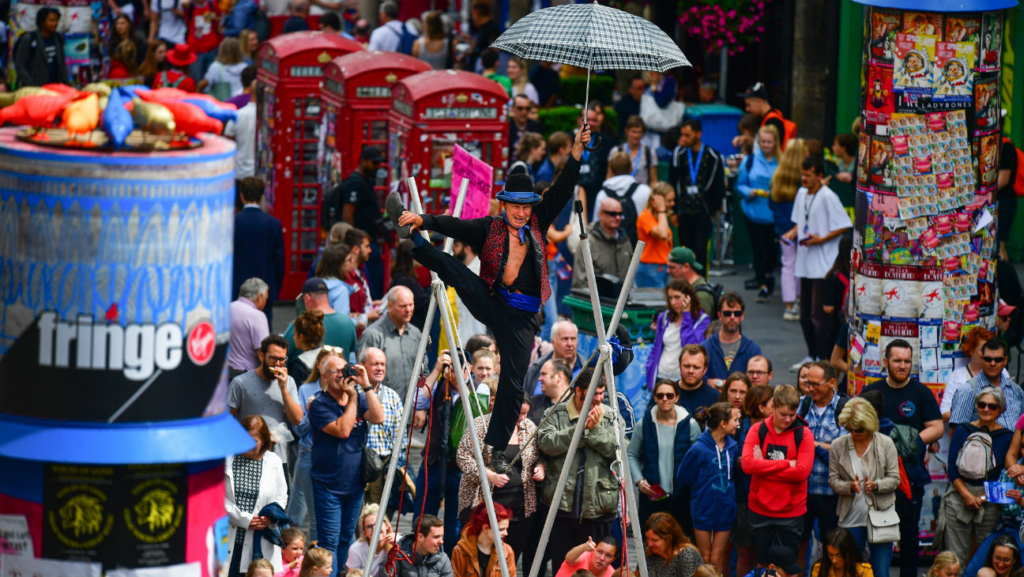 Edinburgh in August is like a dress that you didn't realise had pockets.
A honeycombed hive etched out of rock, I have learned her interlacing pathways by heart, know her best shortcuts and closes. Her map is tunnelled through my grey matter. Yet, even those of us who move most elegantly through her intricacies are surprised each Fringe season to see some new chamber of requirement emerge, as if from nowhere, some door we never noticed opened to reveal a secret five-storey venue – hidden from view all this time, and freshly astroturfed.
What with trams, roadworks, giant, regrettable golden eyesores, Edinburgh has seemed in a perpetual state of being half-built for a long time. One of my favourite Fringe-related anecdotes actually involves an American tourist asking a friend of mine why the castle was covered in scaffolding, to which he responded that it was being packed away for the off-season. As with all good jokes, there is a certain shade of truth to that sentiment.
For the month inevitably passes, the private school drama groups return to the Home Counties, their five star flyers are trodden into September's puddles and these underground, undercover performance spaces are flat-packed away. This is one of several reasons that it can be so frustrating to be a performer in the country's capital – the infrastructure is right there, on the other side of the locked roller shutters. But during the rest of the year, we aren't allowed in.
The consensus among resident performers is that Edinburgh is far more energetic about making money off of visiting talent than nurturing its own. From the rapid closures of many hallowed music venues, often in part due to, as Studio 24 put it, 'harsh council-enforced sound restrictions', to the decline in producing theatres and the decline in theatre production (The Lyceum, for example, produces less than half as many shows per annum as it did thirty years ago) it is easy to see where this consensus might be coming from.
There are, of course, many laudable attempts to combat the cynicism surrounding Edinburgh's live scene outwith the month of August, including: Nothing Ever Happens Here, a night with a tongue-in-cheek title that aims to bolster Edinburgh's live music, and Hidden Door Festival, an annual festival which takes over abandoned spaces around the city and fills them with art of all kinds. It is an exciting thing to behold, all that life blood spilling from the quiet stone.
It is not, however, necessarily a surprise that several of the spaces which Hidden Door have repurposed over the years were promptly and subsequently turned into – what else – "luxury accommodation" or student flats. This speaks to a worrying pattern: buildings left to fall into a state of desuetude and disrepair, being titillated and tidied up by volunteers (often artists) renders these new performance venues ripe for development, development into housing that is either unaffordable to those very artists and volunteers who first reignited interest in the site, or development into housing which is, by definition, exclusive.
But this is what Edinburgh does. Its world-renowned reputation as an arts mecca has been built on the backs of so many underpaid and unpaid artists, and it is big corporations receiving big, fat contracts that end up benefitting financially. (I remember being particularly offended a few years ago by a banner declaring that 'Virgin Money Brings You Edinburgh's Christmas'). Of course, we should celebrate that such an amazing spectacle of art and humanity takes place on our doorstep, but its bloating popularity and increasing commercialisation has meant that it is becoming a more profitable project for those who are well-off enough to own city centre properties which they can rent out on Air BnB, than it is for the artists and arts organisations who make it what it is.
It is ironic that the Fringe festival, which was founded as a reaction to the "middle-class establishment" of the official festival, and on the principles of openness and inclusivity, has rendered itself too expensive for the participation of so many. What's more, that the overtourism it engenders is pushing its citizens out of the centre and into the cities' fringes.
I have managed to get to the final paragraph of an article before mentioning the pandemic. Surely a new record! That is, in part, because these issues predate the past two years. Perhaps we could seize this new world with its new restrictions as an opportunity to reassess the festival and how it should work for everyone. Perhaps that is a naive and heady dream. But at this Fringe just passed it was amazing to see the elements of creativity and democratisation prompted by the limitations caused by the pandemic. Turning car parks into outdoor performance spaces, the Edinburgh International Book Festival providing its programme for free on a big screen. Would it be too utopian to imagine a future where there is a continuation of these laudable developments, and furthermore, to imagine an Edinburgh that goes to greater lengths to support its own local artists, and during more than three weeks of the year?

Help to support independent Scottish journalism by donating today.