Glasgow's People Health Inquiry aims to look through the rhetoric to find the reality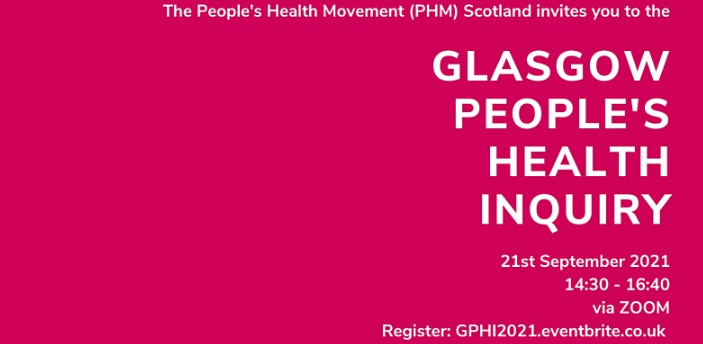 The People Health Movement Scotland (PHMS) have gathered the support of a wide range of health and community activists and academics to contribute to an event in the Climate Fringe Week which runs 18th-26th September 2021. On Tuesday the 21st September the Glasgow People's Health Inquiry will be held online and to give a much needed focus on the ongoing issues around health and health inequalities in Glasgow.
Representatives from 15  different organisations will contribute their views to the inquiry giving the opportunity to draw together evidence and reflection about health and health inequalities in Glasgow since the start of the pandemic . The inquiry will also provide an opportunity to think about what the future may hold, especially in terms of the climate crisis and local government underfunding and current political decision-making.
The event will be opened by a presentation from Professor Kat Smith, Professor of Public Health Policy at the University of Strathclyde who will set the context for the session. This will be followed by short contributions of evidence from representatives of: Glasgow Centre for Population Health – Medact – Environmental Rights Centre for Scotland – Women's Support Project – University of Glasgow – Health and Social Care Alliance Scotland – Scottish Hazards – Wise Women – Public Health Scotland – Kingsway Community Connections – Glasgow Caledonian University – Gal Gael – Enough! Scotland – Zero COVID.
Responses to the evidence will be offered by representatives of: Glasgow City Council – NHS Greater Glasgow and Clyde – Scottish Political Parties – Poverty and Inequality Commission.
The event is free and open to all and is the start of a process to offer an alternative strategy to tackling health and inequality in the city. The city council and partners current corporate vision for the future of the city ignores the reality of climate change and entirely fails to address the crucial issue of climate justice. New perspectives and practices which lie out with the neoliberal paradigm are urgently needed.
The People's Health Movement (PHM) Scotland are a diverse group of health and social activists based in Scotland who are members of a global movement that calls for a right to health for all. We have organised the event to reach out to all those working to promote social and ecological justice with the hope of building solidarity and energy in the fight for change. We thank all those taking part for their time and energy.
This event is supported by Stop Climate Chaos Scotland. Signup at
Glasgow People's Health Inquiry
21st September 2021, 14:30-16:40, on Zoom
https://gphi2021.eventbrite.co.uk/

Help to support independent Scottish journalism by subscribing or donating today.