Troops Oot
I recently engaged Angus Macleod, Scottish Political Editor of the Times about why they still referred to the 'Scottish Executive' when no such body existed. Nobody, not the Tories, not even the British Govt refer to the SNP administration as anything other than 'the Scottish Government'. In a give-away line that anarchists would love he explained: "The reason why the term Government might not be appropriate is that the devolved body does not possess all the powers of a government e.g. declaring war (I'm not being entirely flippant – that is a government – defining responsibility)."Alex Salmond claimed yesterday that Britain's involvement in the war in Iraq was "the most disastrous foreign policy decision of recent times". He should put his convictions to the test. Scotland with 8% of the UK population but 11% of the UK war dead in Iraq is following an ancient tradition of disproportionate representation in the British Armed Forces. This Easter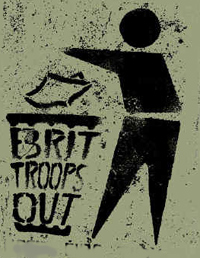 we should pull our troops out.  As the war of words intensified a furious Des Browne issued a personal challenge to Alex Salmond to visit British troops in Iraq after the First Minister was accused of undermining morale. Remarks by Salmond made about Scots soldiers being "kicked in the teeth" by the Westminster government were labelled "outrageous" by his Labour opponents.On the fifth anniversary of the US-led invasion, Mr Salmond told BBC Scotland: "I don't believe, incidentally, the views of the Scots squaddies are any different from the Scots population. They do their job because they are professionals and they do it bravely and completely." He then said: "They get kicked in the teeth when they are in Iraq by their regiments being wound up. They get treated disgracefully by the government – across a range of ways – which has broken the military covenant." None of which is really debatable.What was telling though was the response. Salmond's getting "too big for his boots" they argued.Far from it. Salmond should take the next step and explore how to bring our troops home. One of the lasting legacies of this government may be tha the big con about Scottish Soldiers involvement in British State activities may be about to be broken. What does a Scottish military need to be? A well equipped defence force, a relief and disaster organisation and a source of pride. Little else. The suggestions in todays Scotsman newspaper that a cabal of British Arms dealers should dictate the Scottish economy is ridiculous. That the discredited arms dealers of BAE and others should gather and lobby David Cairns to collaborate on anti-independece propaganda s not surprising ('Scots defence industry would be decimated') But at Easter 2008 can we not think of anything more productive for people to do in this 21 C Scotland than make vicious weaponry? 
As Albion scribes unite to bleat about the Barnett Formula, more compelling changes are needed than those that acknowledge the historic inequalities produced by the Union. With the re-introduction of Depleted Uranium testing at Dundrennan near Kirkudbright (http://scotland.indymedia.org/newswire/display/5431/index.php) and Brown and his allies its time to take some serious action against the bloody war machine that dots and scars the Scottish landscape, from Leuchars air base, home of cluster bombs, to Cape Wrath (bombing site for hire) to a hundred covert bases, Scotland is a playground for British and other foreign military groups.Scotland is an unexploded bomb. Our seas are littered with munitions dumps, our soil is scattered with disintegrating military bases and our air is full of the sound of fighter jets training to bomb foreign lands. Over 7000 radioactive munitions lie on the seabed of the Solway Firth, Cape Wrath is rented out for live shelling and Faslane stands as a testimony to the military madness that surrounds us. As a recent CND Scotland report states:"Scotland was exploited by the military during the Cold War and that situation remains. Cape Wrath is the only ship-to-shore bombardment range in Europe and since the United States Navy was forced to withdraw from a similar range in Puerto Rico in 2003, Cape Wrath can unwittingly claim to be the most important area for naval training in the world, or at least in the Northern Hemisphere. The range also contains the only place in Europe where aircraft can release live one thousand pound bombs." For a country as small as Scotland, it is staggering that we play unwilling hosts to:
– All of Britain's nuclear weapons at Coulport and the strategic nuclear submarine fleet at Faslane
– Britain's biggest Tornado base at Lossiemouth
– The largest and most frequently used low flying area in Britain in the north west Highlands
– The only open air live depleted uranium weapons test range in Britain at Dundrennan, Scotland. Whilst many have thought that the Scottish Governments refusal to be part of plans for Trident 2 might be the apogee of symbolic and practical opposition, another more powerful tactic might pack more punch.Scottish troops have been cannon fodder for British Imperial folly for centuries. Enough is enough. Its time for the military to be devolved as part of the withdrawal of consent for the British States nightmarish escapades in Iraq and Afghanistan. If Britain won't withdraw its troops, Scotland should withdraw our own.This past week has been packed with ageing once-Leftists eulogising about how 1968 empowered a generation by 'stopping a war' and having a real impact on society. The danger with this current generation is that it has the opposite impact – those who took part in 'the biggest demonstration ever' have noted how the Blair-Brown govt treated their views with absolute contempt. As Seamus Milne writes Blair told Parliament on the eve of this horror that Hussein would be "responsible for many more deaths even in one year than we will be in any conflict." Amnesty put civilian deaths under Hussein in the low hundreds. The Lancet estimates 600.00 people were killed in the first three years alone.Salmond should back up his denunciation of the illegal wars and call on Scottish troops to leave the leave the army.