Dark Side of the Mountain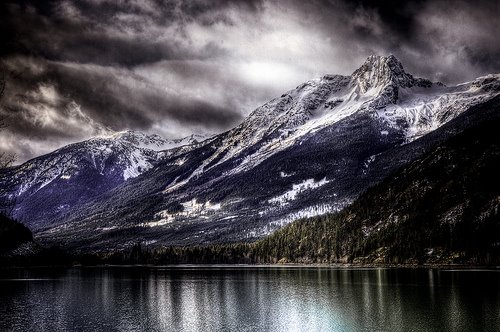 The Dark Mountain Project began life as a manifesto, published in 2009, by the writers Dougald Hine and Paul Kingsnorth. In it they contend that we are living through a period of unavoidable decline and that the time has come to stop pretending otherwise: "Ecological and economic collapse unfold before us and, if we acknowledge them at all, we act as if this were a temporary problem, a technical glitch." The manifesto urges us to reject this fallacy, to unblock our ears and "hear the message which reality is screaming at us". In particular it is a rallying cry to  those who are willing to challenge the stories upon which our civilisation is built: the myths of progress and human centrality; the myth of our separateness from nature.
The Dark Mountain Project has caused a stir, particularly in the environmental  movement, because it refutes the notion that international treaties and renewable energy will somehow allow us to both protect the biosphere and sustain our Western consumerist lifestyle. The two are not compatible, the project insists, and by failing to assert this, mainstream environmentalism has betrayed its origins: "Today's environmentalists are more likely to be found at corporate conferences hymning the virtues of 'sustainability' and 'ethical consumption' than doing anything as naïve as questioning the intrinsic values of civilisation. Capitalism has absorbed the greens, as it absorbs so many challenges to its ascendancy."
Unsurprisingly, the project has its critics. John Grey, reviewer for the New Statesman, accuses its founders of believing that "global collapse could lead to a better world" and that in doing so, they have "swallowed the progressive fairy tale that animates the civilisation they reject." While in the Guardian, George Monbiot contends that "To sit back and wait for the collapse of industrial civilisation is to conspire in the destruction of everything greens value." Responding to such criticism, the founders insist that "the project has never been a quest for apocalyptic narratives, but rather an attempt to get beyond them."
So, to Llangollen in North Wales and 'Uncivilisation', the project's first gathering and launch of Dark Mountain Volume 1. The festival brought together writers, artists, musicians and activists keen to address the issues raised by the manifesto. Specifically, two questions were posed: "What do we do after we stop pretending 'the world as we know it' can be sustained… [and] where do we find new stories for the unknown world ahead?" Headline speakers included Alastair McIntosh, Jay Griffiths,  and Penny Rimbaud, as well as critics of the project such as the above mentioned George Monbiot.
The weekend was intense, exciting, and at times chaotic. Four hundred people were gathered beneath the canopies of Llangollen's International Pavilion.  The main hall hosted a series of talks, while in other spaces there were poetry-readings, theatre, film, and a plethora of informal debates. Speakers and performers embodied the sense that this was a conversation in progress, a festival of ideas rather than an attempt to flesh out some kind of Dark Mountain doctrine.
A recurring theme was the perceived crisis in the environmental movement, particularly after the failure of Copenhagen. Paul Kingsnorth suggested that "environmentalism's heart had been hollowed out", that it had been "Tony Blaired" in its push for mainstream acceptance. George Monbiot acknowledged the crisis but insisted that movement-building remained our only hope,   fearing that the alternative – atomisation –  was "exactly what the neo-liberals want, because that means we cannot fight together, and if we can't fight together we are stuffed."
Many of the speakers sought to move beyond the political. Indeed Dark Mountain proclaims itself a cultural project above all else, seeking an artistic response which "unflinchingly stares us down, however uncomfortable this may prove" and which is "determined to shift our worldview, not to feed into it." Thus, the ecopoet Mario Petrucci warned against contemporary art and literature that merely entertained, calling instead for stories that make "the habitual unfamiliar", that allow us to break new ground and get past "the numbness of denial." This idea was explored repeatedly over the weekend: Jay Griffiths encouraged us to reject the dominant cultural model which erects a fence between us and the natural world, insisting that even here in the 'civilised' West "the boundary is porous, there is a paw scraping at the door." While  Alistair McIntosh urged that "the imperative of our time is to develop an inner life… that reconstitutes the world."
The Dark Mountain Project has been accused of being a haven for 'utopian dreamers' and 'nihilists', 'crazy collapsitarians' and 'feral possessive individualists'. I met none of those at Llangollen. Instead I met, again and again, folk who were still fighting the good fight, who'd been to Copenhagen, were involved in the Transition movement; who campaigned for social justice and marched against war. But who also recognised the simple truth that Western industrial society cannot be made sustainable, that we will not protect the biosphere unless we completely renegotiate our relationship to it.
A talking-shop? A weekend of music and beer and flights of self-indulgent fancy? Some may dismiss it as such, but I won't. For me, and I'm sure for many others, 'Uncivilisation' was a kindling of consciousness, a communion, and a rare opportunity to begin the process of 'reconstitution'.
Read Paul Kingsnorth on why he started the Dark Mountain project here.