Upcoming Events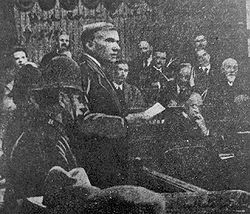 John Holloway at University of Glasgow Centre for the Study of Socialist Theory and Movements Tuesday 16th November, 2010.
John Holloway (Benemerita Universidad Autonoma de Puebla in Mexico)

Crack Capitalism: the New Anti-Grammar of Revolution Time: 5-6.30 pm, 915 (former T315), Adam Smith Building, University of Glasgow.
Remembering John Maclean Annual John MacLean Rally Sunday November 28. 1 pm at Eastwood Cemetery to graveside for commemoration.
March leaves 1.30 pm, across from cemetery, at Boydstone Rd to John MacLean Cairn at Shawbridge Arcade, nr, shopping Centre.
Then to Shawbridge Bar across at Shawbridge High flats, next to Police Station for speeches and scoriach.
White Rose and Albannach. Admission £5.
Read Kevin Williams on on John Maclean and Scotland's Libertarian Left.
Read the full text of Macleans Speech from the Dock.