A Foreign Policy for Scotland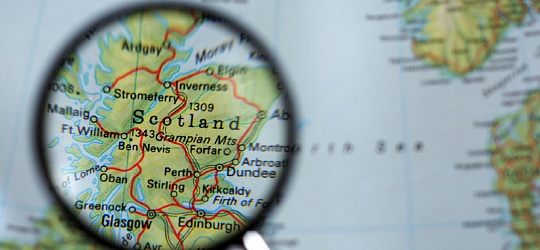 This is the speech on foreign policy to the Scottish Independence Convention conference on 7 November 2010 at the National Piping Centre in Glasgow
The spur that converted me to Scottish independence was to do with foreign policy. I was heavily involved in the anti-war movement and it was through it that I came into contact with members of the SNP. From the thought that we wouldn't have been dragged into that disaster if we had been independent, everything else flowed.
I describe myself as an internationalist nationalist. While opponents may like to deride us as wanting to opt out from the world, the opposite is the case. Yes, we can rid ourselves of the vestiges of a imperialist London foreign policy, but this means a greater role for Scotland in the world, not a lesser one.
Worryingly though, for a country that is not far from the goal of independence, there is a real lack of a foreign policy culture in Scotland. It may have been fine in the past to abdicate responsibility for this to the FCO, but we need to galvanise more people to be engaged in these matters to achieve all that we can.
We have to lead with our values. Making Scotland a force for good in the world. Meeting our obligation to giving 0.7% of GDP in aid, rather than dragging our heels for decades as the UK has. Being able to sing about our commitments on climate change to the world, rather than being frozen out of the key discussions as we were at Copenhagen last year. Upholding human rights and being against torture under any circumstances. The kind of country where Craig Murray [speaker on the same panel at the conference] could be ambassador!
Scotland could be an international centre for peace. Witness the role played by Norway in brokering the Oslo accords. Angus Robertson, MP for Moray, brought delegations from Georgia, Armenia and Azerbaijan to Speyside for talks a few years ago. As a nation that gave up nuclear weapons we would carry additional moral weight.
Much of the time, upholding these values can be seen as inhibiting trade. It leads to a political trade-off in deciding what is more important. However, Scotland as a force of good would also help with trade. The profile and stock of our country would rise. Even more so if our neighbours continued to engage in illegal and pointless wars.
Our assets are clear. Massive renewables potential, one quarter of Europe's wind offshore. It's time to start realising that, rather than it continuing to be potential for the next decade. Golf. Tourism. But no embassies that are marketing any of this. Scottish Development International exists but is inadequate and inadequately resourced. By way of example, UK Trade and Industry has 2,400 employees in 96 countries around the world, often in British embassies. By contrast, our African, Middle East and Southern Europe HQ is in Paris of all places. Our South African regional HQ is in London.
We have to use immigration better. People coming to Scotland from around the world brings natural links. Scotland though has one of the most ethnically homogenous populations in Western Europe, for whatever reason. We need more people, with energy, fresh ideas and new ways of doing things.
We need to better use people of immigrant stock already here as well. Everyone speaks of the need to tap into the Chinese market for example, but this solely seems to consist of sending politicians who can't speak the language over there for meetings. Meanwhile, there has been little or no effort to utilise, mobilise and promote our Scottish Chinese population toward this endeavour, with all the advantages they have at building those bridges.
Our connections with the world have to improve. That includes more direct flights to and from Glasgow and Edinburgh Airports. Having one of them owned by a different company to the one that owns Heathrow will undoubtedly help.
It also means a high speed rail connection to Europe. Currently, the UK government are setting in motion a plan to link up England's main cities – Birmingham, Manchester and Leeds – via London and the channel tunnel to Paris, Brussels, Frankfurt and other major cities. If Scotland is on the periphery now, this plan will put us even further into the margins. Westminster have kept cross border rail reserved and have stopped the Scottish Parliament borrowing to supplement its pocket money handout. We are not even in a position to build a mile of track between Paisley and Glasgow Airport never mind construct the high speed future Scotland needs.
Full fiscal autonomy may grant these powers, but even if London could stomach the competition this would represent, and gave up dependence on Scottish oil, from a foreign policy perspective it's the nightmare scenario. Some may prefer this kind of federal arrangement, but of all this things to leave at Westminster, would it be foreign policy? We can do it better.
For this though we have to imagine Scotland in the world from now. Relations built. If we're not allowed into conferences to talk about our world-leading climate policies, we should have friends around the world pressuring the UK about it. If the UK government is telling lies about Scotland's oil, the world's media should be asking them about it. If our Scottish government have got excellent policies, as we did on Iraq, our politicians should appear on the global media to talk about it.
Friends, independence isn't just desirable or possible. It is inevitable and it is time we started acting like it.
Osama Saeed is one of Scotland's foremost peace activists and human rights campaigners, you  can read his regular blog here.