Gruniad's Demise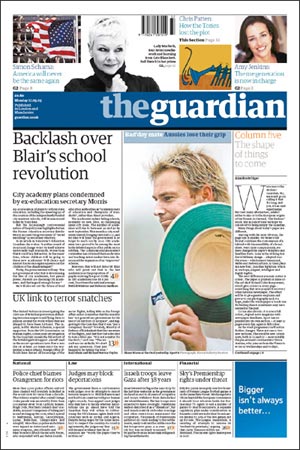 The Guardian matters in a way that few other newspapers do. It's got history, gravitas and crucially it cracked its online presence from the start and has been steadily whooping everybody's new media-asses ever since. Democracy Now interview it's editors. When Wikileaks were looking for trusted partners in European countries (Le Monde, Der Spiegel, El Pais) they didn't come knocking on the door of the Daily Express. It might be the source of mocking stereotype gags (for Guardianista read tortured liberal do-gooder) but there's no doubt it has a profile in the world. It's the most progressive mainstream media outlet in the UK, and arguably the West.
So it's disappointing but not surprising that the Guardian's Editorial 'In Praise of St Andrews Day' (presumably by Alan Rusbridger?) was so very poor and factually inaccurate.
The editorial began: "An important tradition in Scottish politics is for its leaders to use St Andrew's Day as an opportunity to launch the next phase of the national debate… Instead it is now the turn of the coalition in London to set the agenda with today's publication of its Scotland bill, which implements most of last year's Calman report on the lessons of devolution's first decade."
That would be the coalition in London without a mandate in Scotland who never put Calman to any vote at any time?  Calman wasn't a 'report on devolution'  it was a spoiler to the National Conversation. There is no analysis of the content of the Calman report, the process through which it was formed or the many criticisms of the economic implications of it's tax structure (see 'Moores St Andrews Day Disappointment').
The editorial continues: "Calman was a very broadly based report, supported by all the political parties except Mr Salmond's nationalists, and it made recommendations which would extend and enrich the original devolution settlement in important ways which have majority support."
Is it broad based? What does that mean? Do ALL political parties support it? They do not. Do they have majority support?
One commenter wrote: "It's sad as a Guardian reader to see the sneering and patronising tone taken towards a referendum in Scotland and the Scottish government. Would they show such strong objections to such a poll in Tibet, Kurdastan, Palastine or the Basque country. This happens time and time again through the English media, it's seen as ok to be disrespectful towards the prospect of Scots asserting there right to national self-determination."
Another wrote: "More nonsense from the paper regarding Scotland. I am getting the feeling that readers north of the border are not really the target audience for the Guardian in general and that there has been a lot of 'playing to the stalls' over the last few years – in terms of sneering Scottish stories, opinion pieces etc."
The key to understanding the Guardian's weird coverage is the pay-off line: " Don't dismiss these new powers…they are a big step toward giving Scots control over their own money". 'Their own money' is the key here. This reflects the tirade anyone who writes about Scotland on Comment is Free can expect where 'liberal England' responds with a set of assumptions cliches and insults summarised as 'chip on both shoulders, drunks, drug addicts, slum dwelling thugs, welfare spongers, sweaties, porage wogs, ingrates poncing off the English taxpayer to the tune of £x billion every year, independent Scotland would be like Zimbabwe, fried Mars bars, Buckfast Tonic wine, English hating bigots…'
Ex-Guardian writer Christopher Harvie analysed what's going on with the Guardian and it's Scotland coverage:
"Scotland might become to Westminster the nemesis that Ireland was a century ago, but analysis of it has all but disappeared. The Guardian-owned Sunday paper the Observer – whose own comment pieces appear on CiF – once had articles by Neal Ascherson or Arnold Kemp; now the regular encounter is with Kevin McKenna, reading like an implant from Scotland's Daily Record tabloid. What Andrew Neil during his sojourn as publisher of the (Edinburgh) Scotsman always threatened to do to the "McChattering classes" north of the border, the trusted organ of "the dissidence of dissent" has achieved."
Then, after several submissions disappeared without trace and Matt Seaton, the responsible editor, proved lastingly elusive, I was set right by one Ros Taylor from the Central Committee that seemed to have taken over, in a mail to my secretary:
"I think, to be honest, we found that Christopher's articles didn't quite engage either us or our readership as much as we'd hoped they would. I think that's partly because the Scottish media is quite distinct from the rest of the UK's, and there isn't a huge appetite for Scotland-themed pieces. His pieces were also quite low-key and uncontroversial, and tended to pass under the radar."
So there isn't 'a huge appetite for Scotland-themed pieces' (this is a notionally 'national' newspaper)… but if there is they'll be responded to with abuse or derided in snide and patronising editorial. All part of the growing distance between the media in Scotland and England.