The Road to Nowhere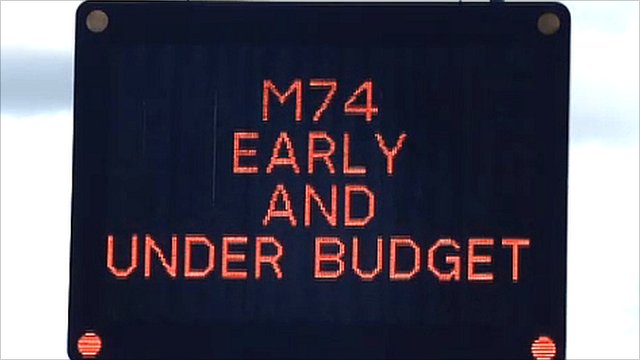 With the news that everything the protestors at the Pollock Free State – said was true all along we feature Rosie Kane from her new blog:
"Tomorrow evening a whole bunch of smiling politicians and dignitaries will stand on the pristine tarmac of the M74 Northern Extension and announce to whoever is listening that it is finally open for business. They will shake hands, perhaps cut a ribbon and I'm certain some, if not all, of them will climb inside some sort of vehicle and take a trip on Glasgow's latest motorway. Cars, vans, lorries and trucks etc will then be invited to drive with care along the 5 mile stretch from Carmyle to Tradeston. I will be close to the opening ceremony but I won't be chaining myself to anything, nor will I be shouting at the decision makers who brought this day about, I won't be dropping a 'NO M74' banner from the bridge, nope I won't do any of that. Instead I'll be in my Govanhill flat close to the new motorway feeling a little sick and a little sad and I'll remember a big fight, a massive fight, a fight we lost, but a fight worth picking.
You see some of us have been keeping an eye on this for a long time, some of us saw it coming and some of us said NO!! – and stood our ground – and when I say "our ground" that's exactly what I mean.
I was down on the M77 protests in Pollok Park, I had recently found my voice and my courage. I had kinda stumbled on the early days of the protests against the M77 which was about to cut a swathe through the park we played in as children, our bluebell woods, the huge trees we climbed, our big chance to see nature – our bit – where we lived. I had learned whilst on the M77 protest that my parents had not been consulted despite the fact that they lived near the route and that they would be hugely impacted by the roads introduction. My shallow investigations revealed that they had a wee opportunity in the 60's to respond but only if they had read the right paper at the right time, I think bringing up 5 kids on poverty pay may well have robbed them of the luxury of getting involved in a process that would affect those 5 kids. But there it was, the big democratic deficit. The camp created to oppose the M77 was called Pollok Free State."
Read the full article at Rosie Kane's My Wee Round Box here.