For Socrates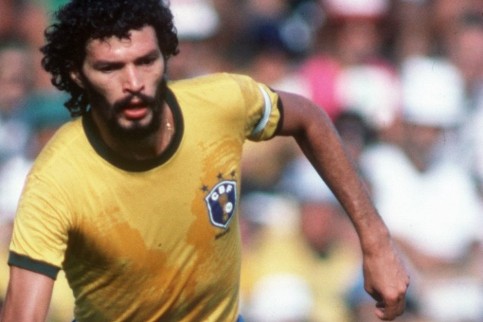 Socrates: the greatest captain of the greatest team not to win the World Cup.
I grew up immersed in football. I can vaguely recall the 74 World Cup and along with everyone else in Scotland wish I could forget the 78 Finals.
But 1982 was the real awakening. It was at the World Cup finals in Spain where through the wonders of colour television, I fell in love with the beautiful game. And it was all because of Brazil, and especially – most especially – because of Socrates.That was indeed the best football team never to win the World Cup. And just because it's become a cliché doesn't mean it isn't true. Look at the line-up and it's hard to understand how and why they didn't win. They came up against a staid and stolid Italian side who had made history by becoming the first side to progress from the round robin games in the first round without winning a match.
I can vividly recall that Brazil – Italy match. How the creativity and relentless forward motion of the Brazilians was snuffed out by the defensive quality and doggedness of the Italians. It was a battle of wills between Socrates and Rossi, who scored all three goals for Italy to defeat the Brazilians. It was thrilling, gladiatorial almost and an honour to watch it.
The 1982 World Cup produced many memorable matches and moments but still, Brazil stand out. And Socrates of course.
His mastery of the game was a joy to watch. Ball attached to feet, weaving through midfield, locks flowing, making inch precision passes. Socrates bossed his games in the best of ways. Wherever the action was on the pitch, Socrates was involved, indeed, immersed in making it happen. He made countless goals, he scored dozens more – 25 in 63 matches for the national side.
Socrates had an incredibly special football brain. He understood how to make things happen instinctively. In that Brazil side, not short on talent, he was the centrifugal force, the foil for others' flair. What let them down was their failure to dig in and defend. They were brave, they were foolhardy, they understood only attack, they were, quite simply, wonderful.
And a callow 14-year-old was smitten. Socrates was my first and probably my most enduring football crush.
Because he was brilliant. Because he was bold. Because he was intelligent.
And because he gave Brazil so much more than his football skills. After retiring from football, he became a doctor and also a political figure, ruminating and commenting on all things economic and social in Latin America. In particular, he was able to link football and its construct to wider political issues. His was a bigger contribution than to the game itself.
But like many giants, he had his flaws, not least his heavy drinking, which ultimately appears to have contributed to his death at a ridiculously young age. There's something very melancholy about seeing your heroes fall that suggests losing pieces of your childhood jigsaw. Mortality comes to us all but only a chosen few are guaranteed immortality. Not only was that 1982 Brazil side the greatest not to win the World Cup, Socrates is arguably the greatest captain of a side not to win it.
Watch him below (sorry Roughie!) and realise you are in the presence of genius. The camera does not lie: Socrates really was that brilliant.