Do Words Have Voices?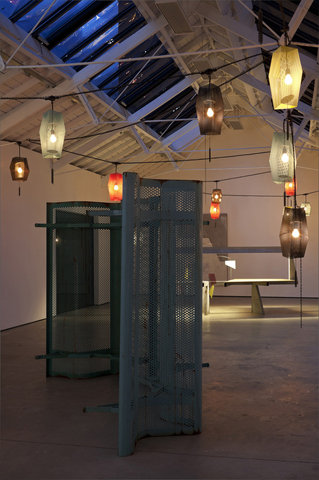 Huge hearty Bellalicious congratulations to Martin Boyce for winning the Turner Prize 2011 with his wonderful spooky installations. This completes a hat-trick for Scotland, following fellow Scots artists Susan Philipsz and Richard Wright, who won last year and in 2009 respectively.
Boyce is known for re-imagining items from places like parks and public spaces and using them in atmospheric installations. Born in Hamilton, South Lanarkshire, Boyce was among the first graduates from the Glasgow School of Art's now famous environmental art course. His peers include Douglas Gordon (best known for film works such as 24-Hour Psycho and Zidane ), who won the prize in 1996, and Nathan Coley, who was shortlisted in 2007.
The Glasgow-based sculptor was announced as the winner of the £25,000 award for his piece Do Words Have Voices? in a live televised ceremony at the Baltic gallery in Gateshead, the first time the event has been held outside London in its 27-year history.
But the odd thing about this is that the Scottish media – normally ready to celebrate any home-grown success – is pretty muted about this. Is it because society has fallen out of love with art? Is it because the Turner itself has become a bit of an early panto? Is it because the tabloids hate contemporary art? Is it seen as metropolitan clever-stuff unpalatable to our endemic anti-intellectualism?  Dunno.  But we bet that his achievement gets little more than a brief mention before Sally Magnusson shuffles her papers and moves onto Sunshine and Sweetie. Take a look at the links below…
Martin Boyce (2011 winner)
Karla Black (nominated 2011)
Susan Philipsz (2010 winner)
Richard Wright (2009 winner)
Nathan Coley (2007 nominated)
Douglas Gordon (winner 1996)
Enjoy Susan Philipz Lowlands (short extract) here: