Dave's Big Adventure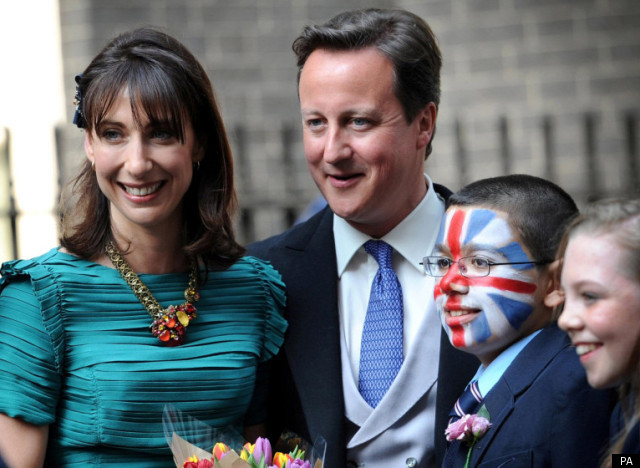 Dave's Big Adventure yesterday has the Tory right and far-right dancing with glee. He's being compared to Churchill for walking away from Europe (as far I remember Churchill stood by Europe but let's not quibble it's the action they've been ganting for for decades). For some this is a great bat to beat the nationalist movement. But to the Twitter question 'Why would Scotland want to join an unelected superstate?' the answer quickly came, 'We're part of an unelected superstate, called Britain'.
Angus Macleod of The Times was 'rubbing his hands at the deafening silence' from SNP HQ, but we reckon that he and  Kenny Farquharson of SoS have got this one far wrong. Even the struggling mega-bland Eddy Miliband has it right: "We should be under no illusions about the import, the impact or the reasons behind the decision. The significance is that we have chosen to let 26 countries make crucial decisions without us. The prime minister's apparent warning at the meeting that they "couldn't use this building for their meetings" would be laughable if it was not tragic."
This is a terrible decision for Britain but potentially good news for Scottish independence. A reconstituted eurozone could offer a safe haven from the crazies of big business Bullingdon and hedgefunds represented by British Govt PLC. As news seeps out (shock horror) that RBS boss Fred the Shred will escape 'further' (sic) sanction, what Cameron's antics expose is a reckless xenophobic ideologue posturing as Tory New Man. Gone are the Huskies, Sam Cam and Hug a Hoody, back are the Same Old Tories.
What Cameron has done is protect the City of London and throw out prospects of a progressive Tobin or Robin Hood Tax. This is a disaster celebrated by the tabloid loons and the likes of Bill Cash and Nigel Farage. So what exactly is the murky Square Mile Cameron & Cronies are so exercised by? There's no better source to turn to than Nicholas Shaxton, author of Treasure Islands. Here's the background to the Tory parties opt-out that some have celebrated as 'self-determination for England':
"On 7 October 2002, an Anglican priest, William Campbell-Taylor, and an English-Jewish academic, Maurice Glasman, came to the law lords to challenge a parliamentary bill. It was the start of an episode that anyone worried about tax avoidance – or, for that matter, about the fate of the NHS, about economic inequality, about student loans, about capital flight from Africa, about global financial deregulation or about the political might of the financial sector – ought to know about. Yet there was little media interest.
The bill concerned the City of London Corporation, the local-government authority for the 1.2-square-mile slab of prime real estate in central London that is the City of London. The corporation is an ancient, semi-alien entity lodged inside the British nation state; a "prehistoric monster which had mysteriously survived into the modern world", as a 19th-century would-be City reformer put it. The words remain apt today. Few people care that London has a mayor and a lord mayor – but they should: the corporation is an offshore island inside Britain, a tax haven in its own right.
The term "tax haven" is a bit of a misnomer, because such places aren't just about tax. What they sell is escape: from the laws, rules and taxes of jurisdictions elsewhere, usually with secrecy as their prime offering. The notion of elsewhere (hence the term "offshore") is central. The Cayman Islands' tax and secrecy laws are not designed for the benefit of the 50,000-odd Caymanians, but help wealthy people and corporations, mostly in the US and Europe, get around the rules of their own democratic societies. The outcome is one set of rules for a rich elite and another for the rest of us."
Where does this leave the Liberal Party? Whatever happened to 'I agree with Nick'? As Marina Hyde writes they are imploding into a powder puff of yellow dust: "Cleggs story arc is like some Westminster version of Trainspotting, featuring grotesque scenes of personal degradation in pursuit of what must surely now be an ever-diminishing high. Perhaps a physicist would care to get in touch to explain whether there is a theoretical point at which a being has switch-backed on so many positions that he might simply atomise, leaving nothing but a thin coating of yellow dust and a pair of shoes he never grew into."