Transition Branching Out? Land Reform: Losing and Recovering the Commons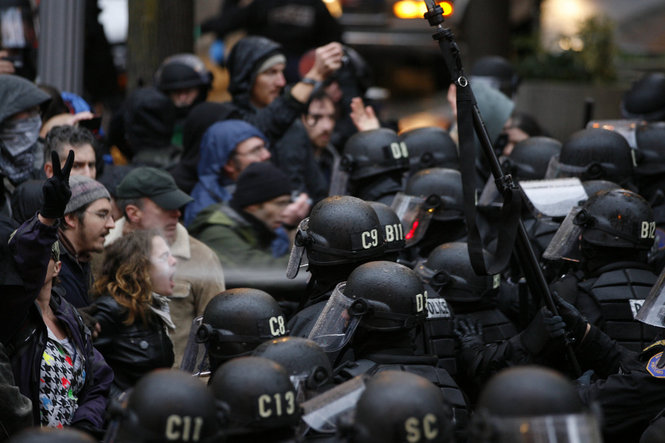 Can Occupy and Transition merge?

The morning mist obscures the mountain, and smoke rises through the thatched roofs of the round or oblong earth and wood walled huts, as people, goats, sheep and cows wake . .
Cows munch on the nearby grass, their bells tinkling, goats call from their little huts on stilts where they have slept overnight, pooing and peeing through the slatted wooden floor, and sheep emerge from the room they have slept in at the end of the oblong houses. There are two other rooms in the oblong homes: one for the family, and the other a large room that acts as kitchen and living room with its firepit in the middle of the earth-floor. There were ten of us sleeping on that floor after talking, music and laughter late into the night.
This is one of the villages where the Ogiek live in their ancestral homeland of Chepkitale on the slopes of Mt Elgon, Kenya. We are here to assess whether their ways of living are compatible with conservation's stated aim of conserving the high moorland they live in, and conserving the forests on the lower slopes that they use for their cattle in the dry season, and for honey and for gathering fallen wood. I am working for a human rights NGO that the Ogiek have asked to help stop them from being evicted. We have brought a team of conservationists, of local councillors and Western NGOs to evaluate their way of living. It quickly becomes clear that they are living in a way that is a million times more sustainable than any of us who are evaluating them. Their knowledge of medicinal herbs is profound, their answers to sceptical conservationists shows a depth of understanding of their environment born out of generations of ensuring that the forest and wildlife and livestock are all kept in balance since this is the source of their well-being.  In such a system, it is very clear that there is no contradiction between self-interest and inter-species altruism.
The clearest evidence for the interdependence of the whole system comes from accounts of what has happened when they have been forced off their land by a combination of conservation-logic (nature is better off without people) and development-logic (people's lives improve by being embedded in a competitive cash economy). The result has been that poachers have used the opportunity of their absence to decimate the elephant population, and charcoal burners and illegal loggers have moved in to cut the forest. The Ogiek are very clear that their livestock and the wildlife co-exist happily, that their presence deters poachers, and that they will resist illegal and legal loggers who destroy the indigenous forest on which they, their cattle and the bees depend.
All of that was very clear, and yet when we return to the big meetings in Nairobi the crazy logic of enclosure reasserts itself. Officials in Ministries and large conservation and forestry bodies reassert the notion that the Ogiek are living a miserable life and that pushing them out of their land is for their own good. They reassert the notion that to protect the forests, the wildlife, and the water catchment area, the people must be pushed out and the area must be taken over by conservationists (and presumably be off-limits to all humans apart from researchers, guards with guns and tourists with dollars). Thinking back to the spring high where one of the key rivers rises in the moorlands, to the trees that protect it, and the hoof prints of antelope and sheep that had drunk at it – it was clear that we had come back to Nairobi into the midst of the biggest lie. This is the lie that humans don't belong, and that our only hope is to place out faith in separating ourselves from nature, in controlling and extracting from nature, and in controlling and competing with each other.
The Transition back to Sustainability
This example from Kenya is repeated across the world anywhere people are living in sustainable ways, and has been repeated over the centuries as communities have been forced to make the Transition to unsustainability. This is a transition most communities in England, Wales, Ireland and Scotland were forced to undergo generations ago through the enclosures, the clearances and internal colonisation, a process that was spread to the rest of the world through colonisation and is still very much underway. The power of the Transition to Unsustainability relies on the threat of physical force backed up by the story that there is no alternative: that there is no way of belonging.
Here in Scotland (as I am sure elsewhere) that story has been given the lie over the last 15 years as communities on the west coast have taken back their land into community ownership. What began with Assynt and the Isle of Eigg reclaiming their community lands from absentee landowners in the nineties, was then taken up by the new Scottish Parliament which – through the 2003 Land Reform Act – provided the framework, and for a while the financial support, to enable communities to reverse the clearances, the enclosures, and to reassert community control of their lands. Over 500,000 acres is now back in community hands, before the funding faltered and the movement slowed, awaiting a resurgence of community and political leadership that may well step forward as the reality of the economic crash hits home, and we are reminded that real wealth lies in resilient communities not in bank balances that can vanish overnight.
Here in Portobello, Edinburgh, we started our local transition initiative – PEDAL – in 2005 before the word 'Transition' had emerged, inspired by what Rob and his students were doing in Kinsale in Ireland. PEDAL stands for 'Portobello Energy Descent and Land Reform Group', and it was clear from the start that land reform is as crucial to making the Transition back to sustainability as is the focus on energy descent, on reducing our dependence on oil. In an economy that isn't growing, one person having more than their fair share means someone else going without: and since land is the source of all wealth, sharing this fairly is fundamental to ensuring sufficiency for all.
Like other Transition initiatives we have been finding the gaps and cracks where we can make the difference: finding derelict land we could turn into an orchard, spaces behind shops where we can start community gardens. Like others we have had to negotiate with powerful landlords to try and get agreements for more ambitious projects, such as negotiating with Scottish Water to seek agreement for a site for Portobello and Leith's proposed community turbine. This is all very good, but is it enough?
Land Reform – Should it be Occupying Transition?
As we face the interconnected crisis of ecological destruction (soils, oceans, atmosphere, forests) and resource depletion; and as our system alternates between economic growth that destroys the planet, and economic collapse that destroys livelihoods – surely what is needed is to recover the commons approach that Transition embodies, and to take it to a new level.
What's happening?
On the downside:
Global oil production has been flat since 2005, removing the magic ingredient that made growth seem as though it could last forever. The sale of luxury goods goes through the roof, as the wealthy get wealthier even as the rest of us face cuts and unemployment. Durban failed as we all expected and emissions continue to rise, while orthodox 'solutions' to climate change get slammed even by their most ardent backers: for example, the Swiss Bank UBS's November 2011 report states that: "By 2025, the European Emissions Trading Scheme will have cost consumers 210 billion euros. Had this amount been used in a targeted approach to replace EU's dirtiest plants, emissions could have dropped by 43%, instead of almost zero impact on the back of emissions trading."
On the upside:
North Africa and the Arab Spring, creative protest across Europe, and the Occupy Movement insisting that we find solutions that includes us all. Scotland likely to be independent by 2015 and potentially demonstrating a much more community focused response to economic and ecological crises. That community-focused approach may look unlikely now but so much that has happened these last few years has been unforeseen by the so-called political and economic experts – it makes you realise they are experts in the dominant paradigm but not in reality.
So, what is the reality we need to be thinking/ making / being?
Should Transition remain above and beneath and beyond politics, or is there a way of fusing the genius of Transition's focus on the primary importance of place, and the genius of the Occupy movement's focus on the crude fact that the very few are destroying the planet we all depend on? Is there a way of stepping forward and making clear that there is and always has been an alternative, not just at the local level but at the society-wide and global levels? That alternative is evident in the community-focused way humans have always done things – except where they have been forced into submission by an ideology that believes we don't belong here, and that uses force to make that a true if temporary experience.
Should we be thinking much more strategically about seeking agreements with councils and corporations but, if that is lacking, then peacefully Occupying the spaces needed for food growing, for energy production, for ensuring the basic needs of care for each other are met? This may seem outlandish to suggest now, but way back in 1940, Priestley suggested that "We must stop thinking in terms of property and power and begin thinking in terms of community and creation". As the gambling financiers take home their winnings, and as the economy unravels on the back of declining oil supplies, we may well be faced with the kind of choice Italy and Greece have recently faced. And they ultimately had no choice because they had no alternative. Having a clear society-wide alternative to ecology-busting growth and people-smashing austerity (boom and bust) may be one way of taking Transition to the next level: branching out without losing the deep roots in place we all depend on.
Forthcoming: Sharing for Survival: Restoring the Climate, the Commons and Society (To be published early in 2012 by Feasta Books).  A collection of 8 essays by the late Richard Douthwaite (with David Knight), Justin Kenrick, Nick Bardsley, Laurence Matthews, James Bruges, John Jopling, Caroline Whyte and Brian Davey. Edited by Brian Davey. To order a copy when it is available please email [email protected]
See also: Kenrick, Justin 2009: 'Commons Thinking', in Arran Stibbe (ed) The Handbook of Sustainable Literacy: Skills for a Changing World.  Green Books (Commons Thinking)