Offensive Behaviour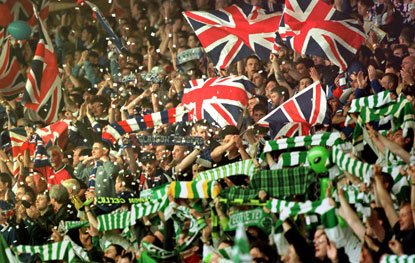 Disppeling some myths about the new anti-bigotry bill. Extract from a great piece by Humza Yousa (read the full article over at The Glaswegian):
Everybody remembers the first football match they were taken to. Be it in the 1950s or just last week, there is no greater excitement than when you are taken to watch your team play for the first time.For me, it was the 1995 Scottish Cup fourth-round tie between Celtic and Raith Rovers.
My uncle, a lifelong Celtic fan, had decided that at the age of 10, I was finally ready.
I'll never forget the experience; the sounds, the tastes, the fans, the atmosphere, the singing, and of course the match itself (Celtic won 2-0).
None of us want to see that atmosphere and passion leave football. It is what makes the beautiful game the world's most popular sport.
There has been a lot of misunderstanding and misinformation regarding the Scottish government's proposed legislation on tackling offensive behaviour at football.
It is safe to say 95 per cent or more of football fans have absolutely nothing to worry about.
The overwhelming majority of those who watch their team do so to watch football. They sing to urge their team towards victory not to incite public disorder.
Unfortunately, there is a minority who believe they have a right to take part in behaviour that threatens the very reputation of our national game.
It is clear that legislation should never be made in haste and therefore it was important that the Scottish government reconsidered their original plans and extended the timetable for consultation.
As a result, we have a robust piece of legislation.
A freedom of expression clause is included to ensure that vital rights are protected.
A review clause has also been inserted so that after two football seasons. we can pull the legislation back in if we feel the need to do so.