St Andrew's Night Artists For YES: Introducing TeenCanteen
This Saturday promises to be a landmark day.  It's the last St Andrew's Day before the Indyref and in Edinburgh it will be marked by a celebratory party for YES featuring some of the brightest young talents emerging right now in Scotland.  Here's one of the treats in store:
TEENCANTEEN
Scotland hasn't produced many all-girl pop bands which is a shame as there's something defiantly joyous about an all-girl band doing their stuff.  This is changing.  Carla, Sita, Deborah & Amanda of TeenCanteen all hail from Greater Carluke (an Eastcoaster's geographical term but there you go).  Over the last 18 months constant gigging have won the band a growing legion of fans of all ages (see tweets below) with their intelligent purist-pop take on life.  Witty lyrics and surroundsound melodies are delivered with an easy grace in a guid Scots tongue.  TeenCanteen's debut single was released last month on Neu! Reekie! Records. This is it: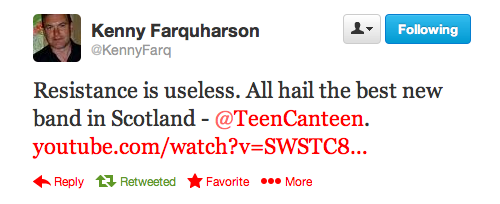 Honey is a glorious single, an almighty Pop triumph. It is a remarkably confident debut, a brilliant piece of songwriting, both lyrically and musically, executed with all of the exuberance you might expect from a young group starting out, but also with the kind of perfectly placed precision that would normally come with years of experience in the studio. They sound like pros, but not in a dull way. Oh no, there is nothing dull about TeenCanteen.

Imagine if you can, a modern-day Scottish version of The Ronettes or The Shangri-Las, only this time they write their own songs and play all of the instruments. Now imagine this group singing the kind of quirky, lyrically inventive Pop songs that Duglas T Stewart has made his speciality. Throw in the sunshine harmonies of The Beach Boys, the energy and excitement of Beatlemania, and finally, put them in the studio with Phil Spector. Then maybe, just maybe, the end result might sound rather a lot like TeenCanteen. One thing's for sure, it wouldn't sound any better.

CARL HARPER, THERE IS TREASURE EVERYWHERE

Tickets for the St Andrew's Night bash can be got in advance from here (£6) or on the door.  It's at Assembly Roxy (between The Bridges and The Pleasance). Doors open at 7.15pm.  Show starts at 7.30pm sharp compered by comedian Keir McAllister.