Independent Minds: Prison, Poems and Politics
Earlier this year I spent three months working with the prisoners in HMP Kilmarnock on a series of poetry workshops. The project was supported by the NTS and The Robert Burns Birthplace Museum in Alloway and was devised around a few lines of poetry by Robert Burns: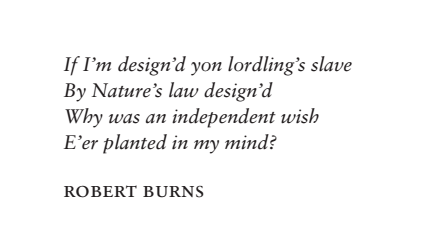 With this in mind the prisoners explored aspects of Burns's poetry in relationship to subjects such as freedom, independence, slavery, democracy and war.  One session was on whether prisoners should get the vote in the Independence referendum. The workshops were a mixture of films, readings, examination of objects from the Burns museum – such as genuine wooden manacles from an 18th century slave ship which the guys all got to try on – which in turn generated political discussions, often passionate and heated. The workshops were good craic as you'd expect in an prison.
The prisoners spent the second half of these workshops writing poetry related to the subjects discussed.  The fruits of their labour are published by Luath Press in an anthology I've edited called 'Independent Minds'. The anthology is launched tomorrow evening at Glasgow's Mitchell Library (29th Nov) with a discussion on whether prisoners should have the right to vote.  It's the first book I've edited since the heady days of Rebel Inc ended thirteen years ago and I'm proud of this one.  The workshops unblocked so much creativity, thought-provoking ideas and compassion among the prisoners the anthology is a credit to each and every one of them.  Writer Des Dillon is chairing the debate and I'll be joined on the panel by a number of special guests with an interest in the subject.  It starts at 6.30pm and all welcome.  (Free).
*** We can support our ongoing work by donating whatever you can afford here. Thank you. ***