The Real Meaning of the No Vote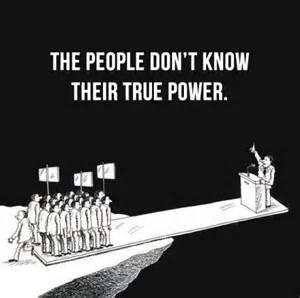 Because they thought a No vote was in the bag, the powers that be pushed us into a crude binary choice this September – that is, they offered us a chance for change that they were dead sure we wouldn't take.
Thus, the referendum was proffered as a hedge AGAINST democracy, not a concession to it.They ain't quite so sure now.  I think they should worry even if No does squeak home.  The desire for real democracy, real change…is palpable despite their best efforts.
The power elite want, if they can, to deny us all change, or control the change undemocratically if change there has to be.  But what has happened is that the Yes campaign has revealed and unleashed and added depth and nuance to the desire for change, and created an articulate, popular movement for it. This may or may not result in a cumulative collective celebration of the restoration of popular choice as a factor in modern politics on September 19th, or it may not.
A Yes vote as such is still a crude measure, kind of the wrong question – 19th Century definitions of Independence are still all we really have – and those who call for some formula of 'shared sovereignty', both reflect mainstream opinion and are probably right in the longer term.
Some form of locally sensitive and accountable form of democracy allied to other locally informed and sensitive democracies do need to pool resources and sovereignty in the face not only of Global Capital, but also of global problems, with the climate, for example, or population and resource management, that do indeed dwarf problems of accountability in local health and policing and welfare benefits.
It is equally a truism that our only chance of dealing with the big stuff probably rests on our having the democratic confidence to take control of the stuff that is happening on the corner.
I will resist the urge to go all Kantian on this, and for the moment urge only that we remember the profoundly anti-democratic thinking that prompted "giving" us the democratic choice for ten hours on Sept 18th was designed not to stop Independence – Independence didn't worry them – it was democracy that was the problem that needed squashed.
And celebrate all the more that we seem, thanks to the work of activists everywhere, in localities and in the global forum of the web, to have stolen the ball off them for a minute.
Like the people who employ marketing consultants, the elite and their temple whores in politics and the media had a settled view and a decided policy and wanted a wee consultation exercise to give it a tick.
The real meaning of the No vote is: Yes, the British Establishment can now do whatever they want and I hereby abrogate any say that Scotland (or any other noisy, annoying self-defined grouping in the UK) as a democratic polity might pretend to have in the matter. A vote for No now, in effect, is a vote to cease to be a democracy in Scotland, as Scotland.
Ironically, democracy is exactly what is happening every night all over the country and everywhere on-line.
That is worth reflecting on and treasuring in itself. Even before we get to planning the party if..hold your breath…we actually win.