Memo from Margo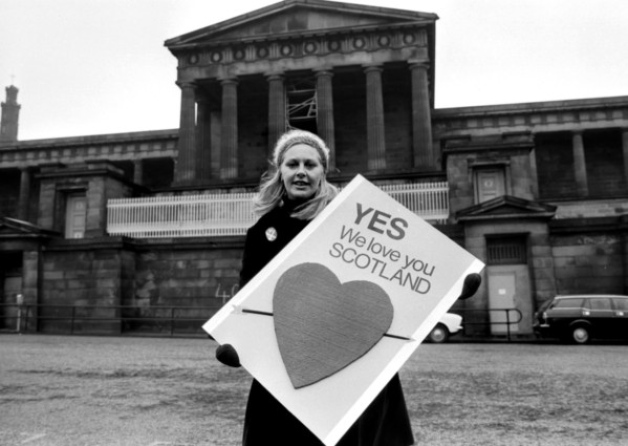 As Margot MacDonald's life was celebrated last week at an emotional farewell in Edinburgh, the message of her dying wish was trenchant and timely. It's has been quoted widely, but deserves all the attention we can give it. She worried about the corrosive influence of such a bitter campaign ahead of the Referendum; in this of course she was not alone. Her husband Jim Sillars passed on her thoughts:
"The Margo MacDonald way is to recognise that you are dealing with opponents, not enemies. Not with ogres, but with fellow human beings with whom you can disagree, but must do so without malice.
"And where the exercise of mutual respect is a civilised corrective to uncivilised abuse – an abuse which, if unchecked by both sides, can so easily mutate into an irreversible, corrosive, malign influence in the conduct of public life in Scotland."
Commentators are beginning to look at the sober reality of what lies ahead in the weeks and months after the result of the Referendum is known. There will be, perhaps, exultation for the winners, disappointment for the losers, more debate. It doesn't seem as though the victory will be any kind of a landslide one for either side.
The Secretary of State has expressed concern about the damage to Scotland's 'shared identity', as if even asking the question is a destructive act, and to be deplored as a form of societal vandalism. He's right about possible damage, but the destructive element has been the nature of the campaign itself.
The bitterness is unlikely to be forgotten easily. Project FEAR, the 'too wee, too poor, too stupid' label was only the start. Lots of threats were ludicrous in their illogicality. And George Robertson's recent mad rant, that Scotland's Independence would be cataclysmic for the world and the forces of darkness would rejoice – and moreover that our government's policies would ruin the prosperity of the Third World. Well I never! Who would have guessed we had this power and effect?
What may actually be cataclysmic is the effect of all this adverse political rhetoric on people in Scotland. Many people now have more than a twinge of fear about relationships after the event. Such disrespect, and bullying doesn't go away.
Some months ago in Belfast, in the city where I was born – but left to be a student elsewhere, an old friend asked: "Are you worried about potential violence or reprisals after the Referendum? After all, there will be a losing side".
I immediately denied any such possibility. And then began to think about it. It was a gathering of all the Celtic clichés: I'm from an Ulster Protestant family with a Unionist tendency but an innate antipathy to the Orange Order, my friend has an Ulster Presbyterian Socialist, background, another companion at the table came from a Republican, anti-clerical Dublin family, and beside him were pro-Europeans who had rejected the strictures their Irish Catholic upbringing. My companion from Scotland was born in the Gaelic-speaking Western Isles. The interesting thing was that all of those who were born in either part of Ireland believed Scotland should grab its opportunity for self-determination, especially in the circumstances. The Scottish-born member was more doubtful. But there was a real concern that the bitter aftermath of Ireland's bloody fight for freedom should not repeat itself in any form.
May we pause for some history, please. As the irrepressible Miss Jean Brodie said:
"For those who like that sort of thing, that is the sort of thing they like…"
If you don't, skip over this bit.
Britain once had an Empire. How they got it isn't the issue here. Let's look at how they lost it. America first, the Boston Tea Party, the War of Independence. The British government thought to put the lid on that break-away notion by imposing economic sanctions, closing the port of Boston. Strong-arm tactics. Instead that acted as a recruiting campaign for the Sons of Liberty and the war was lost.
Mutinies and uprisings took India away from the Empire, terror campaigns took the nations of East Africa, but the significant historical marker has to be Ireland. Britain behaved badly in Ireland, there is no doubt. Thousands of young Irishmen were fighting for the British Army in WW1, when the Easter Rising of 1916 started off a movement which would result in the genesis of the Irish Free State five years and one civil war later. It was a bloody and bitter campaign of death and destruction and the resultant political settlement led to decades more of the same. There was religious bigotry on both sides – De Valera wanted an Irish state ruled by the Catholic Church where Protestants were not valued, and Ulster Unionists wanted a secular, non-Catholic state allied to Britain. The saying goes that Sinn Fein's political drive for decades was "Vingince, bejaysus!", and the Ulster Loyalist stuck to "No Surrender". But it has taken 90 years before State visits and hands of official friendship could be offered.
One interesting point, though: the British let that Free State, founded in a bloodbath, keep the pound for over 40 years. It also let Australia become an independent state, and keep the pound.
We do have a precedent. The Edinburgh Agreement of 2012 signed by Alex Salmond and David Cameron dealt only with the conduct of the Referendum. How we go on beyond it may seem like crossing the Dark River. However The Statute of Westminster of 1931 set out a framework under which relationships with former dominions were established. History shows that there are ways to cope with a partner's wish for self-determination. Scotland has only been enclosed with England for a little over 300 years of its long history, and it has always been a little different.
Looking to the future now – everyone back in the room? – why risk bitterness or even reprisal through such a vituperative campaign?
In Belfast I told my friends that for me, the best outcome would be independence on a friendly and agreed basis. For others, who fear independence, a good outcome might be a recognition of Scotland's aspirations and the society it wants to build, and efforts could be made to provide a framework for this to happen.
But you know what, neither of these mild and practical solutions is likely to come easily. Margot MacDonald's message must be echoed around the country. This whole movement is about permitting aspiration and we must take a care for that. The media has not served this time well – It will be seen as a shaming era. Nor have Westminster politicians, just at a time when their reputations are low. So to them I'd say, bear in mind that the future will contain a lot of young people with long memories.