The Pessimist's Crystal Ball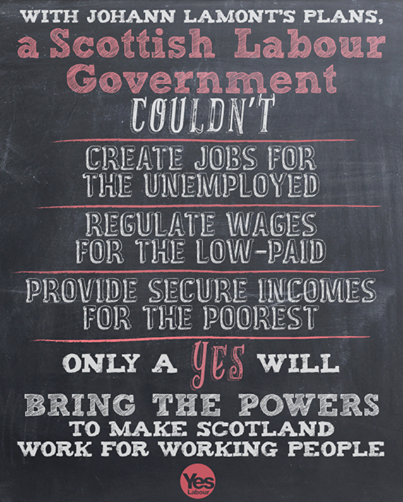 Being Scottish, I have been finding all the optimism and good cheer surrounding the Yes camp of late to be deeply alien and unpatriotic. If I may, I'd like to introduce some genuinely Caledonian gloom to the proceedings at this juncture, and contemplate once again , as seems to be my temperamental inclination, the consequences of a No vote.
And find that, despite myself, I cannot see history coming to a dead stop on September 19th as Westminster seems to hope.
No matter what Whathisname Carmichael says (still legally Scotland's senior politician if you read and believe the Scotland Act) if we vote No by even a slim margin, the reaction at Westminster will be: "thank God that's over and we don't have to think about them ever again" – so whatever intentions may underline the promises of jam tomorrow will evaporate like the morn's mist.
This won't happen because of any inherent capacity for treachery. It is merely a cultural reality that like Brigadoon, Scotland only exists politically in Westminster intermittently, and then only by causing trouble rather than indulging in the frankly odd kilted choreography by which our cultural identity exclusively existed in the days of my youth.
This will last only as far as the 2015 election when…and here comes the crystal ball time…Labour will lose 20 odd seats in Scotland to the SNP…
(The idea that a NO vote will "destroy" the SNP is in the same category of wet dream as MiLord Robertson's ancient pronouncements on devolution – and is part of the misreading of Scottish politics that will finish the Labour Party here just as it finished the Tories once upon a time. In deed, if one places the Labour party as the central tragic character at the heart of Scottish drama, the referendum campaign where they can do nothing but say "quite right, Prime Minister" to a second rate message consultant like Cameron is the beginning of Act Five…)
Ironically – and here my national pessimism is really kicking in – this will quite possibly allow the Tories to form another coalition…So on all sides the new devolution settlement will be a grudging, nasty, bitter compromise put together by people who are all viscerally opposed to any such thing…and are united only by the hate and fear of Alec Salmond (this Fear being the real heart of the Better Together project) and it will not, cannot last…
It will all be quite horrible, frankly
But a year ago…and even now, quite possibly, Alec Salmond never expected to win this referendum…so the negativity and incoherence of the No campaign, which was and remains odds on to win the vote having utterly lost the argument, is an historic gift.
Brief historical nugget: The battle of Bannockburn in 1314 did not, in itself, guarantee Scotland's sovereignty in the 14th century. But it made Scotland ungovernable from London except by overwhelming force – Ireland style.
It meant that Scotland's self rule was no longer within England's (theoretically) withdraw-able gift.
It was 1328 when Scotland's right to self rule was recognised by the then government of England – Treaty of Northampton and Edinburgh.
It is my argument here, to my own surprise, that the fact of this referendum, whatever the result, is exactly analogous.
As Jim Sillars puts it, for 15 hours on the 18th of September in 2014, for the very first time in history, the people who live in Scotland will be sovereign AS a national polity as a matter of legal and…importantly…collective psychological fact. And while it is quite possible that the relentless barrage of veiled threats will persuade us to hand it back…temporarily…that decision will be a wholly negative one, a humiliating climbdown, a national failure of nerve that will feel, even to the vast majority of convinced no voters, like failure.
This will be no happy embrace of the spurious community of happy national families that David Cameron ludicrously and insincerely evokes while Osborne quite sincerely threatens retribution.
It is quite clear (on both sides the Tweed) that these men and all their tribe are in the thrall of a transnational movement to liberate the rich from all care for anyone else. And it will only become clearer and clearer over time that the only protection any community can have against the untaxable hegemony of the super-rich is some form of sustainable, democratic collective political identity.
The UK, in the view of many of us, whatever else it is, is hardly that protective and inclusive community. Surely there is nobody even in deepest Surrey who believes anything like that any more.
But Scotland, whatever it's flaws and possible weakness and vulnerabilities, just might be.
Whatever else happens, then, in the face of the only real Independence that seems to matter…the independence of the rich…a fundamental shift of sovereignty is under way in Scotland….It has a more cheerful face these days, and is made for the first time in my lifetime, of what feels like effective dreaming…of imagination and a real sense of possibility.
The breakup of what Tom Nairn called Ukania has been coming for a very long time. What is new is the feeling that at least a substantial minority of the people who live here are living in something as Un-Scottish as hope, and that the very living core of that hope is a sense of self-governing, self-ruling, being sovereign over ourselves – not in some 19th Century costume drama way, but as modern, individual world citizens of every imaginable nest of complex identities – of gender and ethnicity – only one of which is the chosen pooled identity as civic Scots. We are sovereign over ourselves as individuals and can choose, if we wish, to pool that sovereignty into a new identity with which to live in the real world – and protect ourselves from the people we know that Cameron and Osborne really work for.
Whatever offers are made by the Westminster parties, they cannot offer us anything that sovereignty, anything like that choice, anything like that protection..
Sovereignty is something we can only create ourselves. And we are creating it, it is everywhere, all around us…The referendum campaign, whatever its result will be, is only accelerating that irreversible tectonic shift.
The UK as we have known it is exhausted and out of time. That is the reality with which everyone on these islands will shortly have to deal.
But remembering that I'm Scottish, I have to anticipate a No vote in 2014, and point out just as Bruce managed to repel an invasion, but not guarantee sovereignty in 1314. Remind myself that it took until 1328 for the question to be settled in favour of there being two collective sovereignties on the island
2028 at the outside, at my most pessimistic…still seems about right.