Euro Trash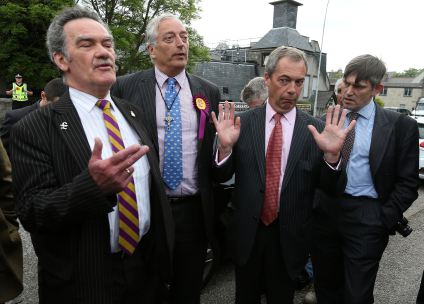 Listening to David Coburn, Scotland's new representative from the proto-fascist UKIP  spluttering and flayling about under the most gentle of questioning on Good Morning Scotland this morning gave some hope. When these people – rather than their chummy leader – are actually given exposure – might people realise how useless they are?
That's maybe optimistic, assuming that the 139,687 people who voted for them did so on the basis of a trawl through their policy manifesto. They didn't. They voted for what they represent, and whilst it's easy to blame the rolling PB broadcast that has been the BBC coverage over the last few months, it doesn't really work as an excuse.
What a desperately depressing evening of watching results across Scotland, England, Wales and Europe deliver victories for the right, the far-right, racists, fascists, homophobes and misogynists. In England the roll-call of candidates at counts across the lands was jaw-dropping with the BNP, English Democrats, Britain First, Tories and UKIP lining up to take, collectively, hundreds of thousands of votes in a visceral expression of xenophobia.
In Scotland SNP came first across the country followed by Labour, then Conservatives, UKIP, and then the Greens. The only ray of light in the evening was the utter rejection of the now busted-flush of the Liberal Democrats.
Are the media to blame? Maybe in part but it's a sideshow from some of the harsher realities of Scottish political culture.
If they are to blame we should blame less the BBC and more the relentless drumbeat of tabloid fervour over the past thirty years.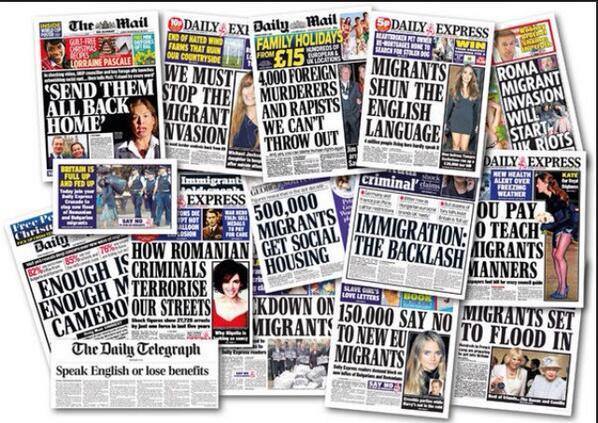 What does it mean and does it matter?
While a UKIP seat from Scotland is both shameful and depressing, maybe it's the jolt that is needed to let people realise that the cosy assumption that the wider country holds the high-profile values of National Collective or RIC is based on a false prospect.
In Scotland UKIP got 10% of the vote on a 34% turnout.  It was a perfect storm of voter-apathy, a split-tactical vote and media-exposure that beamed this right wing-sect into the political sphere in Scotland where they have virtually no members and no political base. Let's remember this is the first electoral representation of any kind for UKIP: councillor, MSP, or MP in Scotland.
One of the extraordinary consequences of this result is that a party that purports to be against the 'Euro gravy train' will gain hugely. Each UKIP MEP will claim £1m per year in staff, salaries and expenses for every single year they are in the EU Parliament.
That's some anti-EU revolution.
But whilst it's easy to castigate and caricature UKIP as nutty, homophobic racists, it's part of a wider political failure, and neither the Scottish Green Party or the SNP can be immune to criticisms of their campaigns and their tactics.
As Tommy Ball wrote on twitter: "When Scotland needed the SNP to step up and keep UKIP out, they chose someone who was electoral poison to Left-wingers for the third seat." And it's true, once word got out that Tasmina was a former Tory candidate, many people wouldn't vote for her.
The Greens also made mistakes. They did well to beat UKIP in Glasgow (Green 15359 UKIP 12638) and they recorded the highest Green vote in Scotland ever, defeating the Liberal Democrats into fifth place, but the harsh truth is they lack charisma and populism and bite. That a party with no base in Scotland can defeat the Greens is a farce. Gary Dunion and Maggie Chapman played a good game on social media but the enduring image of the SGP is one that is rootless and unable to reach beyond the Guardianista. That's as big a problem for Patrick Harvie as the debacle is for Willie Rennie.
There's wider question raised by these results. The unionist commentariat will be lining up with desperate glee to pronounce that "See! Scotland is just the same as everywhere else."
However, as John Finnie MSP put it:
"Perhaps as depressing as UKIP securing a foothold in Scotland is the shameful glee with which it has been met by unionists politicians."
Indeed the picture of Labour politicians celebrating the election of the far-right is sobering. And it is a problem for the Labour and Tory activists, because while much is uncertain from all this, two things are also absolutely clear:
First, we are now much nearer a UK general election ending in a Tory/UKIP coalition. There's now open talk of UKIP and Tories working together at elections. This is a concept incomprehensible a few months ago.
How will the prospect of Boris and Nigel in the Rose Garden play in the referendum?
Second, as England goes charging on with a madly incoherent anti-EU movement, the only way to really assure you remain an EU citizen is to vote Yes.
So let's start asking business (because that seems to be the new default position) how they feel about being pulled out of the EU? It puts Better Together in a very awkward place where all of their rhetoric of grand unity is in tatters. For the No campaign to focus on Europe, certainty and stability now looks like a remarkably stupid thing to do. Better Together? Safer Together? Scotland is now lashed to a political movement running away with UK politics and dedicated to withdrawal from Europe.
All of the repeat-cliche language of internationalism and being part of a bigger union now looks like abject nonsense.
What response should we take?
We need to articulate why immigration is essential for Scotland, we need to defend an open progressive tolerant society against the powers of blame and bigotry. This can only be achieved through independence.