Geordies for Yes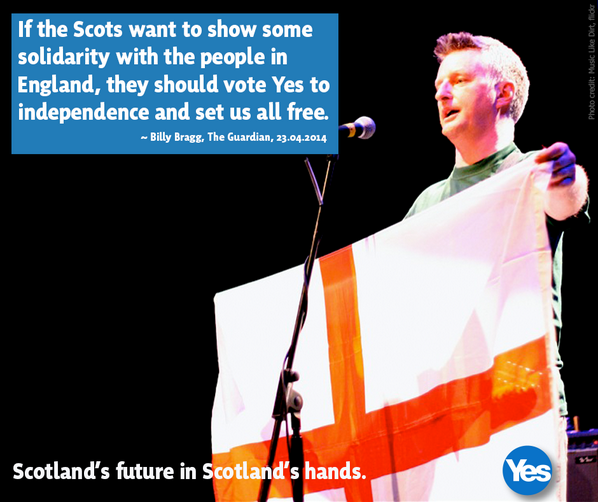 All this week we're publishing articles by English people who support a Yes vote in September.
Left to burn by the government in London as industries and whole communities are left to die with heartfelt pleas to tackle the problems simply ignored by a distant and indifferent 'home counties' elite. Sound familiar?
But it's not Scotland I'm talking about, it's the North-East of England I'm describing. The truth is Scotland and the North-East of England share one huge problem: London.
If there is anywhere in England where people understand why Scotland might have had enough of London's rule it's right here in the North-East. The same frustrations at seeing governments that don't seem to give a damn about us, the same anger at seeing the economics of casino capitalism run riot over us just because it suits the needs of London's bankers.
Personally I think Scots would be crazy to turn their backs on an opportunity to walk away from the disaster that is the United Kingdom. To be in control of your own destiny seems so obviously the way forward, whatever the obstacles to overcome.
Most people in the North-East wish Scotland all the best if it goes for independence but why is that?
It's not just because most people in the North-East feel far more at home in Scotland than in the South of England, although they undeniably do. A massive gulf has opened up between the values held by most people in the South of England and those of people in the North of England where community, solidarity and the common good are still not dirty words.
Here in the North-East we are all too aware that Scotland's decision whether to clinch independence will have a massive effect on us too. Sadly we won't get a say of course but if we did, I'd be arguing for 'Yes'.
A 'Yes' vote would show people in the North-East that there is actually an alternative to laying down and being repeatedly trod on by London. It would rekindle the push for the North-East to have some say in its own future, which is our only hope of breathing life back into our region, triggering regeneration and recovering the North-East's self-belief.
The last time people in the North-East were given the opportunity to vote for a Regional Assembly, it was resoundingly turned down. But if Scotland waves goodbye to the UK and forges a successful independent path just up the road it will have people in the North-East re-evaluating our strained relationship with London all over again.
The economics of a 'Yes' vote are also surely in the North-East's favour. Even though Scotland plans to keep the pound after independence, it will still have far more scope to shape its own economy to actually meet its own needs. That means the North-East will be the next-door neighbour to Europe's newest country with a dynamic, outward looking, resurgent economy. Scotland will be keen to business with the world, starting just across the border in a region with an economy and skills base that fits incredibly well with Scotland's own.
One of the massive differences between Scotland and the North-East of course is that Scotland is a nation and the North-East is just a region. However it is a region with a very powerful sense of identity and a growing realisation that just like Scotland we can't rely on London to solve our problems. In fact London actually makes things worse all the time.
In terms of politics the North-East is caught between a Labour rock and a Tory hard place. As in Scotland, the Conservatives show the North-East nothing but contempt while Labour takes our votes but then takes us for granted, doing nothing to tackle our problems and never addressing our aspirations. I've lost count of the number of times people have said to me that if only the North-East had a party a bit like the SNP then London's political class would have to finally take notice.
Whether or not the SNP's grand project North of the Border eventually gives rise to a Northern Separatist Party here in the North-East it's clear that a Yes vote will create an earthquake in the rump former UK, breaking the rotten mould of London's rule and bringing the chance of much needed change here in the North-East too. 'No' would be the death of hope for a generation, 'Yes' the springboard for a brighter future both here and Scotland. In London's corridors of power they must be praying for 'No'. That's all I need to know.