Go Your Own Way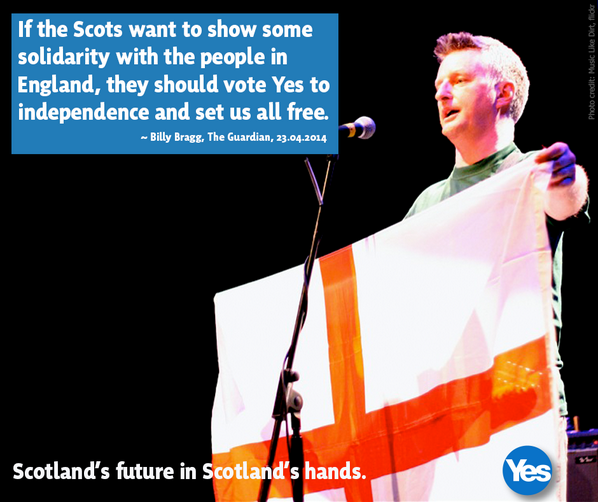 All this week we're publishing articles by English people who support a Yes vote in September.
I drove three hours up the M6/M74 arriving in Glasgow to settle into my uni life in 1999, and soon felt as though I was among my own people. The Scotland v England Euro playoff that followed soon after disavowed me of that fairly quickly, but for the four years I was in Glasgow and beyond I felt very at home, and that as northerner in Scotland I was much closer to my kind than if I'd have gone 200 miles south from Lancashire. The pride felt by west-coasters was easily seen and understood as the infrastructure of the industrial age melted into the reinvented post-European City of Culture to create a modern and confident metropolis which spoke from the heart of a reborn Scotland under the watchful gaze (for as long as his specs were intact) of Donald Dewar, set amidst a stunning country which both inspired and infuriated with its ability to inspire great lyric, or phoney Brigadoon – depending on where you stood.
Seven years after first leaving, I returned to Glasgow in 2010. The post-2008 decline was noticeable, as elsewhere around the UK, but moving up from London it felt that Glasgow had caught the chill harder, the city centre pockmarked by boarded shop fronts and in need of a good scrub. By the time of the 2011 elections, the bravery of Alec Salmond reaped greater reward than even he had imagined as he set out a platform for a socially just Scotland, toning down the Nationalist rhetoric, and the electorate looked on and said 'yep, that's where I want to live.' I had the Today programme on the morning after the night before, and listened on in amazement as Swinney wasted no time in pushing the referendum agenda. This wasn't what the nation had voted for, certainly not in my Leith constituency. And it was an opinion I held to after yo-yoing back to England.
Back in Manchester as an interested spectator, my support for the status quo has basically been driven by a fear of separation. I have tried to pick holes in Yes, which have been expertly answered with certainty where possible and an acceptance that some things are just unknown, and have slowly come round to the advocates of independence. Influenced by the centre-right or bust nature of Westminster politics, the mess of the No campaign compared to the confident clarity of Yes, but mainly by my belief that a people should take responsibility for themselves. A cursory glance at the history books had me struggling to find a time when a people were given the choice and decided to remain in the keep of another country, and why would they?
This simple philosophical point is the key, why would you not take the opportunity to make things better for you and your community?
There are a lot of figures being thrown around, and my grasp on them doesn't even qualify as tenuous. If those sums are being done with the A9 corridor, the south-west and borders, northern Fife and Grampian beyond Aberdeen in mind, in addition to the Central belt – to which Scotland is often reduced in the UK setting – then at least the possibility for a Scotland with thriving and modern manufacturing, service and cultural industries is more likely as a country than a region. And if the country can be as brave in its vision as the First Minister was in 2011, the rewards could be just as great.
There is a lot of sneering going on down here, 'let's see how the sweaties (socks… jocks, geddit?) manage with all their freebies without hand-outs from London!' Well yes, let's. Such a stance is highly problematic, if the question you're asking is 'how are they going to pay for no student fees/ free prescriptions/ care for the elderly?' and not 'why is health and education not free for all in the rest of our country?' then I think you've lost sight of the real goal of a civilised society. And it is this mentality south of the wall which has given my wavering towards Yes greater enthusiasm and the hope that when the Yes campaign wins on September 18, it will force not only a redrawing of the map, but a re-examination of the way London treats the whole of the UK. And for that, this Caledoniphile will be forever grateful to his friends north of the border.
And if it does turn out well for you, any chance of an expansion into the Northumbrian region?