The Square Sausage or the Square Mile?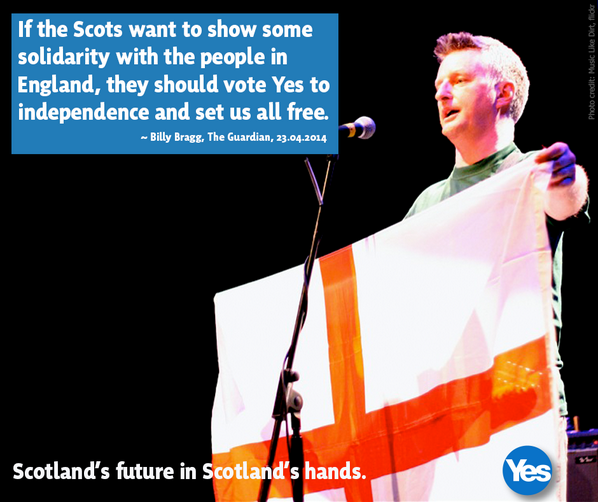 All this week we're publishing articles by English people who support a Yes vote in September.
I am not Scottish and I'm not a UK, English or Scottish Nationalist. I lived the first 28 years of my life in London and the latest 28 years in Edinburgh. I have become assimilated into the cultural life of Scotland but my delicate sassanach constitution can't yet stomach square sausage. 
I'm not proud of what the British state does militarily, what it does economically by maintaining and widening wealth inequality, and what its' version of democracy looks like. 
Would an independent Scotland be different?  I agree with James Kelman's point of view that independence isn't handed to you through a vote but is fought for through struggle. And debating whether self determination is a good thing seems ludicrous to anyone who has been involved in campaigning for social change.
Power in the British state is wielded through Houses of Lords and the Commons, the military, the media and large corporations: weighted heavily in favour of their own class, ex-public school, ridiculously high paid executives, state intelligence services, media executives and politicians with an economic and political penchant for maintaining the world order in an alliance with the United States of America, utilising vast military and economic power.
There were and still are of course many imaginative challenges to the elites who use their power to control. My experience in England was that the above institutions maintained the social, political and economic control which regenerated the status quo. Not so much in Scotland, whilst the above power relations obviously have a grip on the way we do things, the grip is loosened by people working together to change things for themselves. My experience is a larger proportion of Scotland's population are willing to work together to make the change they want to see, utilising power to do things rather than hold power over people. This experience still involves a political struggle against powerful opposition and undemocratic elites but there is a will of many people to challenge power and make change. 
The campaign for independence has rejuvenated many who want to have a say in producing a more equal and radically different society. Scottish independence would break up the British state and rejuvenate radical progressive change in England
We have the expertise to organise our lives not having it forced upon us, but by making things happen ourselves at every level of society. The 'power to do' is a challenge to those having 'the power over'. Lets not shy away from taking the responsibility. Lets not be cowed into silence. Lets not talk about 'the Scots', but talk about us who live in Scotland.
It's got nothing to do with nationality and everything to do with how we organise together. As an Englishman by birth I will have no hesitation in voting Yes as a vitally important one off moment in the struggle to change the local, national and international political landscape and the way we live our lives. Despite what better together says I 'm pretty sure if we win independence we won't be force fed square sausage and whatever happens on September 19th, the struggle continues.