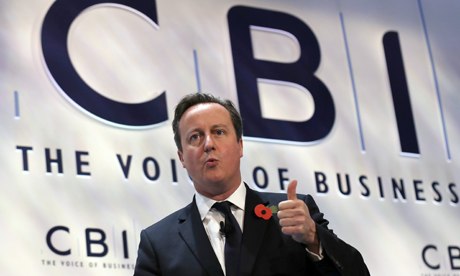 It's been a disastrous week for Better Together after Loretto Boy was demolished on live TV in front of the largest live tv debate audience ever. Next up came the PR nightmare that is turning women voters off No in droves; closely followed by new revelations about CBI incompetence breaking Electoral Reform rules ('Cameron Walks into a Storm'). But as David Cameron brings every fibre of his being to Glasgow tonight, a perfect storm is brewing that will put the finishing touches to BT's worst week as their campaign collapses under the weight of its own narrow self-interest.
Yesterday big business was supposed to come riding to the rescue in the open letter in the Scotsman. Unfortunately including the likes of HSBC, BHP Billiton, arms manufacturers and others it opened itself up to ridicule. As Derek Bateman pointed out ('Three Cheers for Us'):
Failure after failure at HSBC led to the London-based bank being used as a conduit for "drug kingpins and rogue nations", a 300-page report compiled for a US Senate committee has found. The July 2012 report and investigations by US authorities led to the UK-based bank being fined almost $2bn for failing to stop criminals using its banking systems to launder money. 
Are these the role models we are to respect? The role of big business as a sort of backstop, a trusted security blanket and comfort-to-all in times of uncertainty is such an outdated concept in post-crash Britain it makes BT's Patronising Lady ad look cutting-edge. The unionist orthodoxy is mired in the early 1970s. The world has moved on. We are in a post-deferential world, as Cameron is about to discover.
Nor is there a monopoly on business backing.  Today more than 200 ordinary business people have signed a letter, which appears in today's Herald.It's about scale and purpose. Cameron's message of 'big is better' is outmoded and one-dimensional. They are still operating in a globalist world where size out-trumps ethics. It won't wash.
As the CBI lurches about still believing it lives in a world where no-one is watching, Better Together believe that the answer to their woes is to bring David Cameron north of the border. From Johann Lamont's 'boss class miserabilism' to this weeks advert farce these people's poor judgement is a boost to Yes day in day out.
It's the perfect storm and here comes Captain Cameron to drive the good ship Britannia onto the rocks.