Gordon Brown's Lies about Labour and the NHS in Scotland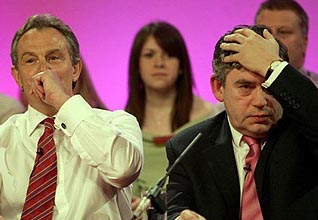 Trinity College Dublin, and Nadine Edwards, Pregnancy and Parents Centre, Edinburgh.
In yesterday's Herald, 10th September, Gordon Brown described how well Scotland's NHS had supported him and his wife at the time of the tragic death of their baby daughter, in the Simpson Memorial Maternity Pavilion in Edinburgh Royal Infirmary in 2002.
He went on to say that "we [meaning Labour] created the NHS, we, not the SNP, built the NHS, we cherished the NHS, in Government we took the pain of a tax rise to double the budget of the NHS."
He also stated that it would be the SNP who would put the NHS at risk "not the Labour Party."
The facts are these:
Gordon Brown and the Labour Party pressed ahead with Private Finance Initiative (PFI) deals for new hospitals, including the new Edinburgh Royal Infirmary. By 2002, the plans to sell off the old Edinburgh Royal Infirmary site to private developers and for a PFI consortia to build  the new Infirmary in Little France had been signed off for four years.  The first of these agreements is stamped 18 October 1998. This was  before the Scotland Act came in to place in November 1998 setting up the Scottish Parliament.
The development of a PFI hospital in Edinburgh was entirely a Labour project.
It was Gordon Brown who in 1997 set up PFI Partnerships UK, a Treasury taskforce to organise handing over the control and financing of hospital building to the private sector.
Brown, when interviewed in 2002  by Professor Allyson Pollock, the expert on NHS services, was asked why he wanted to use private financial interests for what were public investments, hospitals?
Brown replied that the public sector was bad and inefficient at management, and that only the private sector could manage services well (see Allyson Pollock, NHS plc).
The New Royal Infirmary PFI arrangement has absorbed between 12% and 14% of its local budget every year since it was built and this will continue for the next two decades. PFIs come at an extraordinarily high cost and a long-term debt burden for taxpayers (see Allyson Pollock's How PFI is crippling the NHS).
Labour may well have played a key role in creating the NHS, but since 1997 they have played an equally key role in ensuring it stops being run in the interests of the public, and becomes another way for their donors to make astounding profits.